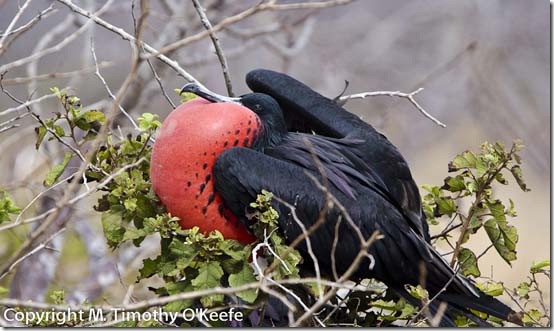 Journey Log: Day 2

Although in the Galapagos the same endemic animals are present year-round, their mating and nesting are seasonal. The one bird I want most to photograph is the male magnificent frigatebird, which in the breeding season looks like it's swallowed a bright red balloon. The bird inflates its red throat pouch as part of its courtship to attract a mate while perched on small plants with their heads bent back. It also uses the sac for sound effects, too, by creating a clattering sound as it drums its sac with its bill. Not exactly sure why this attracts a mate; maybe size does matter. In any case, a female signals her choice by landing next to the male, who then wraps his massive wings around her to protect her from other males.
Unfortunately, the mating and nesting season occurs only from spring to summer. I express my disappointment to naturalist Jason Heilmann, who leads the two photo sessions held on Lindblad's National Geographic Endeavour and will be our guide for our forthcoming shore landing. He says not to worry, that there is one island where the male frigates are in display and nesting occurs year-round. It happens to be North Seymour Island.
"You'll see plenty of male frigates and their bright red sacs, and they'll all be close to the path," Jason assures me. The birds' proximity to the trails created across the island by the National Park Service is crucial since we're not supposed to step off it. While the crews of some other ships may allow it, the Lindblad naturalists are adamant about following the rules and keeping to the marked path; as they should be.
The bows of all the Endeavour's Zodiacs are covered with heavy netting. Our landing method at North Seymour demonstrates why they need such protection. Despite the popularity of the island, there is no permanent docking facility. So, once we are a few yards from a large black lava rock, we remove our life jackets and toss them into the center of the boat. Then our boatman slowly propels the Zodiac's nose against a flat, wet lava rock and keeps the engine engaged as we scramble to step onto a rock just above the bow. I'm thankful I'm wearing the Keen sandals because I don't think my tennis shoes would have had enough traction on the wet surface.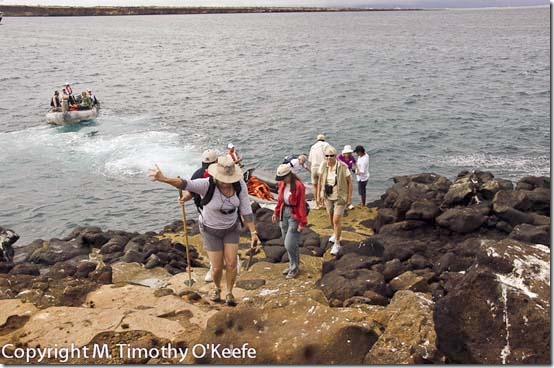 The landing site on North Seymour Island
Once on shore, we have several large black frigatebirds effortlessly soaring over us. Besides being almost primal looking, the birds are huge, up to three feet in length and a wing span of seven feet or more. The silhouetted frigates flying above us, with their sharply forked tails and long narrow wings, appear powerful and menacing. They would make the perfect visual introduction to a movie named "Island Lost in Time" or "Island of the Damned."
We don't walk far before spotting male frigates on the nest, though they are far enough away that the numerous bare tree limbs separating us mask the birds like a thick cobweb. Jason assures us all we'll soon encounter other birds much closer to us. He is absolutely right. We come upon several nests located just yards from the path. Several males are on the nest, their ballooning red sacs making it look like a small gathering of gigantically red-nosed clowns. One nesting female is so close I could reach out and touch her hooked beak.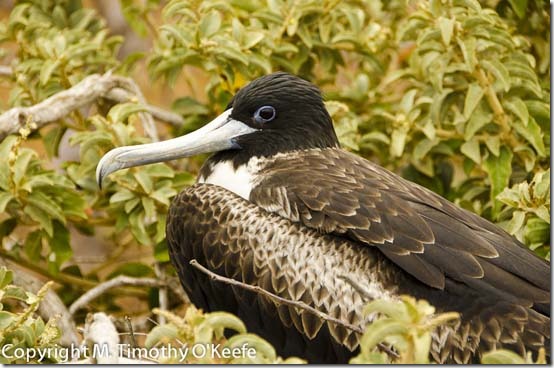 Female magnificent frigatebird on the nest
Telling the sexes apart is surprisingly easy. Frigatebirds–which include the great frigatebird as well as the magnificent frigatebird–are the only seabirds where the male and female are simple to differentiate. The female is brown with a white breast where the magnificent male frigatebird has black feathers with a purple gloss and, of course, its distinctive famous red sac. (The male great frigatebird also has a red sac but its black feathers have more of a greenish sheen.)
I'm so distracted by the ballooning male frigatebirds I'm ignoring what's on the ground around me and I almost step on a large yellow sleepy land iguana resting flat on its belly and with its legs and tail extended. It's positioned itself inside the path near the edge. This is the first land iguana I've seen, so I crouch down to its eye level and begin snapping away. Not until later do I realize that this land iguana is far more noteworthy than the flamboyant male frigatebirds.
These land iguanas shouldn't be here. They are not native to North Seymour; in fact no land iguanas at all lived on the island before the 1930s. Land iguanas were transported here in 1932-1934 from Baltra, a short distanced from North Seymour and which at one time was called South Seymour. The iguanas were transplanted under the direction of a Capt. Allan Hancock who considered the land iguanas on Baltra to be undernourished and suffering, perhaps due to a prolonged drought. This wealthy California industrialist was not scientifically qualified to make such a decision and today he would probably be locked up. Capt. Hancock's crew is believed to have transferred some 72 iguanas to North Seymour where he deemed the vegetation far better for their survival. Additional iguanas were transferred periodically until 1934.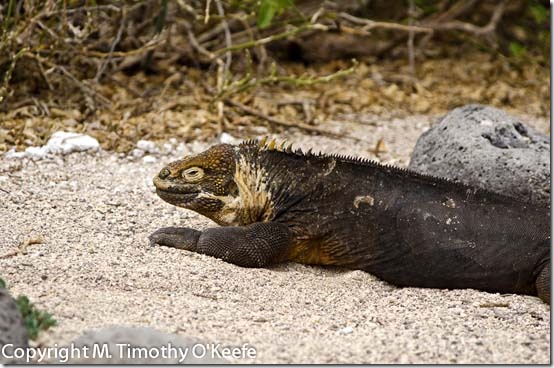 North Seymour land iguana descended from South Seymour transplants

Although such meddling would not be tolerated today, Capt. Hancock's iguana transplanting project was the right decision. By 1954, the land iguana on Baltra (South Seymour) was declared extinct. When the Galapagos National Park was established, Baltra was not included within it because of the human population. That meant it was politically correct for some of North Seymour's land iguanas to be reintroduced into their home island in the 1990s. Today, thanks to Capt. Hancock's interference, both North and South Seymour Islands have a land iguana population that otherwise would not exist.
If the magnificent frigatebirds fulfilled my photographic wish, I guess I should have hoped for great numbers of blue footed boobies as well. In summer, walking the North Seymour trail normally is challenging because of the numerous nests scattered along it. We did spot a few boobies in the trees but it that was nowhere near what I would have wished for (I'm greedy). But the presence of the nesting magnificent frigates and numerous images of their splendid inflated red balloon sacs make the booby drought a minor disappointment.
However, near the end of our walk, we pass a junction with another path where a blue footed boobie on the ground with a chick are located. I break off from Jason's group to take a quick look. This is the only nest we've seen on the ground. Hurrying back, I ask Jason if we will be taking the same route by the nest and he says "no." I tell him I'll catch up with his group and he nods agreement.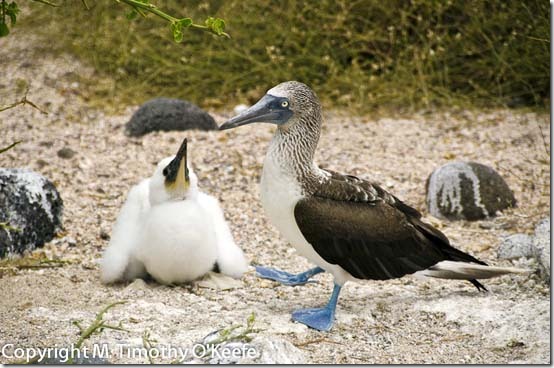 I'm going to have to put up with this kid how much longer?
The chick is wandering around the nest so I rush back to take photos. Another Endeavour group already is intent on photographing the boobies, so the open space to see the nest is small, which makes it difficult to squeeze in for photos. At a slide show on the last night, I realize how much action I miss. Well, a lot of good wildlife photography isn't based on skill. Often, the biggest factor is being in the right place and at the right time. Just plain luck.
And I had my luck with the ballooned-up male frigates, something I never expected.
Although we spend 2.5-hours walking a ring around part of North Seymour, the pace is fast, a definite problem that photographically often results in grab shots and why a tripod isn't practical. The Endeavour, like every ship, is given a certain amount of time at each island by the National Park Service. In some places, we share a landing with other ships. Such rigid scheduling is a major change since my last visit, when the landings were more relaxed. Increasing popularity of the Galapagos has made this necessary. According to the Galapagos National Park, there were 68,856 Galapagos visitors in 1960; CNN states there were just 2,000 tourists a year in 1960. Regardless, in 2010 there were 173, 296 visitors from more than 140 different countries. The 2010 numbers are a six percent increase over 2009.
In the 1980's there weren't 87 tour boats wanting to land at 97 sites. That's why today there's almost always the push to keep moving on the land walks. Who can blame people for wanting to come to the Galapagos? The place is magical.
Lava lizard on North Seymour; it's the size of a gecko
Lindblad Endeavour Galapagos Cruise Links
The Galapagos Experience Endeavour Dining
Galapagos Adventure Upcoming Sustainable Dining Policy
How Darwin Saved The Galapagos Saturday Dining Menus
Galapagos Photo Tips Sunday Dining Menus
What To Pack For Cruise Monday Dining Menus
Getting to Guayaquil Tuesday Dining Menus
Las Bachas Shore Landing Wednesday Dining Menus
North Seymour Shore Landing Thursday Dining Menus
Fernandina & Isabela Islands Friday Finale Menus
Urbina Bay Shore Landing Endeavour Recipes
Life Aboard The Endeavour
More About Life On Board
Puerto Egas Shore Landing
Endeavour's Floating SPA
Meeting One of World's Rarest Animals
Puerto Ayoro Walking Tour
Santa Cruz Highlands Tour
Hunting Tortoises in the Santa Cruz Highlands
San Cristobal, Endeavour's final stop