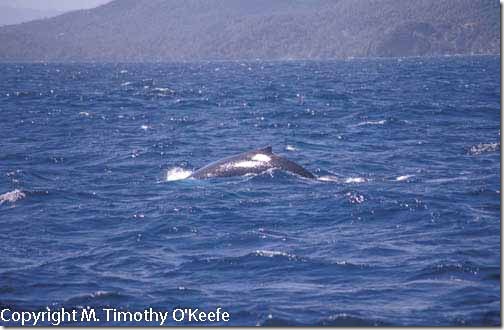 Surprising Fact: Dominican Whale Watching Easier and Better Than Alaska.
Riding the top deck of a 45-foot whale watching boat hunting for humpback whales in the Bay of Samana, I keep comparing the Dominican Republic landscape with that of another famous whaling ground: Alaska. From a considerable distance, the Samana coastline appears heavily forested with row after row of terraced trees rising above the shoreline. To me, this unbroken canopy mimics the uninhabited, isolated regions of the far north.
Making comparisons to Alaska is inevitable since whale watching is one of the state's best-known attractions. Yet the odds of seeing humpbacks are actually better here in the Dominican Republic. The Bay of Samana is one of the whale's most important breeding and calving grounds, with between 2,000 and 3,000 of the giant mammals migrating here each January.
Humpback whales come to Samana to mate and calve each spring
A naturalist explains over the boat's crackling loudspeaker that the whales move south for calving season because a newborn humpback—even though it weighs close to a ton–lacks enough fat to survive in the cold waters of the North Atlantic.
The adults stay in the DR's warm waters until the calves are fit to travel, which begins around the middle to the end of March. From Samana, the humpbacks return to their summer feeding grounds located between North America, Greenland and Iceland.
Samana is central to the whales' reproductive cycle. Since humpbacks have a gestation period of about a year, the calves now being born in the Bay of Samana are probably the result of the previous season's mating.
                       Atlantic humpback whales are dark on top, white underneath.

As the boat narrator points out, the Bay of Samana is only one area of the Dominican Republic where the humpbacks winter but it is the most accessible place for whale watching. He claims that at the moment virtually every humpback whale from the western North Atlantic—whose home waters are from 2,000 to 4,000 distant from Samana–is now lounging somewhere around the Dominican Republic.
                                         Are all humpbacks really Dominicans?
This information deeply impresses Nina, a 10-year old Dominican girl seated next to me. Tightly hugging her most important possession, a bright pink knapsack featuring the famous blonde-haired Barbie, Nina is amazed to hear that humpbacks have traveled thousands of miles to have their babies in her homeland.
"Are the baby whales born here Dominicans, too, just like me?" she asks the boat's narrator.
He has to think about that. "Yes, I guess you could say that," he answers. "And that means all the humpback whales in our part of the world are Dominicans, too, since they were all born somewhere near the Dominican Republic."
Nina smiles and hugs her Barbie knapsack tighter. For the moment, she doesn't seem to care if she even sees a whale today.
Waiting for humpbacks to appear
The other 60 passengers with her do. We're all becoming antsy. Normally, whales would be sighted by now, but we have high rolling seas, which makes spotting more difficult. More and more of us are imagining tail flukes and waterspouts in the tossing white froth.
When the first genuine whale spout finally is sighted, there's no dramatic "Thar she blows," just a huge collective sigh of relief.
                               Two humpback whales surface near our boat.

Humpbacks are known as the most playful of all whales, which has me hoping that at least one of the animals will breach, or jump skyward. Although it doesn't happen this day, a succession of whales entertains us thoroughly as they roll on their sides, wave their flukes, or flip their massive tails skyward when they sound.
Several times we are almost eye to eye with a humpback whale, which is classified only as a medium-sized whale. They grow from 30 to 50 feet in length with the largest weighing as much as 29 tons, or 58,000 pounds. They are almost tiny compared to the blue whale, the largest creature on earth. The largest known blue whale was 110 feet long and weighed 209 tons, or a whopping 418,000 pounds.
Drifting among goliaths
But on our 45-foot boat, the humpbacks are goliath enough. As we drift within 20 to 30 yards of a large adult, I'm close enough to start counting the fleshy knobs (called tubercles) on the whale's massive head, so big it takes up more than a third of a humpback's body. In the clear water, I can easily distinguish the body color; black on top and white on the bottom.
We end up spending less than an hour of our three-hour trip with the whales but I am well satisfied. I've seen more humpbacks in Samana and gotten closer to them than I ever have on several Alaskan trips. And in Samana I do it on a bright sunny day where the wintertime temperature always hovers somewhere in the 80s. I can't ask for more.
Well, maybe a breach or two. But I'm told later, that almost never happens with humpbacks in Samana. Perhaps because all their energy is concentrated on mating.
 You can choose between large and small whale watching boats.
If you go Samana whale watching
 Whale Samana is considered one of Samana's most reputable whale watching operators. In fact, owner Kim Beddall pioneered whale watching here in 1990. And if you don't see whales, your next trip is free.
The 55-foot custom whale watching vessel Pura Mia carries up to 65 passengers.  A marine mammal specialist narrates and answers questions on every trip.  Narration is done in English and Spanish with interpreters available on board. Dramamine tablets supplied on request. (Yes, the Bay of Samana does get rough sometimes).  
Their trip schedule makes it obvious the best whale watching is the end of February. Beginning January 15 tours depart once a day at 10 a.m. Twice daily departures sometimes  are offered during the high season. Check the schedule. Tours continue until the end of March. The Pura Mia  leaves from the Samana town dock, with pickup for those staying at Cayo Levantado scheduled 30 minutes after the boat departs Samana city, officially known as Santa Barbara de Samana.
Go big or small
Virtually all the large whale watching boats depart the Samana town dock, while smaller and faster craft leave either from there or locations outside the city. A small boat may not be what you want for high seas but on calm days they could be perfect.
Samana has established strict whale watching regulations to prevent boats from crowding the animals. Like all celebrities, humpbacks prefer to be left alone.