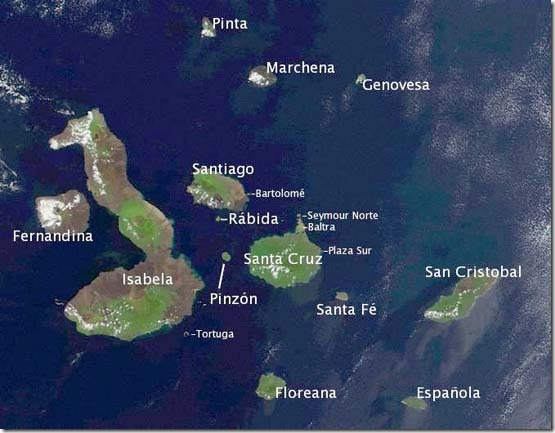 Charles Darwin's Fame Saves the Galapagos
The naturalist-guides on the Lindblad's National Geographic Endeavour will go into  Charles Darwin in far more detail than I can here, though none of them—in fact, no one anywhere that I can find—has appreciated the legacy of Charles Darwin in this same manner.  Yet it seems so strikingly obvious. Charles Darwin's fame saved the Galapagos Islands.
With the 1859 publication of The Origin of Species and its revolutionary concept of evolution through natural selection, Charles Darwin made the Galapagos archipelago world famous. And in doing so, this fame eventually helped save the islands from further exploitation and devastation of the landscape by introduced animals, particularly goats. The first protective legislation for the Galapagos was enacted by the government of Ecuador in 1930 and supplemented in 1936. However, there was no real enforcement or protection until the islands were declared a national park in 1959, on the centenary of Darwin's publication of his still controversial book.
Without such world focus on them by Darwin, there's a good chance none of us would be interested in visiting the Galapagos because none of its wildlife would remain. As it is, some endemic species have disappeared and the tortoise populations drastically reduced by wholesale plundering of the island by its earliest visitors.
Discovered in 1535 by the Spanish who had no interest in claiming them, the Galapagos first became a haven for pirates in the late 1500's who preyed on the huge tortoises for their meat over the next 200 years. Realizing the tortoises would stay alive for a year or more without food or water, pirates also sailed away with thousands of the animals which were unable to right themselves once they had been turned on their backs.
Whalers made up the next wave of visitors, lured by the unimaginable number of sperm whales that were said to pass the islands in a line from dawn to dusk. By the time Darwin's visited the Galapagos in 1835 as part of a 5-year around the world mapping expedition, the number of tortoises were already being depleted. He reports in his book Voyage of the Beagle that for the 300 residents on Floreana Island  "the staple article of animal food is supplied by the tortoises. Their numbers have of course been greatly reduced in this island, but the people yet count on two days' hunting giving them food for the rest of the week. It is said that formerly single vessels have taken away as many as seven hundred, and that the ship's company of a frigate some years since brought down in one day two hundred tortoises to the beach."
Fur seals were also killed off in great numbers because of their thick, luxurious fur. By the beginning of the 20th century, fur seals were almost extinct. Birds were shot in great numbers for their feathery decorations. In addition, introduced animals–goats, pigs, feral cats and dogs, rats, burros and cattle– severely impacted the natural environment.  Particularly devastating were the goats which  consumed and destroyed the vegetation the tortoises relied upon  to survive. Just a tiny colony of only four goats on one island multiplied to a population of over 100,000 in just a few decades.
Whaling ended by the 1860s but ships continued to stop to take on meat and water. By 1900, the tortoise populations of Floreana, Santa Fe and Rabida had vanished.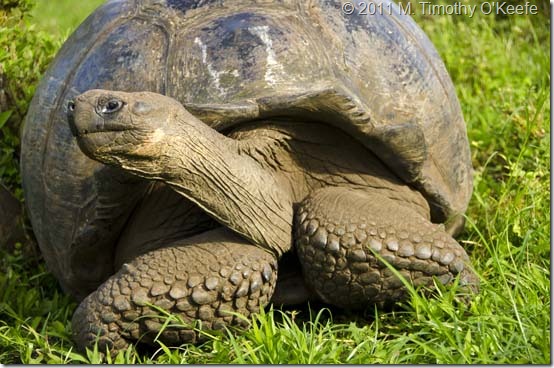 The world's scientific community became interested in the Galapagos, though that wasn't necessarily a good thing. Scientists started collecting the animals–not to ensure their survival–but to put them in formaldehyde or stuff them for display. The California Academy of Scientists in 1905-1906 took 70,000 biological specimens, more than any Galapagos expedition in history; some might call that wholesale carnage. In addition, living animals began leaving the islands in significant numbers to be added to zoos and sold to private collectors. It turned out that all this cultured interest–just like the wandering goat herds and feral cats–did nothing but bring more harm to the islands.
In a strange way, it was Charles Darwin's enduring fame that helped stop the destruction. The year 1935 marked the 100th anniversary of Darwin's visit to the Galapagos, and the Ecuadorian government celebrated it by turning parts of some islands into wildlife preserves. Finally there was official acknowledgment that the Galapagos indeed were something special, worth preserving, but nothing was done to cull the out-of-control goats and other introduced animals. Nothing really changed, except on paper.
Although the Galapagos were made a national park in 1959, it wasn't until 1968 that the park service itself began. Of more immediate importance was the 1959 founding of Charles Darwin Foundation for the Galapagos Islands, incorporated in Belgium. It started work in the islands in 1960 and opened the Charles Darwin Research Station in 1964. At last, something was being done to reverse the decades of damage. The research station began collecting tortoise eggs and hatching them at their facility. Only when the turtles were large enough to have a realistic chance to survive were they returned to island where they were collected.
Fortunately, this rescue program started in time to save the species of tortoise on Espanola, which had just 11 females and 2 males remaining. Tortoise populations on other islands also were increased. Once it got going, the National Park Service started eradicating goats from the islands, a program that still continues today.
Why Charles Darwin was so influential
Darwin visited the Galapagos briefly in September, 1835, visiting only 4 islands during his 5 week stay. He did not, as many movies and books have indicated, have a "Eureka!" moment here and spring forth with his theory of evolution. Nor at the time was Darwin all that impressed by the differences in the 13 species of finches which have come to be known as "Darwin's finches." His theory developed slowly over a period of time, with the Galapagos providing fundamental elements for his argument supporting the ongoing process of natural selection.
Like most of the people of his time, Darwin initially accepted the belief that an animal species was something fixed and unalterable, made perfect at Creation with no need for change. But in the isolated volcanic mounds that make up the Galapagos there are a remarkable number of species that not only differed from those on the South American mainland, they also differ from island to island. Each island, in fact, often has its own peculiar type of tortoises, plants and birds.
Darwin reasoned that animals brought to the islands from South America by the winds, on driftwood or other means adapted to the special conditions on each island, and evolved into new species. The most striking example of this adaptation was in the 13 different species of finches which varied from island to island, All the finches have a beak of a peculiar form and use this beak in a special manner for getting food: one kind of finch pecks on trees, as woodpeckers do, while another has developed the beak of a parrot.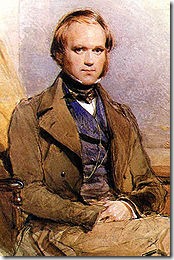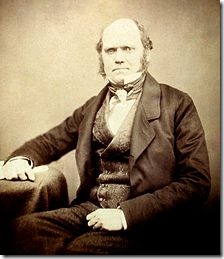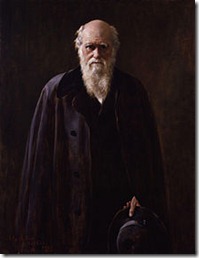 Charles Darwin from L-R: about the the time he was on his "Beagle" voyage; several years before publication of his landmark book; a year before his death in 1882. Images from Wikipedia.
It was through such evolution that the Galapagos became home to so many one‑of‑a‑kind animals. All of the reptiles, except for 2 marine tortoises, are endemic. Most famous is the Galápagos giant tortoise, which has 11 subspecies on different islands, all of them endangered. Also endemic are the land iguanas, marine iguana, 3 snake species, numerous lizards and geckos. Birds include 57 species, of which 26 are endemic and the others migratory visitors. Endemic birds are the 13 species of Darwin's finches, dark-rumped petrel, Galápagos flightless cormorant, Galápagos penguin, lava gull, Floreana mockingbird, Galápagos hawk, lava heron, nocturnal swallow-tailed gull, Galápagos rail, thick-billed flycatcher, Galápagos martin and Galápagos dove. The native mammals number only 6: Galápagos fur seal, Galápagos sea lion, two species of rice rat, bat and hoary bat.
However, it is more than the uniqueness of the animals that is so striking. It is their fearlessness of humans. They often regard us with curiosity but most often they ignore human presence.  A major reason for this is the lack of land predators with the exception of the Galapagos hawk. Amazingly, even underwater, the sea lions, penguins and fish act the same way despite the fact there are quite a few predators around, including hammerhead sharks.
This overwhelming sense of compatibility and harmony has even non‑religious people making Biblical references almost constantly the first few days of their visit. Nowhere else on earth is it possible to walk amidst nesting birds, legions of iguanas and herds of sea lions and fur seals and not have the animals flee almost from the first sight of you. The Galapagos are no lush Garden of Eden, but deep inside you know this is the way the world must have been when God first created it.
Without Charles Darwin to bring world attention–and appreciation–to this rare ecosystem, it might all have been irretrievably destroyed.
Lindblad Endeavour Galapagos Cruise Links
The Galapagos Experience                                        Endeavour Dining
 Galapagos Adventure Upcoming                           Sustainable Dining Policy
How Darwin Saved The Galapagos                         Saturday Dining Menus
Galapagos Photo Tips                                                  Sunday Dining Menus
What To Pack For Cruise                                            Monday Dining Menus
Getting to Guayaquil                                                    Tuesday Dining Menus
Las Bachas Shore Landing                                         Wednesday Dining Menus
North Seymour Shore Landing                                 Thursday Dining Menus
Fernandina & Isabela Islands                                   Friday Finale Menus
Urbina Bay Shore Landing                                          Endeavour Recipes
Life Aboard The Endeavour
More About Life On Board
Puerto Egas Shore Landing
Endeavour's Floating SPA
Meeting One of World's Rarest Animals
Puerto Ayoro Walking Tour
Santa Cruz Highlands Tour
Hunting Tortoises in the Santa Cruz Highlands
San Cristobal, Endeavour's final stop