Oceania Marina Baltic Cruise Second-Rate Despite Fine Itinerary
 The Oceania Marina is a fine new ship, in service since 2011, with little signs of wear to its fixtures.  Our stateroom, as mentioned previously, was first-rate and so are most of the public areas. But after completing our Oceania Marina Baltic Cruise, we won't book Oceania for another sailing.
Even considering our lengthy history with the cruise line going back to the R-Ships, breaking up is not that hard to do. We decided never to sail Oceania again in the finals days of our Baltic cruise. It was a surprise decision, something we never imagined. Oceania was the cruise line we'd always told others was "our favorite."  We tell them a different story now.  It's not as good as it was, that they can sail most of the same itineraries for far less.
What did we find so unsatisfactory we won't sail Oceania again?  Based on our expensive experience, Oceania has become a second-rate, lower quality version of its former self.  Oceania wasn't operating like an upper premium  cruise line should. (This link suddenly no longer works. Why? Answer at  the end.) Perhaps the most obvious example of its decline is our blog describing how our cruise began in Stockholm, Sweden.  The Marina was the only cruise ship not docked near a terminal and the Marina did not offer any sort of shelter for its arriving travelers. As a result, a good number of passengers were forced to stand in the rain, waiting in line to board. Not the kind of treatment you would expect from an upper premium class cruise line, (Thankfully, we were lucky enough to board before it rained.)
This blog will deal more with day-to-day concerns. And it should be pointed out we were not the only ones dissatisfied with Oceania last summer.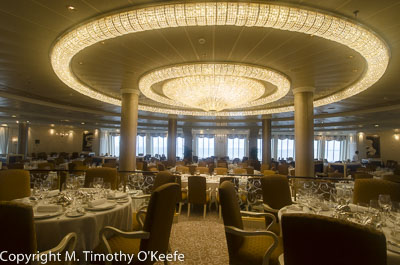 Oceania Main Dining Room meals are as subdued as the decor
The travel agent who booked our cruise is with one of the country's largest agencies. After we returned home,  he asked about our experience on the Oceania Marina. We told him how much the dining had deteriorated. He wasn't surprised, saying "Other passengers had said the same thing, that the food had declined and that they were cutting back on quality."
Our poor Oceania experience was not out of the ordinary.
Marina  Dining Hit and Miss   
Dining is one of the most important aspects of any cruise, but particularly on one like Oceania which touts "The Finest Cuisine at Sea."   
That was not our overall experience in the main dining room or Terrace Café. While we were served numerous picturesque dishes, many were bland, tasteless and totally forgettable. Imagine being trapped on a ship dedicated to the current cuisine fad favoring presentation over flavor, of feeding the eyes and ignoring one's taste buds. Such frou-frou sometimes resulted in unappetizing combinations. One night in the main dining room, I couldn't find an appealing appetizer or salad.  That was a remarkable kitchen accomplishment.
Some other passengers avoided the main dining room for a different reason. One Canadian woman explained once there was enough for her because  "It's just too pretentious."  Pretentious is a term you don't often hear, so I was surprised to hear the same term from several American couples at separate times about the pompous attitude in general of the cruise staff and particularly at public functions. Grandiosity definitely did flow at the cocktail party for past Oceania passengers, but that silliness  didn't really concern us.
The poor dining did.  For breakfast, the only place we visited was the Terrace Café because service in the main dining room was sometimes slow. The waiters there did their best but it was obvious they were understaffed, especially in the evenings.  With the Marina visiting a new port almost every day, we didn't want to waste time waiting to be served breakfast. Although the dining room might offer more variety than the buffet, in our experience most cruise lines vary their breakfast buffet from day-to-day to prevent monotonous selections.
Same Food, Always Lukewarm
Breakfast in the Terrace Café, however, varied little. It did become too repetitive.  A single new egg dish might appear every other day while pancakes and waffles  were infrequent. What also never changed was how the buffet warming pans were poorly heated. The way to avoid lukewarm/chilly eggs was forego the buffet pans for the Terrace grill where they could be freshly prepared. A similar option for heating other "warm" buffet items did not exist. Too bad there wasn't a microwave available. As for breakfast pastries, they were nothing to look forward to. Many were unusually dry, somewhat crumbly and with negligible taste. Bread was the safest bet.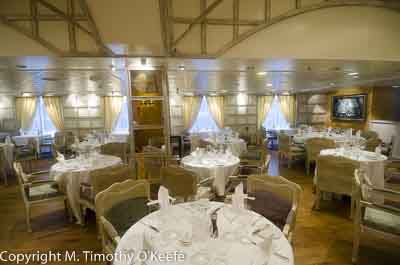 Jacques French Bistro was sometimes open for lunch
For lunch, you will not go wrong at the outdoor Waves Grill. Wonderful sandwiches made fresh to order with no effort to dumb down their taste. The selection was large enough for a new sandwich every day for a week.  The Waves Grill was a viable lunchtime option for the Terrace Café which started out strong but gradually deteriorated.
The Terrace Cafe at both lunch and dinner was consistently reliable for its sushi and its salads, especially the individual Caesar salads made to order quickly. In the evening, its  grill also was dependable for steak and  lobster. Adjacent to the grill you could have a freshly prepared different Asian wok dish most nights; those were usually excellent. Regardless of the quality of its specialty stations,  the Terrace Café's primary flaws remained at all meals: semi-warm/cool  bland buffet foods that too often wouldn't match a Golden Corral all-you-can-eat restaurant.
The Terrace Cafe will be remembered for the worst lasagna Linda ever tasted.  And the slice of semi-petrified apple pie with dehydrated  fillings that must have been in a freezer for a long, long time. Should have taken a photo of that.  But the dehydrated pie also explained why the breakfast pastries were so dry as well as cookies in the concierge lounge. They'd all been trapped in the same freezer.
Room Service Poor & Limited 
Room service was available virtually anytime. With the exception of its breakfast options, the menu was small, basic and never varied during the cruise. We didn't dare request breakfast room service after making our one and only order for a simple late lunch: sandwiches and salads.  The sandwiches,  made of unusually dry bread and minimal, flavorless ingredients were left mostly uneaten.  The salads weren't quite as bad but hardly up to Terrace Café standards. Both  sandwiches and salads tasted as if they were made days before and then shoved into a refrigerator. A good hotel would never dare offer such lousy room service fare.
Yet operating a superb room service is not beyond the ability of other cruise lines. Some gladly deliver anything from the ship's  lunch and dinner menus while the main dining room actively serves those meals. Not on Oceania.
We cannot imagine an extended cruise on the Oceania Marina. We once spent 35 days on Holland America's Maasdam and found the dining not only varied but exceptionally good. After 12 days on the Oceania Marina, we were eager to eat elsewhere.
Linda and I are foodies.  See our posts on cruise dining aboard the  Maasdam and  National Geographic Endeavour.  Those who praise Oceania for its  fine dining may  base it on the specialty restaurants–which, regretfully, are not open for three meals a day.  And are not representative of Oceania's  ordinary dining venues.  
The Exceptional Specialty Restaurants
The saving grace at dinner was the four specialty restaurants: Jacques (French), Toscana (Italian), Red Ginger (Asian) and Polo
Grill .
Our meals matched  the high standards we recalled from previous cruises.  All of the Marina's specialty restaurants do offer some of the "finest cuisine at sea."  Unfortunately, a shortage of  dining room waiters sometimes spoiled an otherwise perfect evening.
Oceania's no extra-charge specialty restaurants are much sought-after by passengers ravenous for quality cuisine. Except for Jacques, open for lunch on occasion, the specialty restaurants serve dinner only and require  advance reservations, which limits their access.
The specialty restaurants demonstrated the Marina could serve flavorful meals. When it chose to.
Red Ginger's flavors are as pronounced as its colors
The most popular restaurant on our cruise seemed to be Red Ginger with its spicy Asian menu.   Red Ginger lives up its name. so if you don't appreciate a pronounced ginger flavor, this isn't the restaurant for you. We dined there twice, when all reservations were booked. Yet we noticed quite a few tables without place settings when other passengers wanted to be there. Were the restaurant's three cooks working in view at the back of the room unable to accommodate any more diners?  Or did the vacant tables reflect a lack of servers? Or more cutting back?
Our favorite of the four restaurants was long reliable Polo Grill featuring high-grade steaks, lobster, chicken, pork and lamb. The only time we could book this restaurant was for the last night of the cruise.  This will sound exaggerated but it's true. When I tasted the garlic mashed potatoes accompanying my entree, it was a jolt to my system. I realized how starved I was for garlic and every other flavor. This was the first and only time on the 12-day cruise I tasted any distinctive seasoning except at Red Ginger.
Our long-awaited Polo Grill evening turned into a disaster due to understaffing.  Thirty minutes after receiving our dessert menus we still were unable to order. A group of eight had arrived just as we were handed our dessert list. Our waiter and his helper were so busy attending to the new group they didn't take time to scribble down our short order.
Tired of waiting, we left our table. We mentioned our situation to the manager, who consulted the table chart showing the tables our server was assigned. He said, "But he's only serving 12 people. I don't understand how this could happen." Maybe because the arrival of eight was monopolizing his time?
Although the restaurant manager wasn't doing anything in particular, he didn't call for anyone to assist us or even consider helping us.  Perhaps he missed the memo about providing  "upper premium class" service?
The Moody Marina  
With the exception of The Polo Grill manager, the cruise staff always was helpful and acted friendly yet something felt off, not quite  right. Linda and I can't put our finger on precisely what it is. We think back to other cruises.
"These people don't seem happy."
Indeed, they didn't. Waiters did not joke with or act especially friendly toward passengers they saw every day. We noticed very few of the staff going out of their way to interact with passengers. Exceptions were the cruise director (he does his job well), all of the room stewards on our floor and the concierge lounge staff. They couldn't have been nicer or more efficient.
Otherwise, whenever passengers were not gathered together, the Oceania Marina often felt like an abandoned ship.
Oceania Cruises Sold To NCL
The very day we disembark the Marina, it was announced that Prestige Cruise Holdings– parent company of Oceania Cruises and Regent Seven Seas Cruises—had sold both cruise lines to Norwegian Cruise Line. No wonder Oceania crew members were unhappy. They had to be wondering their futures under new ownership since rumors of the impending sale must have been well known.
Reading the NCL press release confirmed our impression that the dining had deteriorated noticeably.  As our travel agent later pointed out, Oceania probably cut back on dining quality in order to increase its profit line before completing the sale to NCL. Cutting costs would also account for the chronic understaffing we encountered..
The PR release also stated NCL would pay Oceania's parent company "a cash consideration of up to $50 million to Prestige shareholders would be payable upon achievement of certain 2015 performance metrics."
Oceania Cruises performance metrics should place customer satisfaction near the top.  Our Oceania dining experience lowered our satisfaction with Oceania from 10 to 3 or 4. Whatever happens with NCL/Oceania in the future, for better or worse, we won't be back to find out.  It would be too costly a gamble and, frankly, there are too many other good cruise lines to choose from less pretentious, less expensive and more dependable.  We know not to care about Oceania anymore.
This is the slowest blog in history because we  never wanted to get to where we shout "the king has no clothes!"  Ironically, Oceania's recently updated website lacks any previous claims (dead link above)  of   its "upper premium class" status  that I can find.   New owner,  new  reality?  The latest corporate description of Oceania is of a comfortable, upscale cruise. Yet the prices remain premium class.