Never a second chance to make a first impression.
Deplaning in Stockholm, we move through immigration and customs amazingly quickly. No serious concerns about terrorism here. At the luggage carousel, we meet an Oceania representative collecting luggage for passengers taking a bus tour of Stockholm before boarding the Marina. We tell him we'd just like to go to the passenger terminal and nap in a chair before the ship is ready for boarding, assuming the terminal has any seats. He assures the Marina's terminal not only offers a comfortable seating area to wait but also a café. Sounds perfect. Little did we know that of all the cruise ships in port, Oceania Marina lacks a Stockholm terminal.
Our 28-mile taxi ride to the terminal may be lengthy we see mostly highways and only a small bit of Sweden. The small bit of Stockholm we view reminds Linda of Stieg Larsson's famous Millennium series, a best-selling trilogy starting with The Girl with the Dragon Tattoo. She imagines heroine Lisbeth Salander walking the streets we pass. Her vision of Lisbeth looks like Noomi Rapace, the Swedish actress who starred in the original movie.
Our taxi driver is an interesting man. From Iraq, he says he abandoned Baghdad in 2005 after his two supermarkets were set on fire a second time. He says he has no plans ever to return despite close family still living there. His regular family reunions occur in a European country, never in Iraq.
Arriving at the cruise port, we find the Marina is not at the Vartahamnen 523, the terminal address provided by Oceania. The port section, known as Vartahamnen South, has five quays  but all dedicated to ferry service, including Scandlines. Our driver takes us to the northern port section and soon locates a Holland America ship with a Celebrity vessel docked behind. The Marina is located opposite them, easily identified at a distance by its white smoke stack with a big "O."

Oceania Marina's absent Stockholm terminal-why? 
Instead of the promised passenger-friendly cruise terminal, we discover a curiously long column of Oceania passengers just outside the fence gate leading to the ship. When our taxi draws up, several passengers quickly approach our driver to secure a ride to the airport. It's 8:45 a.m., which seems late for so many people still to be disembarking and without any organized transportation for departure or hotel stays. We grab our luggage, then pay the fare with a credit card. Our cab driver seems filled with new energy, surprised and pleased to pick up a new fare so quickly.
Still early, the temperature is chilly and the overcast sky has the look and feel of rain. We ask the way to the terminal. What terminal building?  There isn't one for Marina passengers.  Apparently the only terminal is located at the pier opposite us where Celebrity and Holland America ships are berthed.  We're advised to wait outside the fence gate where, thankfully, is a tiny gift shop with a large wooden deck containing only five plastic chairs, already occupied by other new arrivals waiting to board. We claim an edge of the deck to sit before that space is occupied. The hard deck feels identical to the SAS Premium Plus seats. Since it will be several hours before we can board the Marina, we pass the time people watching and talking to our new shipmates.
I estimate the waiting passenger taxi line at 40 to 50 people.  It doesn't shorten for more than hour. Taxis, slow in coming, depart sporadically with handfuls of people.  As some leave, more disembark from the Marina to replenish the column. It's almost 90 minutes for the last person to catch a ride. Never witnessed such an unusual and haphazard disembarkation procedure. Fortunate that for those departing and the swelling numbers waiting to board that the sky still only threatens rain.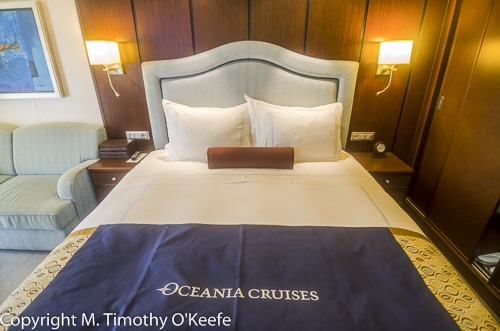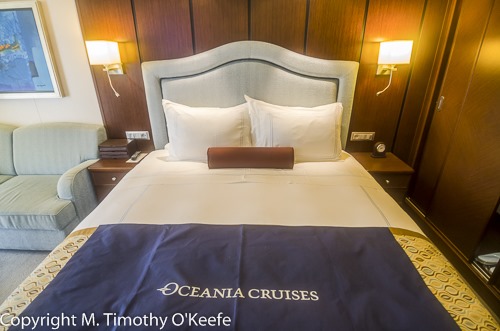 After a sleepless SAS flight, this bed is what we seek most.

Oceania cruise staff have no explanation for the lack of a cruise terminal or the lack of any facilities; nor do they seem to care. Their attitude and the situation don't reflect well on Oceania's claim to offer a "luxury experience." Or match our previous Oceania experiences, either. Makes us wonder what to expect once on board. Will it be better or worse?  Can't believe we're questioning our wisdom about booking Oceania for this cruise.
Around 11 a.m. a large truck arrives with baggage from the airport. We lug ours over to be added to the bunch. About 20 minutes later, wonderful news! A large canopy is erected at the ship's gangplank and officials assemble under it so we can begin boarding. As expected, no staterooms ready yet but we learn a full lunch buffet lunch is waiting at the Terrace Café on deck 12. Linda and I agree the Marina's interior is classy but décor is hardly foremost in our minds. Where are the restrooms?
Terrace Cafe best part of the day
At the Terrace Café, the buffet reassures us how good dining on Oceania can be. Although Linda limits herself to soup and a salad, I graze the hot courses. It will be the next day, when I'm more awake, that I discover I can have a fresh, personally prepared Caesar salad at the salad bar for lunch or dinner. Seated at our table, we have a birds-eye view of those still waiting to board. The weather has changed. Anyone standing outside the canopy waiting to begin the boarding process is standing in a light rain. Strangely, don't see any umbrellas being passed out. That same thing could have happened to us while waiting on those gift shop stairs, with no shelter waiting anywhere.
Following lunch, we remain at our table to talk with another couple as everyone waits for an announcement that rooms are ready. The couple, from the northeast, was on our SAS flight, also in SAS Premium Plus. We compare note on our experiences. Departing their hometown, they also were sent to TSA's fast track line, so flying premium class was worth more than we knew. And they didn't sleep much on the flight, either, due to SAS' hard seats.  At 1 o'clock, the first rooms are ready for occupancy. They start at the top category: the suites. At 1:30 our concierge category is announced. We're told later the bulk of the rooms were ready just before 3 p.m.
Our room is just a few decks below the Terrace Café and convenient to elevators, as planned. Our stateroom is impressive. Nice and spacious. A laptop computer with unlimited internet sits at the desk for our use. A bottle of champagne chills in an ice bucket. Our bathroom is expansive, offering both a large tub and a sizeable shower stall. Unexpectedly, we find we have a mini-fridge stocked with an assortment of soft drinks (no charge). And two impressively large bottles of water that will be replaced every day. This is going to be very nice.
Our luggage soon arrives but we leave it unpacked. One more thing to test: the comfort of the bed, which must have been suitable since we fall instantly asleep, only to be jolted awake two hours later by a blaring announcement to prepare for the lifeboat drill. Abruptly, normal shipboard life begins .