As much as we 'd like to sleep through the first hours of our Oceania Marina Baltic Cruise, the call to the lifeboat drill interrupts our nap. Aftertwards we start to unpack before grabbing something to eat and sacking out again. Finding places to store clothing takes longer than normal since the drawers are not placed near the closet but scattered throughout the stateroom.
The hunt-and-seek for storage may reflect the imaginative design needed to squeeze both a bathtub and shower stall into our 282-square-foot stateroom. The computer desk,located near the veranda is.an unexpected storehouse It has several side shelves and nice deep drawers.
Terrace Cafe Offers Nightly Lobster, Steak, Sushi
The Terrace Café is our choice for dinner. Serving ourselves should be faster than any other dining option including room service. The Terrace Café is surprisingly empty, perhaps because most passengers have gone to sleep, are seated in the main dining room or sampling one of the Marina's five specialty restaurants.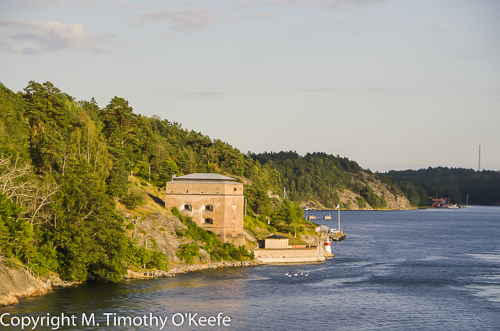 Cruising through the Stockholm archipelago
With so few people present, we easily find a window table for two. It has a good view of the Marina's passage through the Stockholm archipelago, a cluster of islands and rocks leading to the Baltic Sea. The larger landfalls, popular summer vacation spots, contain not cottages but sizable homes.
At the buffet, Linda is elated to find fresh sushi and sashimi in the salad bar. I'm more interested in the cafe's grill that prepares cooked-to-order steaks and lobster tails. Since the Terrace Café serves many of the items on the main dining room, it becomes a favorite dining spot. The café is more relaxing than the main dining room with its harried waiters and sometimes long waits between courses. Besides, in the cafe it's easy to combine several entrees or quickly replace a disappointing one and not disrupt the pace of anyone else's meal.
Back in our cabin, a card placed on a bed pillow contains the unwelcome news that we'll lose an hour of sleep tonight when the ship moves into a new time zone. How much sleep we're likely to get is debatable. Jet lag is bound to play havoc with us. It was a mistake to take a nap before the boat drill. Better to stay awake until afterwards, order room service and then call it a day without much unpacking. Sleep, wonderful sleep, so taken for granted.
Marina Concierge Lounge Sparse, Disappointing,
Not unexpectedly I awake the next morning at 6 a.m., four hours before we arrive in Helsinki. I decide to check out the concierge lounge before breakfast. The lounge is accessible 24 hours but not staffed until around 8 a.m. The lounge is about the size of two inside cabins. with a desk near the entrance door and a computer for any passenger on the concierge deck to use.
On this trip, that computer isn't likely to be in much demand considering the free internet in the cabins. Next to the computer is a small stack of Helsinki maps. These same maps are available downstairs when we disembark. At almost all other Baltic ports, the concierge lounge contains better, more detailed city maps than any brought aboard by local tourist boards.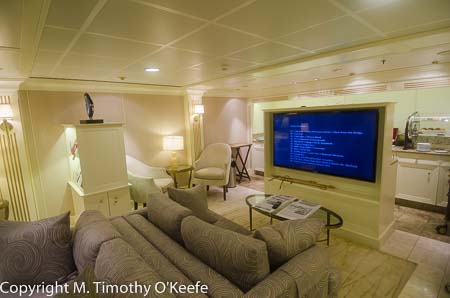 Oceania Marina Concierge Lounge
Overall ,the lounge resembles a mini-library with a reading room. Full size copies of today's major newspaper from the U.S., Canadian and British are displayed on a table beneath a large flat screen TV. Behind the TV is a long counter stocked with chilled juice dispensers, coffee, tea, pastries and cookies.
Although various web sites claim the concierge lounge serves daytime sandwiches and evening canapés, it offers only cookies and pastries during our trip. Unlike the concierge lounges on some other ships, wine and beer are not served in the evening. Unless you want to read a newspaper or consult with the concierge staff about what to see in port. there is little reason to visit. For concierge class, the lounge isn't much of a perk .
I glance at my watch. Time for Linda to get up and for us to go to breakfast before arriving in Helsinki.