Tuesday Galapagos cruise dining
The Lindblad National Geographic Endeavour's Ecuadorian lunch buffet is perhaps the most colorful and flavorful of all the buffets. If you want to photograph it, be first in line. And shoot quickly. Many of the first for lunch lunch crowd are ready for a feeding frenzy. (The dinner crowd is more mellow.)
One of lunch items, mote pillo, is unusual. Mote is the Ecuadorian word for hominy, made from white corn kernels. Hominy is a staple throughout the Andes. Mote pillo by itself can be served for breakfast. At lunch it becomes a side dish.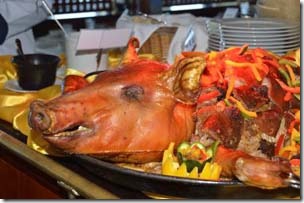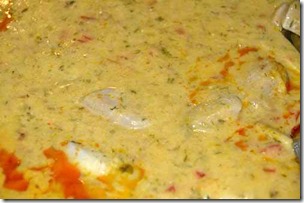 Roast suckling pig; steamed wahoo in coconut sauce.
Roast suckling pig is a common offering in Ecuador's highlands. The crackling, (the crisp and tasty roasted skin) is highly prized by Ecuadorians and tourists. It is one of the first things to disappear. Oh, so good!
Wahoo is a hard-fighting fish that every serious salt water angler wants to find and then dine on. Today is wahoo day, served at both lunch and dinner. Do it! The Endeavour chefs do a fine job.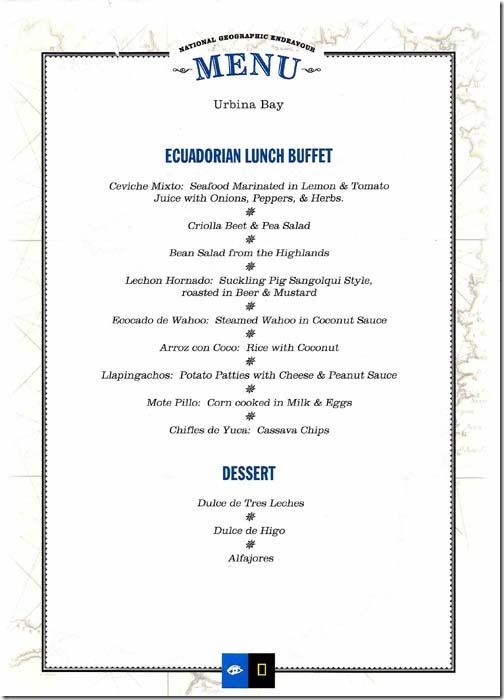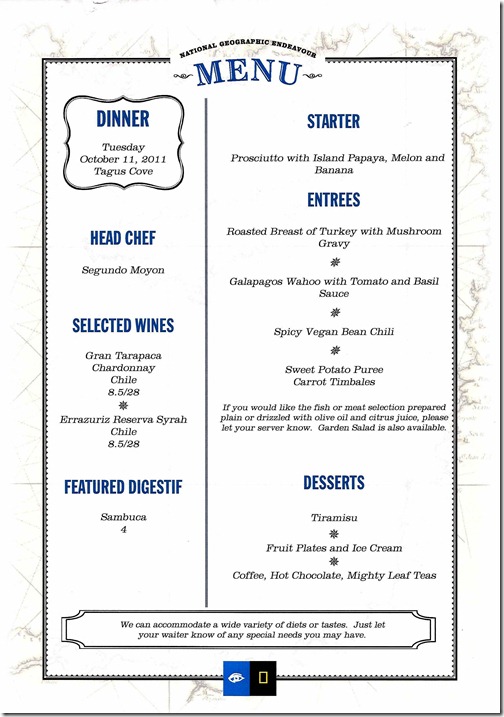 Lindblad Endeavour Galapagos Cruise Links
The Galapagos Experience Endeavour Dining
Galapagos Adventure Upcoming Sustainable Dining Policy
How Darwin Saved The Galapagos Saturday Dining Menus
Galapagos Photo Tips Sunday Dining Menus
What To Pack For Cruise Monday Dining Menus
Getting to Guayaquil Tuesday Dining Menus
Las Bachas Shore Landing Wednesday Dining Menus
North Seymour Shore Landing Thursday Dining Menus
Fernandina & Isabela Islands Friday Finale Menus
Urbina Bay Shore Landing Endeavour Recipes
Life Aboard The Endeavour
More About Life On Board
Puerto Egas Shore Landing
Endeavour's Floating SPA
Meeting One of World's Rarest Animals
Puerto Ayoro Walking Tour
Santa Cruz Highlands Tour
Hunting Tortoises in the Santa Cruz Highlands
San Cristobal, Endeavour's final stop