Part 2—Chef Joseph makes his class more fun than recess
Last night the ship rocked and rolled like a 60's band without any music, unless you count the water in the pipes sloshing back and forth. But despite the waves, I'm on my way up to deck 7 for a hands-on cooking class with Chef Joseph Caputo.
I enjoyed the free cooking demonstration with the chicken soup so much I think this $29 hands-on cooking class will be a lot of fun. There are 13 of us gathered in the Culinary Arts Center as Chef Joseph explains what we'll be making.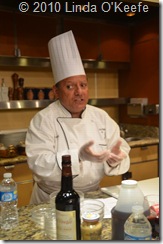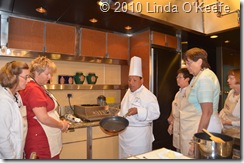 Chef Joseph                                 Explaining the crepe pan

He says, "This is my Grandmother Angela's manicotti recipe. I've been making it since I was 7. It is a tradition for my Italian family to have manicotti for celebrations such as Christmas, Thanksgiving and birthdays. My grandmother would get up before dawn and start making the tomato sauce, the crepes and the filling. Since the crepes aren't very big, it was easy to eat 5 or 6."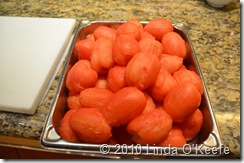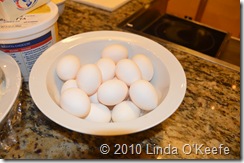 Blanched, peeled plum tomatoes                                              Fresh eggs
Chef Joseph quickly organizes us into 4 groups. Assignments are handed out. My group begins seeding tomatoes as others start cracking eggs and whisking in flour and milk. Another group is busy mixing the cheese filling.
Chef Joseph watches us closely and offers advice to make sure everything goes well. Before long, it's time to start cooking the crepes. This is the part I'm nervous about. Chef recommends using an electric skillet set at 250 degrees for the crepes. He says that's the best way to maintain an even temperature.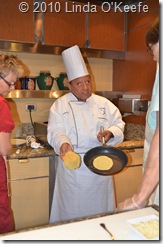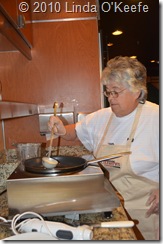 Bad crepe, good crepe                Pouring the crepe mix
My turn comes. I slowly pour in about 2 tablespoons of the mixture and flatten it out with the back of a spoon. In a little over a minute, the  thin crepe is ready to be turned and is done. Now I wonder about all the fun things I can make with this recipe.
Unfortunately, on the Maasdam the Culinary Arts Center stage is in the same room  (and behind the screen) of the ship's movie theater. Things start to get a little crazy when we realize our time is almost up and we're not done. People are coming in to watch the movie and the screen isn't down and the the curtain hasn't been drawn to hide the kitchen from the audience. Our group isn't ready for their prime time.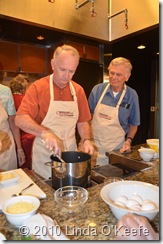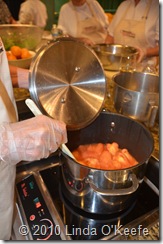 Stirring the sauce                           Almost ready
The sauce is done but we're still cooking crepes. When the crepes are done and laid out on the work stations, it's time to stuff them. I put the filling at one end and from there I begin rolling, ending with the seam side down. Another team member spoons sauce into  a pan  and I place the filled crepes into the sauce. Someone else sprinkles cheese on the top. My crepes are ready for the oven at 350 for about 30 minutes.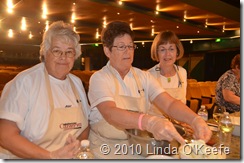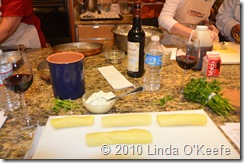 Mixing the cheese filling                     I did these all by myself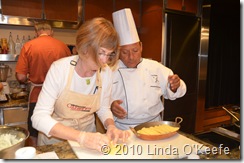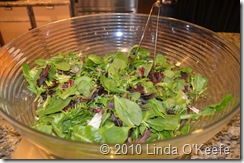 Filling and rolling takes a while              Time to start on the salad
Now we tackle the salad dressing. The greens are combined with roasted walnuts, blue cheese, dried cranberries and a light citrus vinaigrette dressing. Chef Joseph warns, "The salad should be dressed not drowned!"
This is his own special dressing that he is sharing with us. Since he's now bottling it for sale, I won't give away any secrets. But it is delicious.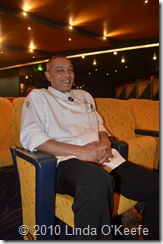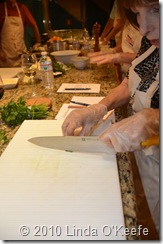 Chef Das takes a break                      Chop, chop, chop!
Maasdam's Pinnacle Grill Chef Das stops by to join the fun. He gives pointers to several  about how to cut properly and not add extra protein to the salad.
I take pictures, roll crepes, laugh, drink wine and try to take notes. I find out I need a silicon spatula and a ceramic knife to make life in the kitchen easier. This session also helped me realize I will be back in my home kitchen in a few days. I hope my end result there will be as magnificent as this cooking session.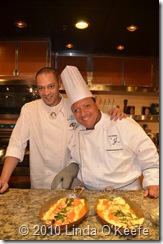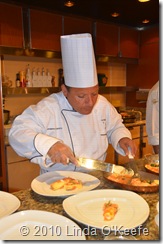 Chef Das and Chef Joseph       Chef Joseph serves up the goods       
  by Linda O'Keefe         
(I also look forward to the magnificent results, Tim O'Keefe)