This is part 1 of 2

Today I'm attending a cooking demonstration with the Maasdam's guest Chef Joseph F. Caputo who will prepare Coconut Chicken Soup. I'm eager to learn how. Chef Caputo is part of Holland America's regular program of bringing aboard chefs who not only are outstanding in their kitchens but also in their teaching skills.
When I arrive at the Culinary Arts Center, I find all the ingredients for the soup are divided and ready. The chicken stock is even in the pot, ready awaiting the ingredients.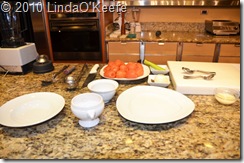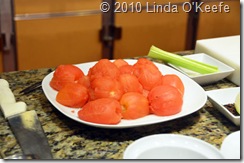 Ready to start Tomatoes fresh and ripe
The first thing Chef Joseph explains is how important the stock is to any soup. He says you must cook it 4 or 5 hours but never let it come to a boil. In this case, after the chicken is removed, the stock must be strained several times. Or, to skip this entire first step you can use organic pre-packaged stock. Like me.
The recipe for this soup calls for a quart of stock, a 28 ounce can of plum tomatoes, unsweetened coconut milk, a rib of celery cut into 2 pieces and an onion studded with cloves. Um, I find that very interesting. Cloves.
To my surprise, Chef Joseph says the onions, celery and tomatoes are added to the finished stock, boiled for 20 minutes, then remove the onion and celery. He suggests using an immersion blender or a counter top blender to puree the tomatoes but to leave some flecks for color.
Joseph tells us he owns and operates Zuppa del Giorno, il restorante del pranzo which means "soup of the day" and Catering by Joseph LTD in his hometown of Scranton, Pennsylvania. Explaining how he was inspired by the cooking of his mother and grandmother and that culinary success started early in his life, Joseph uses the kitchen as a stage while preparing the soup.
'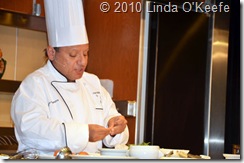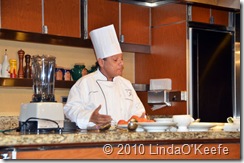 Chef Joseph preparing soup Telling us about his career
No wonder he did so well. Graduating with a degree in Communications and later earning a Master's degree in Theatre, Joseph spent time in New York City pursuing a professional acting career while working at restaurants there.
His expertise gained from the theatre, combined with an easy going nature, make watching him cook a pleasure. Where I would be clunking around, he seems to glide through the recipe like a dancer.
He says that one time during his acting days while catering a private party, he suddenly realized cooking was his true passion. He changed direction first by becoming a personal chef. To enhance his skills, he attended the Culinary Institute of America. Before turning 50, he was the owner of two successful businesses: Both a catering operation and a restaurant.
In watching Chef Joseph teach our class, he switches gears as smoothly as a Rolls Royce. As he adds the chicken to the recipe, he says the best way to prepare the chicken is to roast it for 30 minutes in an oven preheated to 425 so the chicken will remain moist and not shred up. After placing everything in the stock pot, he emphasizes how the mixture should be heated thoroughly but never boiled.
My mouth is watering when tiny cups of the finished soup are handed out. My taste buds are not disappointed. The velvety texture of the soup is filled with hints of curry, clove and coconut, all in a rich creamy tomato base. YUM!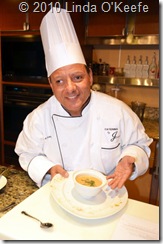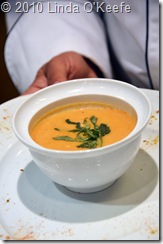 Soup's on! Caribbean comfort food
As we sip the soup with the little spoons, Joe tells a story about one of his experiences, which also is quite revealing about how a true chef thinks differently than the rest of us.
"One day I was in a restaurant where they were serving grilled cheese sandwiches. That started me thinking how I could use grilled cheese in a soup. So I made a tomato cream soup, then grilled the cheese sandwiches and cut them into small pieces. Using the grilled cheese tidbits as croutons, I called it "Childhood in a Bowl." He says people love it!
Watching Chef Joseph's enthusiasm and listening to his stories, I wonder if Chef Joseph isn't reliving fond childhood memories of his family every time he prepares soup. Both here in this small quantity and back home (as much as 120 gallons a day).
Whatever the reason, he certainly loves every minute doing it.
In part 2, I cook with Chef Joseph.
By Linda O'Keefe