Or stranded in a strip mall
The clock goes off at 6am and after a few minutes I drag my groggy-eyed self out of bed. Before heading up to the Lido Restaurant for a quick breakfast, Tim checks the weather outside via the camera HAL has mounted on the bow connected to our stateroom's TV. It looks fine and I'm anticipating a fun day of sightseeing and photography on beautiful St. Thomas.
As I step off the elevator and peer around the corner toward the window-lined dining area, all I see are gray clouds. Then as look more, I wonder, "Where in the world are we? It doesn't look anything like the Charlotte Amalie I remember. "
Then I remember we docked at Crown Bay, which looks like an industrial park instead of a cruise terminal. With the threat of rain heavy in the air, Tim and I head toward the plain buildings and recognize the names of a few jewelry stores.
I notice good directional signs with arrows pointing to the locations of different stores, the bank and Wi-Fi hotspots, so we decide to forget Charlotte Amalie and get caught up on some computer time. But the signs lead to empty storefronts.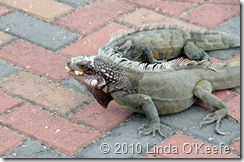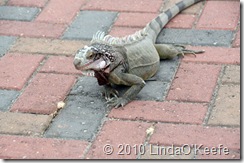 Iguanas fighting over bread The winner!
As I'm returning to the ship for a computer power cord I notice several people standing around the edge of the walkway throwing pieces of bread at something. Turns out iguanas are enjoying the hospitality of some passengers passing time in this middle-of-nowhere- port. Cheap entertainment. The best St. Thomas has at the Crown Bay port?
Tim spends several hours on the computer while I try to get my phone to work. By now my patience is wearing very thin; my phone won't work. Only one computer can connect off the ship. This cruise ship terminal looks like a bad dream. I'm tired and hungry. Back on the ship finishing up lunch Tim says, "I'm going to take some pictures of the port this afternoon."
I reply, "Not me, I'm on strike. The sun is finally out and I'm going to put on my bathing suit, sit by the pool and read my book."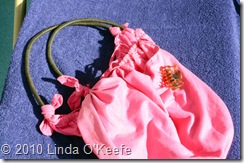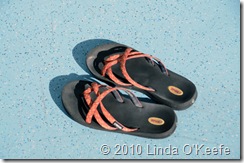 Bag and hairclip Favorite Tevas
After changing and gathering my pool gear plus my camera, I go to the Lido deck for some fun in the sun. As I'm empty my bag an elderly gentlemen stops by and asks, "Like your book?" pointing at my Kindle, I tell him how much I love it and he proudly holds out a small notebook and says, "Got me one, too!"
Before I settle down in the chaise, I decide to take some pictures I can use this in our blog. After finishing my shots, I pick up my things and glance around to realize everyone at the pool was watching—and probably wondering why—as I photographed everything I brought with me. I'm laughing as I put on my hat, settle back and start reading.
After a while, watching everyone walk by with ice cream, gets to be too much. I bypass the pool bar and head for the Lido Restaurant for a pineapple sherbet waffle cone. By now, the ship is pulling out of St. Thomas. I tote my bag containing my camera to the upper deck for pictures as we leave.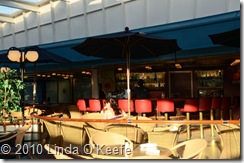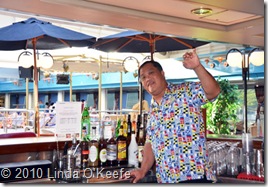 Lido Pool bar Friendly Lido Pool bar bartender
It's a beautiful sail away and can't help but think of Jimmy Buffet's song "One Particular Harbor," as we pass sunlit sail boats anchored in small coves with white sand beaches. After finding Tim, we watch the coastline of St. Thomas slip away as the Maasdam leaves Crown Bay, the worst port we've encountered on our cruise.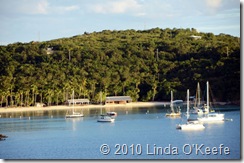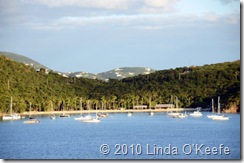 Sail away shots A beach and anchorage we pass
So what started out as a crummy sour day, finally turned into frosty lemonade thanks to the beautiful sunlit island we pass on our left, no part of St. Thomas.
By Linda O'Keefe