By Linda O'Keefe
Passing through immigration in Stockholm, I can finally relax.  I've arrived at our departure port so no more worry about being denied boarding by an airline. My concern? The full name on my passport is different from the full name on both my flight reservations and the Oceania cruise manifest.  This inconsistency is my middle name. It's partly due to the conflicting ID requirements on the state and federal levels, a situation many married women may encounter when they travel internationally.
                                              Passport name vs maiden name
A woman's U.S. passport is supposed to have her middle birth name.  My Florida driver license usses my maiden name for my middle name. That is due to the marriage license requirements in the county where we were married.  It requires a woman to use her maiden name for her middle name.
I've had to work around this ID contradiction ever since when it comes to overseas travel.  Men are lucky. They never deal with this problem since their names usually remain the same for life.
Obviously I should have booked the cruise under my "passport name" as I usually do, not my "Florida name."  For my flights overseas, I wondered  if  I would be able to use my tickets.  The airlines and TSA also woul;d expect my airline tickets to match my passport. Overlooking this mistake until the last-minute is inconceivable. It puts me in a great panic about whether I will be denied boarding in Orlando or Newark going to Europe or on my flights coming back.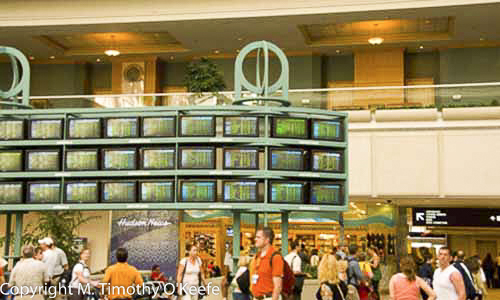 Will I ever get out of here, Orlando International Airport?
My first call was to our travel agent. She says she can't make ticket changes since Oceania issued them.  And Oceania probably can't make a name change at this point but if  it did a new ticket likely would  come with severe penalties. Worse, she indicates it's unlikely I'll be able to board any flights. Her suggestion is that I call the different airlines to report my problem and check the TSA website. But there are no guarantees these steps will get me on an airplane.
This is turning into a horror story. I call TSA  and encounter a recorded message with more options than toothpaste brands at a grocery store. Eventually I speak with a real person, a woman who asks my name. Then I hear only computer keys clicking. Her next question: "Where are your flights going to?" I reply "Orlando to  La Guardia (incorrect) to Stockholm." Silence again on the line. Then, "Mrs. O'Keefe, you are flying United to Newark (she caught my error) and then SAS to Stockholm on August 20 and returning British Airways from Amsterdam to Gatwick and BA Gatwick to Orlando on September 4th." Now it is my turn to be silent. She knows all this better than I do because of just my name? Good to know the government can be on top of something as small as this so quickly.
The TSA call is the smartest thing I could have done. The TSA representative is extremely helpful and informative, assuring me this was not a big deal and that it happens all the time. Her advice is to carry my Florida driver license, my social security card and a copy of my Florida marriage license with my passport to show as much ID as possible.
Will flying to Euope even be possible?
Checking in at Orlando International, a woman at the United counter immediately questions  the middle name differences.  I'm ready, full of explanations and a fistful of documents. The problem quickly disappears when a supervisor is called: a female supervisor. What luck! She has the same middle name problem and is questioned about it sometimes at OIA—where she works.  We're part of the same sorority!
I receive boarding passes for both Orlando to Newark and for Newark to Stockholm. The tickets are stamped with the notation my documents are checked. Ironically, and happily, my home airport is the only place on our entire trip over where the middle name problem comes  up.  I could not stop worrying about be turned back until I board the Oceania Marina.
Once on board, I'm given my official ship ID card–which carries no middle name. That's more than convenient. It means I will have no problem in St. Petersburg where I must pass through Russian immigration and show my passport and ship ID card each time I leave and return to the ship.
In the 13 or 14 years Tim and I have traveled together internationally, this never was a problem. It  came up only now because four years ago we were married. Thus, it's all  his fault!
Tim:  Linda and I both wrote this post together and I am responsible for much of it. I also wrote the last sentence. I am the guilty party who made the reservations using her driver's license and not her passport.  But she should have noticed my mistake at the time.
Tim & Linda:  A learning experience for us both and this silly mistake won't be repeated. All international bookings will carry Linda's passport name, her middle birth name.  Thanks, State of Florida, for all the confusion.