SKYCITY Restaurants dine by Peter Gordon and The Grill by Sean Connolly
are world-class dining experiences. See their menus in photos.
At precisely 1076 feet and 1.38 inches (328 m), the Sky Tower not only is the tallest man-made structure in New Zealand it also is one of Auckland's signature attractions. The Sky Tower also marked the location of SKYCITY Auckland, a casino-hotel complex with 25 cafes, restaurants and bars.
This visual menu is from the SKYCITY Grand Hotel's restaurant called "dine by Peter Gordon." The word dine certainly deserves to be in all caps at this award-winning restaurant featuring a mix of Asian, Pacific and traditional European cuisine. This is a true fine dining experience and one not to be rushed.
dine by Peter Gordon Visual Menu
Appetizers (or "entrees" as they're called in NZ)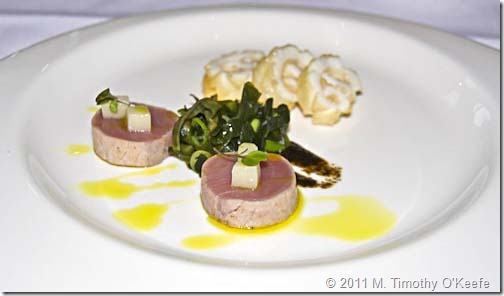 Seared yellowfin tuna with nori sauce, crispy squid, wakame salad and wasabi jelly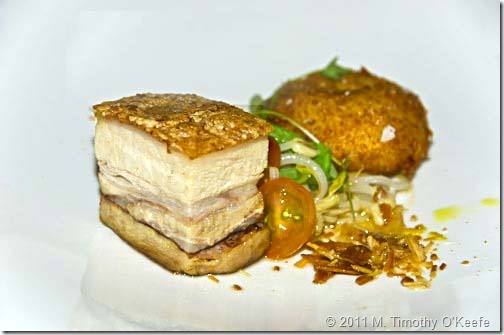 Crispy free-farmed pork belly and smoked mackerel fritter with lemon,
coriander, bean sprout, cherry tomato, macadamia salad and lime dressing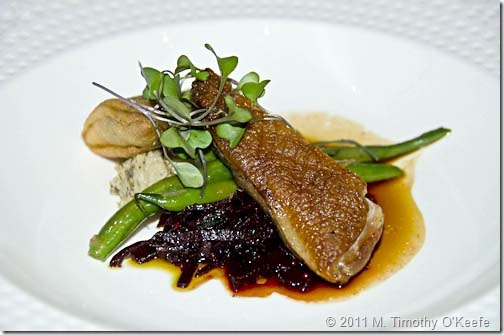 Roast Cambridge duck breast with green beans, caramelized
shallots, smoked eggplant, beetroot relish, pastille of five-spiced confit
duck leg and chestnuts

Main Course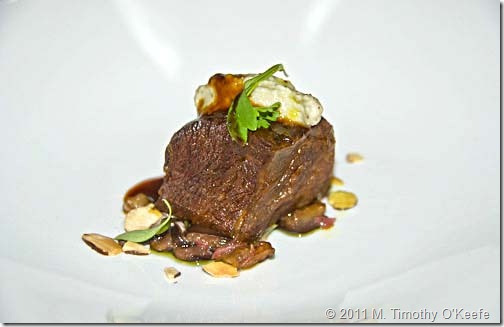 7-hour braised Firstlight grass-fed wagyu short rib with
eggplant, shitake mushroom, salad and toasted almonds
Dessert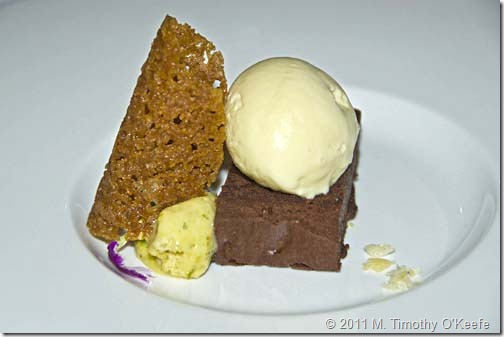 Valrhona Guanaja 70% chocolate terrine topped by lemongrass ice cream
with pistachio white chocolate mousse, popping candy, manuka honey crisp

The Grill by Sean Connolly Visual Menu
The Grill by Sean Connolly is another excellent restaurant at the SKYCITY Grand Hotel. More casual than dine, the menu is just as delicious and memorable. The emphasis here is on fresh local foods with the natural flavors allowed to shine through.
Seafood Entrees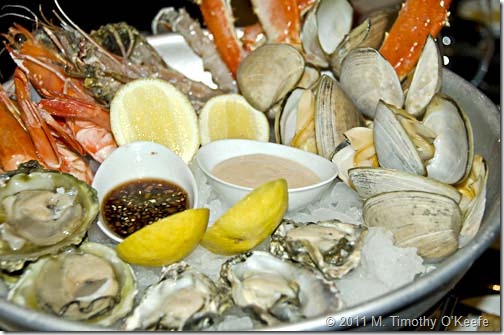 This seafood appetizer for four is a meal in itself: Queensland prawns,
Cloudy Bay clams, king crab claws, scampi and oysters. Single servings
also available.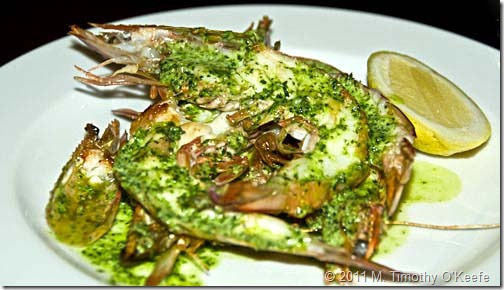 Queensland prawns with garlic butter and pesto. We should have stopped
right here.
Main Course
XXX
There should be a picture above of a 1-1/2 inch dry aged savannah Angus rib eye on the bone. I tried to arrange this great piece of cow into a more
photogenic position but made the mistake of cutting into and tasting the rib eye
while doing it. The results were not pretty or suitable for public viewing. The rib eye, however, was magnificent and you have my word –if not my photo—attesting to that.