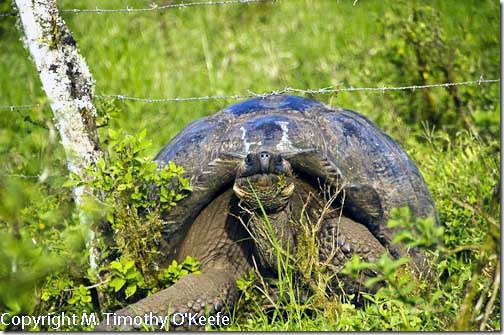 Highlands fences must be high enough for tortoises to crawl under
by Linda O'Keefe
Photographing giant tortoises in the wild
After our visit to the Los Gemelos craters, it's back on the bus for what I hope is an exciting afternoon with giant Galapagos tortoises in the wild. Our Lindblad Endeavour naturalist for the afternoon, Walter Perez, doesn't share my confidence. He continually cautions us "all we can guarantee you'll see is lava rock and plenty of it." Still, I'm optimistic we'll find some giant tortoises without many problems.
Walter advises us how to track one of the huge tortoises in its natural environment: walk quietly through the forest, listening for sounds made by an 800 lb., five-foot long reptile as it flattens the underbrush in search for food.  Fortunately, our search turns out to be incredibly easy.
After our bus turns onto a small winding dirt road and we head toward two small farm buildings in the distance, Walter excitedly points ahead of us. "Look there's one–and there's another! Oh boy, I can't believe this!"  Ahead of us, on both side of the road, are what look like large clumps of rock moving through tall grass just 10 to 15 yards from us.
Santa Cruz highland tortoises are Galapagos'  largest
We quickly climb out of the bus. Walter divides us into two groups, one to view the tortoises along the long road and the other to descend the hill behind the farm house.  Tim decides to stay with the first group where he knows he can photograph tortoises. I decide to venture off with those going down the hill with Walter.
 The slope is surprisingly steep but I glance in the distance to spot what look giant, gray pith helmets scattered across a field. The closer I get, the more I realize the enormity of these creatures. Santa Cruz Island with its humid, grass-rich highlands is home to the largest of all Galapagos Tortoises.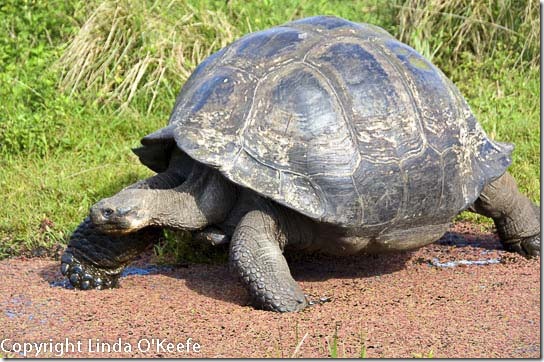 Tortoise walks along the edge of pond.
                            Different tortoise shell patterns inspired Charles Darwin
These have a domed shell and short neck unlike the tortoises in the dry lowlands with a saddleback shell and longer neck. When Charles Darwin visited the island the vice-governor told him he could tell which island a tortoise inhabited by looking at it. Darwin was astonished by this statement. Yetas he traveled from island to island he realized the shell patterns did vary from location to location. Those distinguishing features were one of the many facets that compelled Darwin toward his theory of natural selection and adaptation.
As impressed as I am with their size, the huge tortoises are not impressed with us at all.  In fact, they seem truly oblivious to our presence, continuing to eat, drink and simply wander around. Their movements are slow and deliberate and their legs, feet and toes are enormous, resembling tree trunks with huge toenails.  Each toenail is approximately the size of my fist. One tortoise walking through the field reminds me of an alligator back home in Florida as it "high walks" one leg at a time over the ground.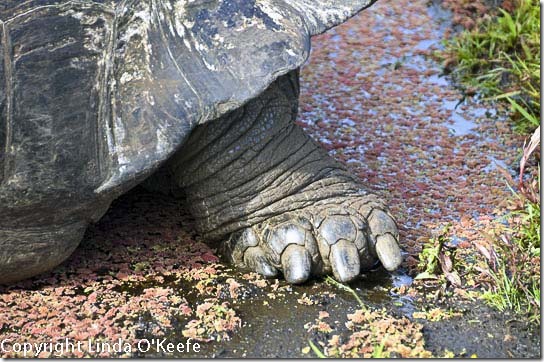 These feet are big!
Tortoises gather at a pond
As the tortoises shift to drink at a small pond covered with pink tiny flowers, I expect to see them drink with a cat-like behavior, lapping up the water. Instead, they barely open their lips as they gently suck in the water.  The tortoises share their water hole with a several white-cheeked pintail ducks. We photographers are thrilled by the juxtaposition of the tiny ducks with the giant tortoises. We have an amazingly harmonious portrait of nature not often seen in the wild.

Tortoise sips water with grass still in its mouth
We have only a 45-minute window to photograph the tortoises and much too soon it's time to return to the bus. My group lingers longer than we should, trying to get that last perfect shot. I could stay here for the rest of the day watching these magnificent creatures loll about but the time crunch is sounding.
As we walk up the hill, Walter comments, "You don't know how lucky you are!" I leave with mixed feelings: lucky to have witnessed so many tortoises with perfect sunlight but also a little sad to know I probably will never have this kind of opportunity again.
Lindblad Endeavour Galapagos Blog Links

The Galapagos Experience                              Endeavour Dining
Galapagos Adventure Upcoming                  Sustainable Dining Policy
How Darwin Saved The Galapagos               Saturday Dining Menus
Galapagos Photo Tips                                        Sunday Dining Menus
What To Pack For Cruise                                  Monday Dining Menus
Getting to Guayaquil                                          Tuesday Dining Menus
Las Bachas Shore Landing                               Wednesday Dining Menus
North Seymour Shore Landing                       Thursday Dining Menus
Fernandina & Isabela Islands                         Friday Finale Menus
Urbina Bay Shore Landing                                Endeavour Recipes
Life Aboard The Endeavour
More About Life On Board
Puerto Egas Shore Landing
Endeavour's Floating SPA
Meeting One of World's Rarest Animals
Puerto Ayoro Walking Tour
Santa Cruz Highlands Tour
Hunting Tortoises in the Santa Cruz Highlands
San Cristobal, Endeavour's final stop