One of St. Petersburg's Most Popular Attractions
It's about a 45-minute drive from the Oceania Marina to the palaces and gardens at Peterhof, often called the "Russian Versailles."  Peterhof Palace is a place I look forward to with anticipation and dread. (Note: See previous post for origin of the curse)
Our lively guide Marie briefs us on the past of St. Petersburg and Vladimir Putin. We pass through countryside that is green and eye-catching. There isn't a single visible scar from the horrific 900-day German siege of  St. Petersburg, at the time known as Leningrad. When the Germans attacked Leningrad in 1941, the city was an important industrial center as well as the country's second largest city.
One of the first Russian prizes sought by Germany, Leningrad was nearly surrounded and its major supply lines cut off. The effort to keep the city from falling to the Germans was both heroic and horrific. An estimated one million Leningraders and Russian soldiers died in the conflict here. It's believed hundreds of thousands of city residents perished not from bullets or bombs but from starvation and cold.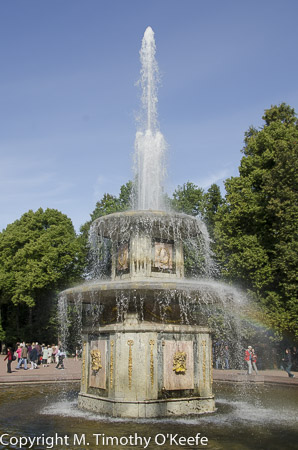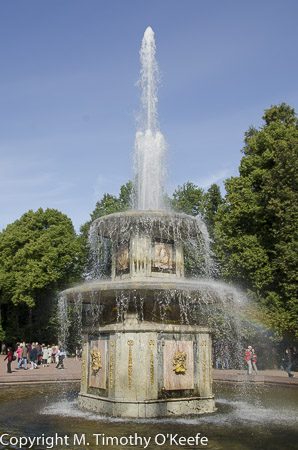 The fountains operate only from May to mid-October
Peterhof palace and its surrounding grounds were occupied by German troops for 28 months. Leningraders knew of the impending German attack and Peterhof staff and volunteers were able to remove numerous pictures, statues, and thousands of art objects, sent by train to other parts of the country. Unknown to the Germans, many of Peterhof's marble and bronze sculptures were hidden beneath their boots, buried in the ground. Anything left standing was stolen.
Peterhof's Great Palace was almost destroyed by an explosion and various palaces and buildings elsewhere on the grounds were also badly damaged. A third of the 30,000 trees growing there were cut down. After the war, the Soviet government restored or replaced Peterhof's eight palaces and more than 150 of the fountains at tremendous expense. Strangely, our guide Marie never mentions any of this on our bus ride.
We begin our tour of Peterhof in the 284-acre Alexandria Park located east of the main palace grounds. The park is named after Empress Alexandria, wife of Tsar Nicholas I, who granted her the land as a present. The property became one of the imperial summer residences of the Romanovs.
At Alexandria Park we're supposed to take a "miniature train" to Peterhof. I'm not sure what kind of miniature train I expect, probably something similar to the ones at Disney parks, certainly something that runs on tracks . The "train" turns out to be a regular parking lot tram with a locomotive-shaped engine pulling the carriages.  Most carriages are open air but we're herded aboard one with windows  that don't open.
When Things Start to Go Wrong
Before boarding the carriage, several Oceania passengers ask to use the restrooms located  about 10 yards from the tram.  A sign with the letters WC–denotes Western commode or water closet but also a flush toilet–points the way.  Marie insists everyone wait until our "train" arrives at Peterhof.  So we sit there, perhaps another 5 to 10 minutes, waiting for another group to arrive and board their carriage. We have more than adequate time for a quick restroom break.  Marie's refusal to allow us to use those empty restrooms will create a series of needless problems.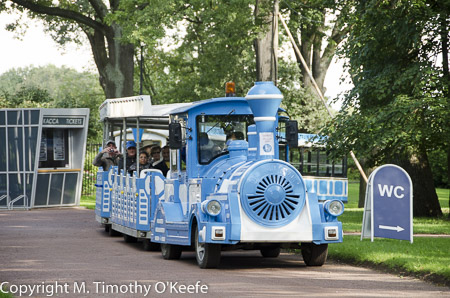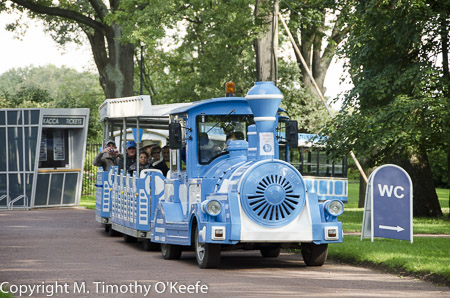 The train tram at Alexandria Garden: note the WC sign
Rocking and swaying, our train tram travels non-stop along a wide walkway shared with pedestrians.  Bright glaring reflections cover our locked windows,  making photos impossible. Too bad since some of the park's buildings are intriguing. My favorite is an elaborate Gothic-style building the imperial Romanov family used as their private church.
It takes the tram over 20 minutes finally to reach Peterhof's Lower Garden and the long awaited restrooms. Peterhof is the most popular day trip from St. Petersburg and the restrooms have agonizingly long lines. Thankfully the men's queue moves efficiently. Waiting for the other passengers to return, I test my wireless tour guide receiver. This nifty device will enable us to hear Marie's descriptions as we navigate the palace crowds.
One passenger complains the women's line isn't moving, an exaggeration since several from our group are just outside the restroom entrance. To the annoyance of the women  who've  already waited 30 minutes for relief, Marie calls them back immediately. Instead of touring, she will now lead us to a more remote restroom "just 5 minutes away." She guarantees fewer people there. Our Peterhof visit is disintegrating into a restroom quest.
When Things Really Go Wrong
On our walk we soon encounter the Checkerboard Fountain where water spills over a long sloping checkerboard. As it happens, a group of musicians start to play long Swiss-style horns in front of the checkerboard display. Several of us stop for photos. I pay attention to Marie's comments as I quickly check that my camera hasn't crashed as in the past. The camera works well. Images are recorded for my first time ever!
Abruptly, Marie's commentary ends in mid-sentence. Her words don't gradually fade away but suddenly cut off.  Scanning the area, I don't spot anyone from our group, including Linda, who is seriously interested in finding that next restroom. But they all were here only seconds ago.  I even saw Linda out of the corner of my eye while I checked the camera.
The sidewalks of the Lower Garden are filled with tourists, making it increasingly difficult to pick out anyone even a short distance ahead. Marie's logical route should be the restaurant in the Lower Grounds, though that's also likely to be crowded. But it's the only possible place within her promised "5-minute walk."  Wrong location. Plenty of people but none from our group. Yet there are no other buildings anywhere nearby. Perhaps on the upper terrace near the great Palace?  That would probably take more than five minutes but I check it out anyway, hoping to hear Marie's voice in my earbuds. Not there, either.  I check my watch: 11 a.m.
Normally losing track of one's group isn't a serious concern since a guide typically details a departure point and at what time. Not today. Marie briefly mentioned our bus would leave from a different place but she never said where that would be. And I don't recall her stating a departure time, either. Still, by now she must know she's lost one of her group. I search again back in the Lower Gardens restaurant in case she shows up there.  Again no luck.  I have no idea where to look next. This is turning into a bad morning.