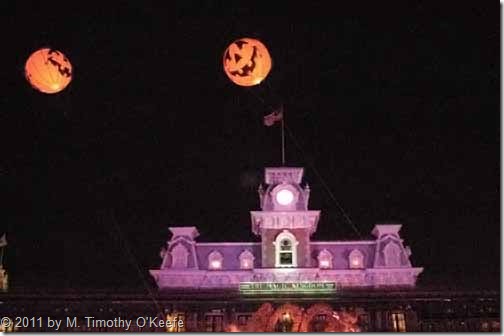 Just the name "Mickey's Not-So-Scary Halloween Party" perfectly distinguishes it from the better known adult gross-out Halloween Horror Nights at Universal Studios. The Disney Halloween event with nothing very threatening is perfectly suited for young children. It's actually a giant trick-or-treat party with children encouraged to dress in a costume and accumulate as much candy as they can while wandering through the Magic Kingdom theme park, occasionally encountering Disney characters and villains in their own special Halloween costumes.
Held on select nightsfrom now until Oct. 31, Mickey's Not-So-Scary Halloween Party is a separate ticket event held from 7pm-midnight, which makes this unsuitable for very young kids since they are likely to fall asleep by 9pm.
The admission gradually increases on dates closer to Halloween. The most expensive tickets are $62.95 + tax for adults and $57.95 + tax for kids 3-9. Discounts are offered for most nights when tickets are purchased in advance online. (Only in theme parks do children become adults at age 10, which probably is the upper age range before kids outgrow this.)
Some of the special attractions at Mickey's Not-So-Scary Halloween Party include:
Mickey's "Boo-to-You" Halloween Parade with Disney Characters and the stars of the Haunted Mansion attraction.
The Happy HalloWishes fireworks show where the Disney Villains go trick-or-treating in the sky.
Disney does this right. I've attended several times and it's been just as much fun for adults as children. I mean, well, let's face it–we never outgrow that Disney magic. And this celebration is loaded with it.
This is a weekly info update to the Orlando Essential Travel Guide for buyers of the app and anyone who discovers this site.
Until next Monday,
Tim