State Hermitage Museum Is A Former St. Petersburg Palace
The State Hermitage Museum is one of St. Petersburg's must-see attractions, normally choked with as many as 35,000 tourists daily in summer. We appear to be the first ones entering the museum today. There's a reason for this: cruise ship tour groups enjoy early admission to the Hermitage well in advance of the museum's normal operating hours. As we are on an Oceania Marina tour, we're the.first tourists of the day.
The State Hermitage Museum art collection,  housed in the Winter Palace and four additional buildings located side by side near the Neva River, began when Empress Catherine the Great purchased several hundred paintings from the city of Berlin modestly in 1764. It's doubtful she could have  imagined what that modest beginning would grow into. Who would?
An estimated 2.7 million art objects are now held by the Hermitage. One of the world's largest collections, it's far too large for all ever to be exhibited there. In recent years, the Hermitage has opened exhibition centers to share more of its collection with the world. Now satellite Hermitages  are located within Russia and in several European cities such as  Amsterdam.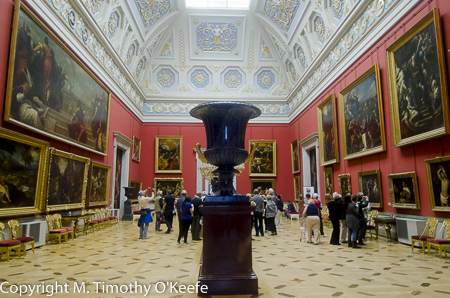 Walls and walls of painting, State Hermitage Museum
Arriving at the Hermitage, our guide stresses where our bus will depart from in case anyone loses contact with the group. Inside, she indicates where we'll exit the museum. Perhaps my Peterhof experience yesterday is responsible for these essentials being pointed out? Or is this the standard procedure and something our guide ignored yesterday?  No telling.
Lost In A Labyrinth of Art Work
For the next two hours, we experience a cram course in European art history. We explore the exhibit rooms and hallways of the Hermitage, pausing occasionally but more often advancing steadily. There is so much to see and our several hours are so little time. Surprisingly, we can take still photos and video everywhere. No flash, of course, so anything in a dark room is a problem,
About half-way through the tour, for me it all becomes slightly overwhelming, an excess of color and shapes displayed on canvas, on porcelain, in marble and in bronze. Yes, it is a rare privilege to see so many great works by Rembrandt, Leonardo da Vinci, Michelangelo, Raphael, Titian and Rubens and others. Yet so many distinguished works are merging into a blur.  Sensory overload.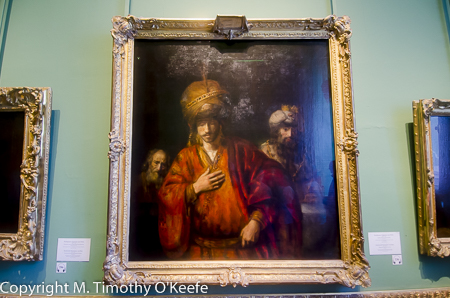 Oh, just another Rembrandt…
Our final stop is a small, once forbidden room that guides still often bypass. It is the controversial exhibition of French Impressionists with works by Renoir, Cezanne, Monet, Van Gogh and Gauguin. The exhibit is controversial because the Soviets took the works from Germany and then forbade their display or for them to be studied. Finally the paintings were made available for public view in the Hermitage in the 1990s.  See a few of the paintings here.
I'm not the only one feeling a little foggy headed from everything we've seen in such a short time. Fortunately, the State Hermitage Museum has an excellent website depicting a fairly extensive and growing display of its artwork. It's  a scrapbook with much of what we have  seen. It is an excellent way to review the paintings, though it doesn't match actually being there.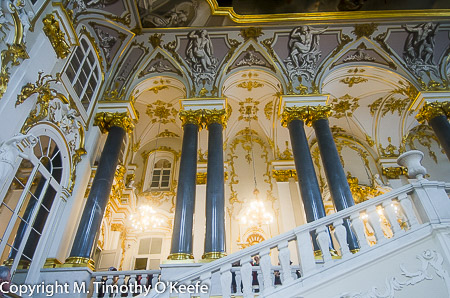 Staircase in the Winter Palace
As we exit the Hermitage, its doors are just opening and a jostling crush of visitors is just entering. Glad we didn't have to be part of that. Sometimes it really pays to be a cruise passenger, especially when the Oceania Marina pays for your tour.
We did not have time to shop. No matter. The Hermitage offers online shopping of reproductions of some of its famous canvases and other art media at surprisingly reasonable prices.  For instance, Faberge eggs sell from $25 to $249.  Linen canvas reproductions of Da Vinci's "Madonna and Child" are only $19.  Shipping is from the U.S. and depends on an item's weight. There's a U.S. 800-number for questions   You can also download a shopping app from the Hermitage Facebook page. Very capitalistic, these Russians.