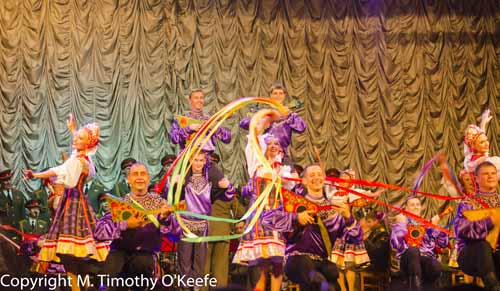 Song and Dance Ensemble of the Russian Army, St. Petersburg
It's been too long since Linda and I cruised (or blogged) so last January we began looking at cruise itineraries. The Oceania Marina 12-day summer Northern Europe Viking Trails itinerary appealed immediately to us but especially to me since it includes three full days in St. Petersburg, Russia. Having visited St. Petersburg twice decades ago, I'm interested to see how much it's changed after the end of the Soviet era. For whatever reason, Russia is a long-time fascination. My first visit there was is in the 1970's U.S.-Soviet Cold War era with four more trips over the years.
In addition to St. Petersburg, other interesting Marina stops include out-of-the-way ports in Estonia, Lithuania and Poland along with Helsinki, Copenhagen and a German port convenient to Berlin. It ends with an overnight in Amsterdam. Oceania is one of our favorite cruise lines but the price quoted in January seems a bit too high.
Linda and I always are interested in anything new Oceania offers. We have a long history with them, going back to its previous incarnation when it was known as Renaissance Cruises. The first cruise Linda and I ever made together was on one of the 684-passenger "R Ships." That was in the spring of 2001, just months before Renaissance went under due to the 9/11 Twin Towers attack, when all their ships were stationed in Europe. It was a sad ending to a wonderful cruise line.
We scan the promotional materials Oceania sends at regular intervals, as new features are added to the Vikings Trails end of season cruise. Now included are free shore excursions for all three days in St. Petersburg ($1,000 value), prepaid gratuities, free unlimited internet in our stateroom and a $300 on-board ship credit to use for whatever we want.
When Oceania offers the option to upgrade round trip air to premium economy for just $198  from Orlando, we're ready to book. Oceania always includes round trip air in its cruise prices and we'd be crazy not to use it. It costs us $850 to use Oceania's air package. The best online economy flight rates for our itinerary would cost two to three times that amount.  Premium economy would be considerably more.
We decide to treat ourselves to an early wedding anniversary and go concierge class, which allows us first choice of the St. Petersburg tours and early reservations in the Marina's five specialty restaurants. Unlike most cruise lines, Oceania does not demand an extra charge for its specialty restaurants; only advance reservations required. The Marina is one of Oceania's new ships, almost twice the size of the original "R-Ships" and carrying 1,250 passengers. It will be interesting to see how much of an improvement this new class size is over the smaller vessels.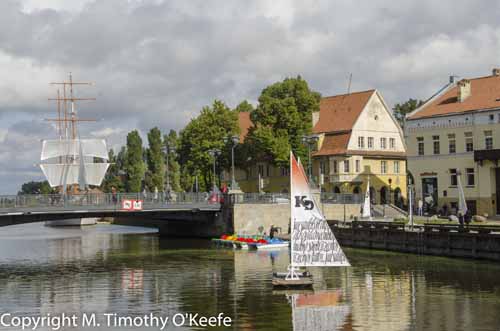 Klaipedia, Lithuania, located on the Dane River
Oceania books our flights, not our travel agent, and the itinerary is a surprisingly good one. We fly from Orlando to Newark with a layover of under three hours before taking Scandinavian Airlines (SAS) to Stockholm, our departure port. The return flight from Amsterdam takes us to London Gatwick and another short layover with a direct flight back to Orlando. The schedule is fine though we wish we could avoid the United Airlines flight to Newark since it wants $100 for a second bag. Especially since our other carriers, SAS and British Airways, both allow two free bags. We're extending our trip for several days in Amsterdam after the cruise, so packing at least one extra bag for the two of us is kind of necessary.
When we check in at Orlando International we encounter the usual summer crowds that often increase TSA screening lines to 30 minutes. Unexpectedly, our tickets send us to the TSA fast-track lines, which proceed quickly. This is one of the benefits of premium economy class.
Arriving at Newark, we look forward to boarding the SAS overnight flight to Stockholm. Our only previous premium economy experience was on Air New Zealand from Los Angeles to Auckland and that truly was something special. Premium economy had its own cabin, comfortable space age style seats and meal service better than the business class of some other carriers. Descriptions of SAS Premium Plus appear equally appealing.
The SAS flight begins impressively. During takeoff, SAS allows us to watch the takeoff from different views on our personal TV screens. I watch the takeoff starting from the cockpit view, switch to a rear angle as we lift off the runway and then look straight down at the area we fly over. Very nice touch. The selection of recent American movies is good, too.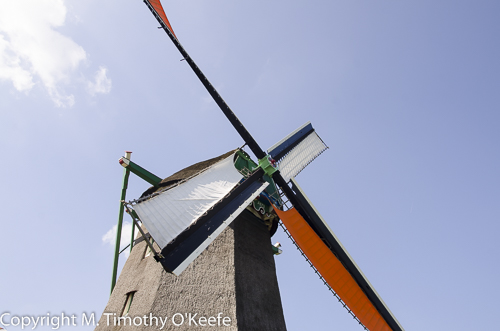 Windmill in Holland
But about an hour after takeoff, the SAS Premium Plus experience is not so pleasant. The seat bottom lacks any kind of padding, assuming it ever had any. It's extremely uncomfortable. Linda says she feels like she's sitting on a concrete slab. In addition, I find it impossible to maneuver my legs around the large left leg on the seat in front of me. That support blocks almost half of the normally available legroom, leaving no way to stretch my legs, much less place my laptop under the seat without on Linda's leg space. I'm convinced the design engineers never tested this arrangement in real life conditions.
The evening meal choices are chicken with plain white rice or salmon with plain white rice. They're just as bland as they sound. The run-of-the-mill airline salad, rice entrée and dessert come clustered together on the usual typical economy tray. This is nothing like SAS' classy website description: "For dinner, there is a starter, main course (choose between two alternatives) & a good dessert with coffee or tea." The accompanying photos are equally misleading
For the first time ever on a flight, I'm unable to sleep. Normally I can fall asleep on a bus, train and every airline until now. A mild sleeping pill doesn't block the pain of my lead-lined seat. I read my Kindle until breakfast. Would have liked to have read SAS in-flight magazine but my overhead reading light is out. Stewardess said she would report it. Linda squirms in her seat much of the time. She also is awake most of the night.
Landing in Stockholm, and shuffling like zombies, we gladly leave SAS Premium Plus behind. We're more than ready for our next stop. The Oceania Marina and its usual flavorful welcome aboard lunch buffet.