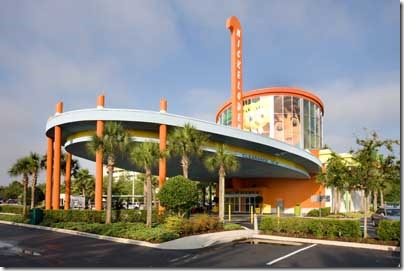 Entrance to Nickelodeon Suites Resort, Orlando

How Nickelodeon Suites Resort Celebrates Christmas and New Year's
Orlando's Nickelodeon Suites Resort holiday salute begins it holiday celebrations with Let It Snow, held on weekends and select weeknights. The event starts at 6 p.m. with the opening of the Oasis Pool, closed during the day because of the Christmas tree at one end and lighted snow flake decorations hanging next to the pool.
It's kind of a neat experience to go swimming then, with a blue-white light bathing the pool and snowflakes falling occasionally near the Christmas tree. No danger of getting chilly from the snowflakes: they're actually bubbles.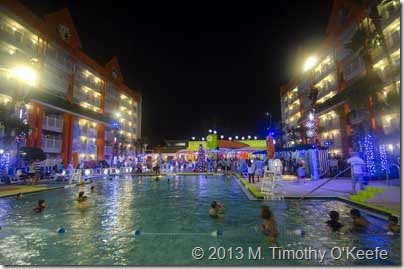 Nick celebrates Christmas with an 84-degree pool
Lasting until 9 p.m., Nick characters such as SpongeBob SquarePants appear several times (along with humans) to dance and pose for pictures. Fire pits near the pool are ready for those hungry for S'mores but don't make the mistake of waiting in line to use the fire pit unless you've already purchased the S'mores ingredients sold at the pool. Yes, it would be nice if they were free but it's also easy to see how that could get out of hand with a big crowd.
Santa Claus also makes personal appearances either at the Oasis Pool or Studio Nick, based on the daily program everyone receives at hotel check-in.
Around 8:30 the festivities start at Studio Nick with a performance of Celebrate Nickmas, a high energy song and dance show that includes SpongeBob and Dora the Explorer. It's a good idea to get in line 20 to 30 minutes before the show if you want to sit near the stage. At the end of the show, Santa Claus appears for individual photos with children in front of an elaborate Christmas background. Nick Resort photographers snap everyone's picture in hopes of selling them but family members are given free reign to take their own. A much appreciated opportunity it is, too.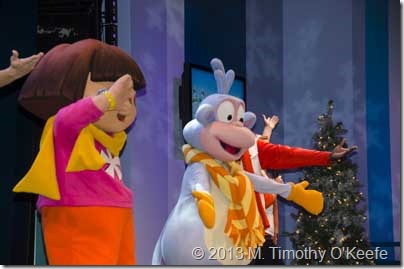 Dora the Explorer and friend at Nickmas
But if you want your child to meet Santa, you must make advance reservations, which also assures you seats at the show. Those who show up without reservations are let in on a space available basis but aren't given a place in line to meet Santa. It's easy to make a reservation.
New Year's Eve will be celebrated by Nick Resort's annual SLIME Drop where 400 gallons of the green sticky goo is dropped on revelers to create what undoubtedly is the messiest pool party anywhere that night. Before the great sliming, the year is ushered out with pool activities including a Dive In Movie, DJ Splash Bash, live entertainment and a Champagne or Slimeade toast.
At the moment, special Nickmas Packages are being offered but not the kind you expect from a hotel. Instead of selling anything, this is a package with room and other discounts. Could be a good deal but also compare the price options on the hotel website and sites like Kayak.com to see the best prices on different rooms.
As you might expect, the New Year's SLIME Drop experience does cost extra. The party gives a good reason to look green for once on January 1.