Monday Galapagos cruise dining
Monday had one of my favorite lunches on the National Geographic Endeavour. The Brazilian Xim Xim soup and the pasta with a trio of sauces were excellent. An unexpected surprise were the cassava fries. Cassava–also called yuca, mogo, or manioc—makes a wonderful bread but we had no idea it could be turned into fries, too. One fry goes a long way, as this photo demonstrates: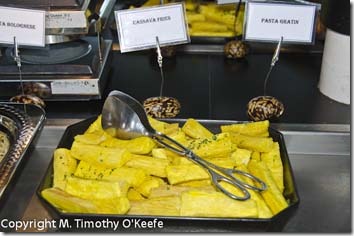 Cassava fries for Monday's lunch.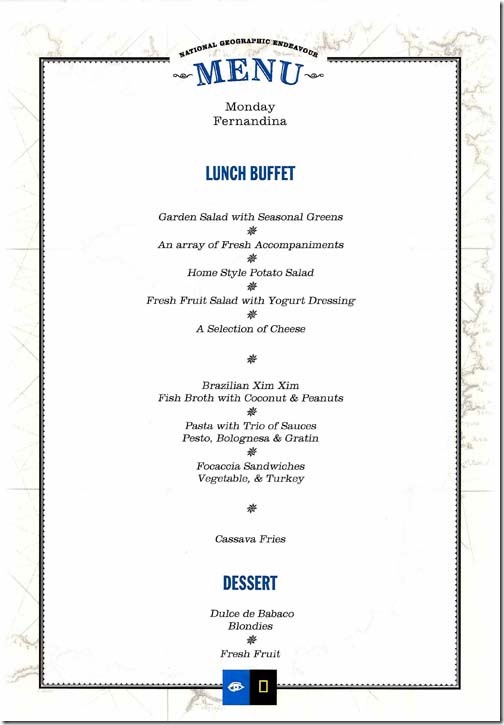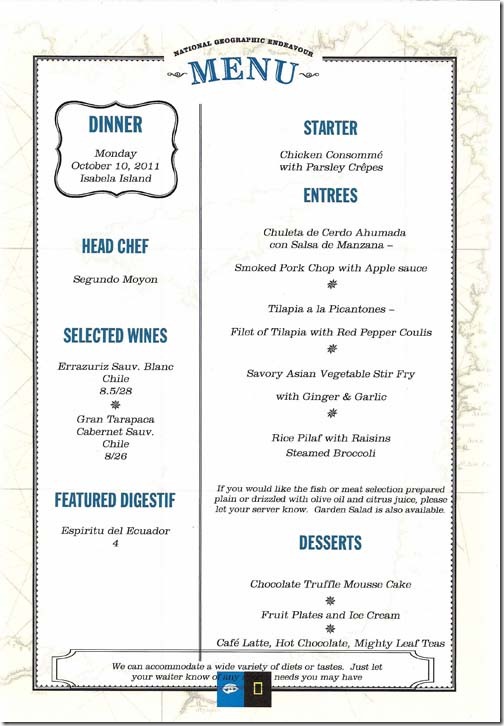 Lindblad Endeavour Galapagos Cruise Links
The Galapagos Experience Endeavour Dining
Galapagos Adventure Upcoming Sustainable Dining Policy
How Darwin Saved The Galapagos Saturday Dining Menus
Galapagos Photo Tips Sunday Dining Menus
What To Pack For Cruise Monday Dining Menus
Getting to Guayaquil Tuesday Dining Menus
Las Bachas Shore Landing Wednesday Dining Menus
North Seymour Shore Landing Thursday Dining Menus
Fernandina & Isabela Islands Friday Finale Menus
Urbina Bay Shore Landing Endeavour Recipes
Life Aboard The Endeavour
More About Life On Board
Puerto Egas Shore Landing
Endeavour's Floating SPA
Meeting One of World's Rarest Animals
Puerto Ayoro Walking Tour
Santa Cruz Highlands Tour
Hunting Tortoises in the Santa Cruz Highlands
San Cristobal, Endeavour's final stop