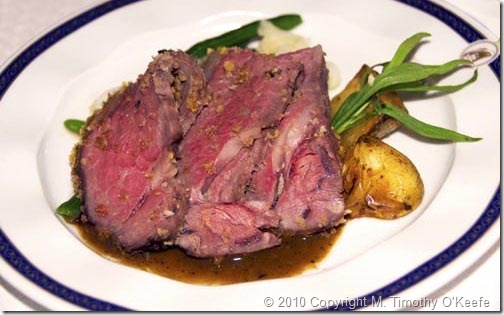 Herb-crusted prime rib with horseradish

In-room service often reflects a ship's commitment to overall dining quality
Good dining and good service: Some ships I have cruised on had one but not the other. Several, including now the Maasdam, have had both.
Having never sailed on NCL, I am not sure why they paint "Freestyle Dining" on the sterns of their ships, which implies the rest of the cruising world is somehow enslaved or held captive to their main dining room.
On the Maasdam and all HAL ships, the dining program is called As You Wish. Even though I think of the film The Princess Bride (and what Westley always said to his great love, Buttercup, every time I hear the term), As You Wish does perfectly describes the dining choices we have on the Maasdam.
In the Rotterdam Main Dining Room, before departure you choose either the traditional pre-set seating and dining times or the more freestyle approach of Open Seating (our choice) for dining anywhere between 5:15 and 9pm. For those with Open Seating, the Rotterdam opens a half-hour before the first main seating and extends 45 minutes beyond the second main seating.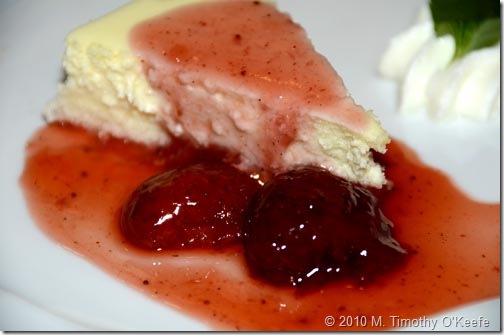 Strawberry cheesecake

Or, for a more casual, Caribbean-type atmosphere, the Lido Dining Room buffet features about 80-percent of the same items as the Rotterdam for every dinner. Sometimes the specials on a particular night are better in the Rotterdam; on others, they're in the Lido. The Lido Restaurant also is where the buffet breakfast and buffet lunch are served.
HAL's website has detailed information about the Maasdam's other dining areas. As a note, it is worth pointing out that the only rolls not cooked on the ship are rolls needed for the huge quantities of hamburgers and hot dogs served at the Terrace Grill from 11:30am until 6. The demand is just too great for the ship's cooks. The Terrace Grill also features freshly baked home-made pizzas and—about 80-percent of the time—a Taco Bar throughout the afternoon.
Room Service
As anyone who cruises on the Maasdam or any HAL ship should learn on their first cruise, the As You Wish promise extends to room service, available 24 hours a day. The 24-hour room service menu provided in the staterooms is limited to 10 items and some suggested remedies for "high seas."
However, a breakfast as full as you possibly could want will be delivered from 6am-10am every morning. The tags with your selections are hung outside on your stateroom door handle in the night, which is the way most ships operate.
From noon until 10pm, the room service menu offerings increase but you need to know this important fact: Anything served in the main dining room is available for room service when the main dining room is open, either for lunch or dinner.
Which means anything on the Rotterdam's featured dinner menu will be brought to your room without extra charge. The key to ordering this way: You need to check the posted Rotterdam menu in advance and know precisely what items you want when you call in your order. No one has time to read the menu off to you over the phone, then give you added time to think about it and ask questions.
So, be prepared. The in-room dining phone is a busy one.
In order to blog as much as we have, most of our Maasdam dinners have arrived by room service. Delivery always is promised within 45-60 minutes but it usually arrives within 20 unless the ship has an unusually busy in-room dining night.
Seeing is Believing
Wish I could insert a drum roll here. To prove again that each picture is worth a thousand words, the following is a sample of the Maasdam's in-room dining. If a ship doesn't provide this kind of service, then it doesn't live up to the grand heritage and traditions of cruise dining. It's just another buffet joint, in good disguise.
Something that may or may not be important to you when choosing a cruise. To us, because we are on the go all day in port and usually don't feel like dressing up, it's a significant consideration.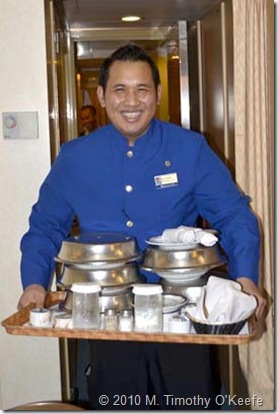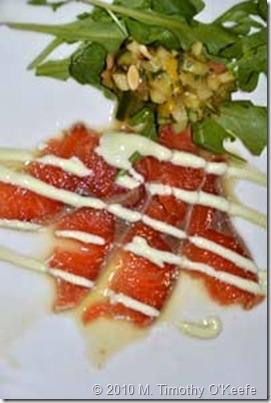 No, we didn't eat as much as it appears Sashimi of salmon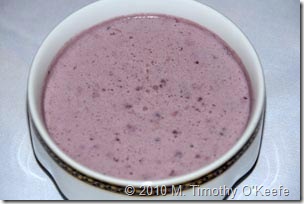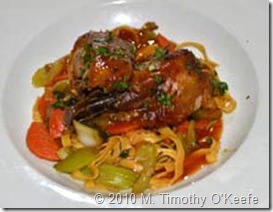 Chilled blackberry soup Rotisserie of duck breast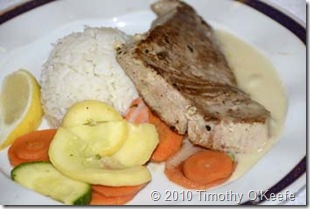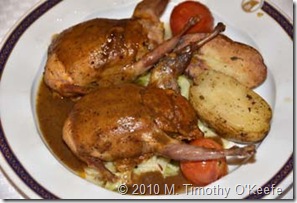 Dark and stormy Ahi tuna Quail stuffed with apricot dressing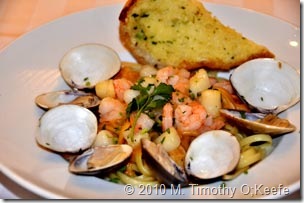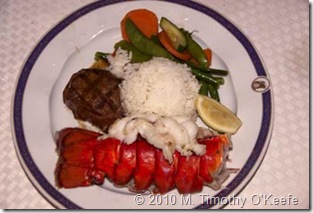 Clam and shrimp appetizer Classic surf and turf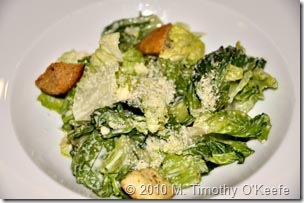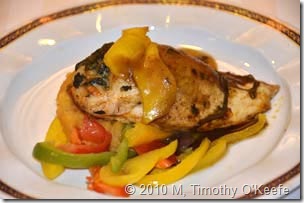 Caesar salad Grilled chicken breast, sliced mango, peppers
OK, this is enough! I have many more pictures but you get the idea. Putting them together has me starving. Time to call in-room dining, one final time. We arrive home tomorrow.