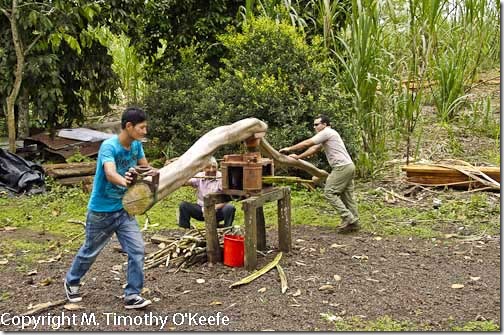 A triple header shore lunch
Before we set out to find Galapagos tortoises in the Santa Cruz highlands, the Lindblad Endeavour has an extended lunch break planned that is surprisingly varied. One stop I did not anticipate: a visit to a still–what we Southern boys would call a moonshine still–and the option to sample its product.
Here's how it happened. From Puerto Ayora, we drive for 30 minutes into the highlands and stop at an old sugar estate called El Trapiche, Spanish for sugar mill. A local Galapaguenos family still works the property, with an older gentleman and a younger man turning the sugar cane press when we arrive. A donkey, on the other hand, is tethered to a fence off to the side taking what is probably a rare opportunity to relax.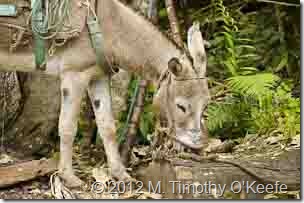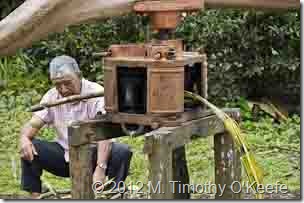 El Trapiche sugar mill donkey; old fashioned sugar mill press
We are all invited to take a turn at the press and several fellow passengers step forward for what is fun for a few turns but would be a long harsh day for real. The long green sugar cane leaves roll through the press with the sugar juice spilling into a pail for processing into large cubes of natural brown sugar sold in the sugar mill gift shop. As we will discover, some of that cane juice will be used for making hootch, English word for cheap whiskey. That was not for sale.                                   
               Pounding the coffee beans

On the way to a shed to sample some of the sugar products we're offered a brief demonstration of how coffee beans–also grown here–are pounded with a huge mortar and pestle. That may seem a strange thing to do with coffee beans but some connoisseurs consider pounding the coffee beans superior to grinding them since the powder from the pounded beans retains all the volatile oils, which give coffee its flavor. Heat–apparently produced through grinding–dissipates the volatile oils. (And that is the end of today's informative lecture.)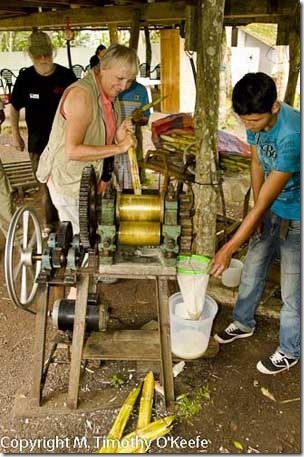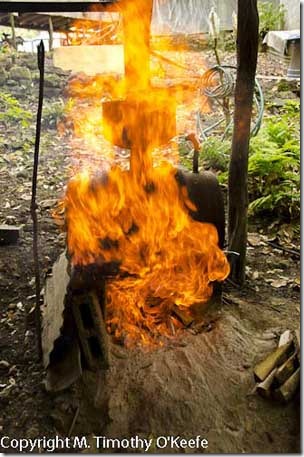 El Trapiche electric sugar mill press; the spurts flames after a douse of moonshine
From the coffee grinding demo we enter a small shed and find a still operating. Obviously distilling your own drinking alcohol isn't illegal here–as it wasn't in the U.S. for most of its history–and the elderly gentleman is more than willing to waste his alcohol by throwing it on the still and having it blaze briefly for us to take photos.
Then with some slices of cheese we dip into a bowl of sweet molasses, a by-product of processing sugar cane. Fittingly, the word molasses comes from a Portuguese word for "honey." This stuff is delicious. Then, an Endeavour guide I've rarely seen quickly points out several small bottles of moonshine that he invites us to sample. I'm one of the few interested. I went to graduate school in North Carolina where moonshine and grape juice was a favorite drink. This elixir has to be sampled straight without a mixer. Quite good. And, thankfully, not as potent as I feared.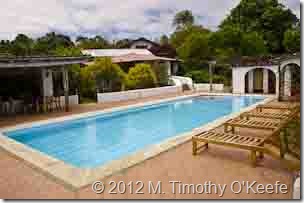 The Altair Restaurant in the Santa Cruz highlands;  pool at the restaurant
                                       From lunch to the Los Gemelos craters
From the sugar mill, we go to a restaurant named Altair and dine on freshly grilled chicken and, if anyone was interested, take a swim just outside the restaurant. Or relax in one of the too few hammocks behind the pool.
The final stop of our triple-header lunch break is at a place called Los Gemelos, the twins, which are two huge craters formed by the collapse of a magma chamber. The craters, on opposite sides of the Puerto Ayora-Baltra road, are quite impressive. They look more like meteor impact craters than the results of some random ground collapse.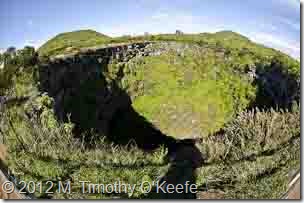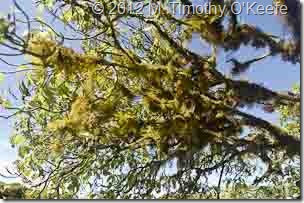 One of the Los Gemelos craters; a tree in the cloud forest around Los Gemelos
The walk from crater to crater leads us through a cloud forest called a scalesia forest filled with epiphytes, ferns and orchids. This endangered ecosystem also supposedly is rich with birdlife such as Darwin's finches including the woodpecker finch and the rare vermillion flycatcher.
                                                             Too much sun?
Unfortunately, with the sun out for the first time all day, the forest and the branches are beautifully lighted. Maybe all that sun is bothering the birds because none of us–including our guides–can sight a single bird anywhere. The guides say this is unusual.
I can live with it. I just want the sun to stay out for our next stop where we hope to find giant tortoises in the wild. No wild creature can be relied on to appear where or when you expect it. We can hope we find them. Wildlife photography largely is based on hope.
Lindblad Endeavour Galapagos Blog Links
The Galapagos Experience                                             Endeavour Dining
Galapagos Adventure Upcoming                                 Sustainable Dining Policy
How Darwin Saved The Galapagos                              Saturday Dining Menus
Galapagos Photo Tips                                                       Sunday Dining Menus
What To Pack For Cruise                                                 Monday Dining Menus
Getting to Guayaquil                                                         Tuesday Dining Menus
Las Bachas Shore Landing                                              Wednesday Dining Menus
North Seymour Shore Landing                                     Thursday Dining Menus
Fernandina & Isabela Islands                                       Friday Finale Menus
Urbina Bay Shore Landing                                              Endeavour Recipes
Life Aboard The Endeavour
More About Life On Board
Puerto Egas Shore Landing
Endeavour's Floating SPA
Meeting One of World's Rarest Animals
Puerto Ayoro Walking Tour
Santa Cruz Highlands Tour
Hunting Tortoises in the Santa Cruz Highlands
San Cristobal, Endeavour's final stop