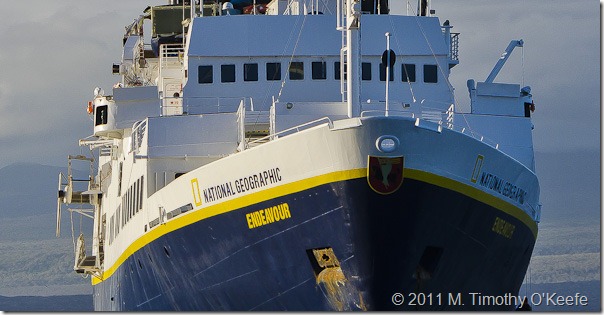 What should you bring for your Lindblad's National Geographic Endeavour cruise? (Or any other Galapagos cruise?)
Suitcase Restrictions
Depending on airline, you may be able to take two bags weighing 50-pounds each to Guayaquil or Quito but you can't take both to the Galapagos. You're limited to a single 40-pound checked bag to the Galapagos, which means you must pack carefully. Leave any extra bags at your Hilton hotel, which you can pick on when you return.
The reason for a single 40-pound bag on the Galapagos segment is that many supplies are sent by plane to the 30,000 people who live in the islands; the cruise ships also rely on their deliveries. On your return to the mainland, the planes carry no supplies and the weight limit is not strictly enforced. That makes it easy to bring souvenirs and gifts back home, though there doesn't seem to be a lot to shop for except t-shirts, refrigerator magnets and other small souvenirs. But if you see a wall hanging or carpet you just have to take back, you can.
Endeavour dress code
Since this was our first Lindblad cruise, we weren't sure what clothes to take. The Endeavour is not like most cruises. The atmosphere is casual every day and night. In fact, after a few days women in at the evening meal have no make-up and many pull their hair back into a ponytail. The daily activities sometimes end too close to the 7:30 p.m. dinner hour for the usual evening grooming habits. After a full day with little time between numerous activities, most people are tired and hungry. The nightly ritual usually is eat, go to the final night's presentation, then bed. Wake-up is early, 6:45 a.m. or earlier.
Shorts, shirts and sandals were entirely appropriate for breakfast and lunch. Sometimes even at dinner when there was a tight day time activity schedule, though on more relaxed nights many people wore slacks and did the usual casual smart.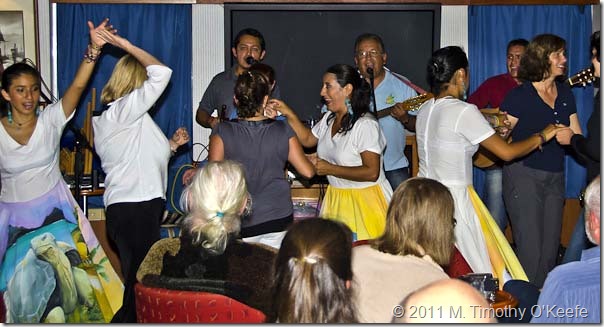 As you can see, this isn't a very formal crowd
Footwear for going ashore
Your main transportation during for Galapagos shore excursions are the inflatable Zodiac, known locally as a "panga," The Endeavour staff terms them a "black Cadillac," your floating taxi from the Endeavour to the island where you will be bunched with 11 of your best new friends. Most island landings are "wet landings," called that for a good reason. You must swing your legs over the side and gently slide into the water. If you're short like Linda, the water can be knee high; sometimes the waves make it necessary to use two hands to steady yourself. Thus the need for good water shoes (as well as a backpack).
Footwear is probably the most important packing item to consider. We both make the trip with only two pairs of shoes (a first for Linda: tennis shoes and a pair of Keen water sandals.
After researching different types of water shoes for the best traction and comfort, the online reviews for Keen closed-toe water sandals convinced use they would be our best bet. They turned out to be invaluable. They made maneuvering on lava rocks and over slick boulders much easier without the risk of slips or falls likely with many types of tennis shoes. We highly recommend the Keen water shoes; some of the naturalists wear them. Keen water sandals are a small investment for help ensure your safety and comfort both in the water and while hiking. Flip flops don't work here, except on the beach. Hiking boots are also recommended for some of the more strenuous hikes although the Keen sandals gripping power seems just as good.
This is why you want to be selective about your footwear: on the first day, one woman slipped and fell on the sharp lava rock, gashing her face in several places. Fortunately, she was not seriously hurt but did have to smear her face with anti-bacterial ointments for the rest of the week.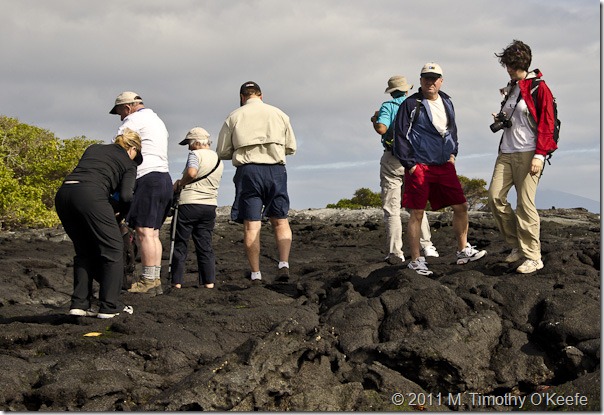 The volcanic islands offer little even foot except on the beach
Expedition clothing: Since some landings are wetter than others, it's important to have shorts or slacks that dry quickly. Linda bought convertible slacks that could zip off to shorts, roll to capri, or wear as long pants. The three pairs served as her shorts during the day and slacks at night. Tim, who is taller and didn't need to worry about stepping in deep water, wore his usual cotton cargo shorts.
Along with the shore landings, you'll have several opportunities for touring around parts of an island in a panga. The water on these excursions sometimes can be rough. Bring a windbreaker/rain jacket for such times. There always is the chance that even in the dry season it might rain, so stuff a rain jacket in your backpack.
Although clothing is casual, think layers: t-shirts, shorts and long sleeved shirts for added sun protection. In the cooler garua season, bring a sweater to wear on deck. Or, if the water has chilled you, to wear inside the well air-conditioned Endeavour.
Transporting cameras ashore
Put your camera in a heavy plastic bag and place it on top of the windbreaker in your backpack to cushion it. If you are carrying two SLRs, take a hand towel from your bathroom to act as a cushion if you have to place it on top of the first camera. Camera backpacks that need to be opened when laid flat are too troublesome and awkward to access. Better to use a traditional backpack, which is easier to open and allows you to grab what you need without any worry of things spilling out. The naturalist guides also favor traditional backpacks, in which they stuff their own cameras, first-aid kits and more.
Sun protection
A good floppy hat with a tie so the wind won't tear it off if the cord is loose under your chin is a top necessity.. On both the ship and on shore you'll find the wind often coming from behind you. If the tie cord isn't tight, you'll probably lose your hat. Some Endeavour guides keep their hats so tightly secured they can probably withstand a tropical storm. Although Lindblad sends a nice Endeavour baseball cap as part of its documents package, the equator is not the best place to wear it. Wear it as a fond reminder after you get back.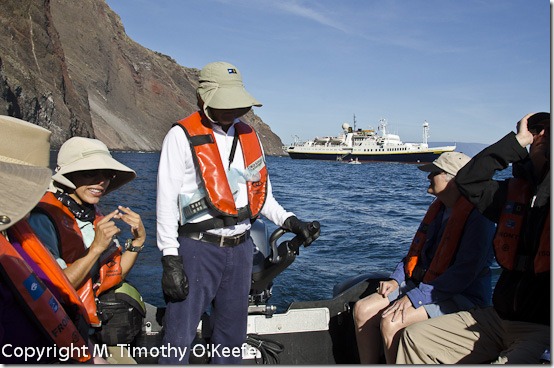 Note all the floppy hats for this Zodiac tour

Sunscreen, a broad spectrum UVA & UVB block that is SPF 30 or higher, is an absolute must. The temperatures may be cool when the clouds are blocking the sun. Remember you're on the equator and need to use sunscreen several times a day to protect your face, arms and especially your feet or you'll end up with a burn where the sandals are open. Just in case, bring aloe or another favorite remedy for sunburn.
Good sunglasses are another priority. Most people don't realize it's possible to get melanoma in the eye, not just on the skin. Melanoma of the eye may even require its surgical removal. Melanoma of the eye lid is another possibility. Even on cloudy days, there is a lot of bright light. And the glare from the water on a sunny day is at least 10,000 times brighter than is comfortable for the eye.
Your sunglasses (look at the tag) should be capable of doing at least these three things:
Block the UV rays that can damage the cornea and the retina.
Block intense light, with no squinting. Intense light can damage the retina.
Block the glare, as polarizing glasses will.

Other suggestions
Water bottles are provided on the Endeavour, one per person. Water stations for refills are located throughout the ship. But the tap water is just fine.
For snorkeling, the ship provides a shortie wetsuit, mask with snorkel and fins. Don't bring dive booties; they don't work with the Endeavour's fins. If you have a mask you like, bring it but keep a closer eye on it and take it back to your cabin after each trip. Masks too frequently disappear because they sometimes get left behind in a panga or someone picks up the wrong snorkel bag.
First aid: In case you fall and cut yourself, bring Neosporin and Band Aids. The Endeavour has a doctor on board for serious injuries, such as tripping and getting lava rash.
Motion sickness: Bring meclizine or use the Dramamine available for free at the reception desk. Linda needed more than usual due to the sometimes rough Zodiac rides.
Last but not least, bring a good attitude since you have the opportunity to meet many new friends for the week and have lots of fun while seeing one of the world's singular wonders. .
More info
These two sites have additional information on what to pack. The first is from the Lindblad Expeditions site, the second is from the Charles Darwin Research Station.
Lindblad Endeavour Galapagos Cruise Links
The Galapagos Experience Endeavour Dining
Galapagos Adventure Upcoming Sustainable Dining Policy
How Darwin Saved The Galapagos Saturday Dining Menus
Galapagos Photo Tips Sunday Dining Menus
What To Pack For Cruise Monday Dining Menus
Getting to Guayaquil Tuesday Dining Menus
Las Bachas Shore Landing Wednesday Dining Menus
North Seymour Shore Landing Thursday Dining Menus
Fernandina & Isabela Islands Friday Finale Menus
Urbina Bay Shore Landing Endeavour Recipes
Life Aboard The Endeavour
More About Life On Board
Puerto Egas Shore Landing
Endeavour's Floating SPA
Meeting One of World's Rarest Animals
Puerto Ayoro Walking Tour
Santa Cruz Highlands Tour
Hunting Tortoises in the Santa Cruz Highlands
San Cristobal, Endeavour's final stop