Keeping Our Scents Fresh
Actually, the what-to-wear factor on a 35-day Caribbean cruise isn't difficult. The real issue is how to have enough clean clothes without packing a dozen suitcases. Holland America doesn't care about how many suitcases we bring aboard. And since we're driving to Port Everglades in Fort Lauderdale, we truly can bring as many bags as we want, even as many as a dozen. It's a matter of the size of your stateroom. Except for a suite, not many staterooms can accommodate luggage that can fill our rental vehicle.
If you've traveled to the Caribbean before, ever noticed a self-service laundry? Although there are quite a few of them in the islands, I never recall seeing one, or if I did, remember its location. Because even if I had, I don't think I'd want to roll down the gangplank a suitcase of dirty clothes to a laundry dry near the end of the cruise pier. Efficient, but not convenient or classy. And certainly a waste of time while in port. Out of curiosity, on the first 11 days of our cruise where we have been in a port almost every day. I looked byt never saw a Laundromat anywhere.

A Great Convenience—For How Long?
Of course, most cruise lines like Holland America offer laundry service and dry cleaning. But some HAL ships like the Maasdam offer self-service laundry facilities, a necessity for long-term voyages in order to avoid paying a per-garment cleaning charge. The washers and dryers on several decks stay open 24 hours a day.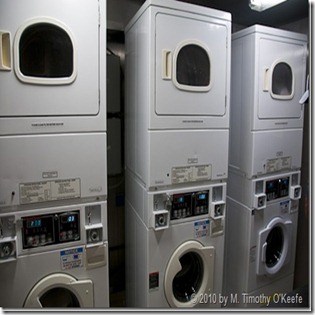 Three stacked washers and dryers in a
laundry room on the "Maasdam"
In our situation, laundry day is going to be every 2 weeks, beginning as the Maasdam returns to Fort Lauderdale to discharge and pick up new passengers. Competition for the laundry facilities is minimal, even towards the end of the cruise. Linda is able to get one washer immediately, a second 10 minutes later and the third—and final washer available-in just another 10 minutes.
A special low-suds detergent is provided free, and it is precisely measured by a dispenser. If you use more than the quarter of a cup dispensed, the washer will bubble over with suds, which will make the floor slick and create other possible disasters.
The washers take 30 minutes for each load, the dryers about 45 minutes. She says the three loads done on the ship would be two loads at home, that these washers take a smaller load.
The Maasdam will soon undergo a renovation. Let's hope it will keep the laundry facilities for guests on what HAL calls extended "Collector Voyages." It's only fair.