Peanut butter and banana is another possibility

Since the Eggs Benedict Dilemma post is such a hit, here are some more breakfast ideas from the Maasdam breakfast buffet we're taking home. This time it's from the Waffle Bar.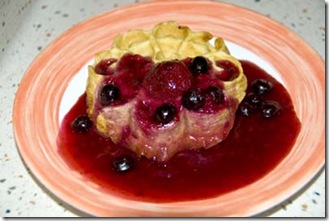 Waffle with blueberries

Personally, I'll take a waffle over a pancake or French toast anytime. Not only do waffles sit a lot lighter in the belly, you can actually taste the waffle toppings because they're not overpowered by the batter, as in a pancake or thick French toast.
Making waffles at home is easy these days. Seems like every time I look in a newspaper, waffle irons are on sale and their prices keep decreasing, some as low as $15 or $20. So there's no barrier to making your own.
But you need a deep waffle iron to match what the Maasdam produces. Notice how thick these things are! It may require a commercial waffle maker, which we'll research when we have unlimited free wireless all the time back home.
What makes a good waffle? We can tell you what the waffles are made from but not the exact proportion of everything, at least not yet. The fixings: Flour, milk, egg yolk, melted butter (not margarine!) and a pinch of sugar. We believe a key ingredient to the waffles airiness is not only the thickness of the waffle maker but not filling it to the top. Leave a little space for the waffles to rise.
We're working on getting the exact measurements. Feeding 1,250 mouths keeps a chef busy. Send me a message in a couple of days and I'll let you know what we find (offer expires Dec. 17, 2010, the end of our cruise).
The toppings I've already suggested peanut butter and sliced banana. It could even be good old peanut butter and jelly. How about cooked apples and cinnamon? Chocolate and whipped cream? Sliced pineapple? Bananas and chocolate sauce? Pears with chocolate sauce? Strawberries and whipped cream?
(In having Linda check this before posting, I learn chocolate sauce and whipped cream are available at the Waffle Bar. But you have to ask for them. If the presence of chocolate sauce was public knowledge, people might form lines to put in on their French toast, bowl of fresh fruit and who knows what else.)
Have a favorite topping of your own you're willing to pass on? Send it to me and if I receive enough of them, I'll share them in a later post.