How many different kinds of Eggs Benedict can you name?
Eggs Benedict normally are reserved for or served only on special occasions. Not on the Maasdam. They are an everyday offering at the buffet breakfast in The Lido Restaurant.
This morning a woman standing next to me said aloud the same thing I wondered the first time I discovered the Lido's Eggs Benedict station.
"I thought there was only one kind of Eggs Benedict, " she says seeing the seven different types on display. "I never knew there were so many choices!" Neither had I.
Below are photos with descriptions of the seven Eggs Benedict styles available every day. Of course, you're free to come up with your own combination of ingredients. And add sliced mushrooms and other available accoutrements not mentioned in the daily Magnificent Seven.
After this Maasdam cruise, Eggs Benedict will have an astonishing new range of possibilities. Such as using a minute steak or a sausage patty or a thick slice of ham? I
can't wait to experiment.
Eggs Benedict: The Magnificent Seven
Including the happy chef who makes it happen.
Unless mentioned otherwise, all poached eggs are served on traditional English muffin and
topped with hollandaise sauce.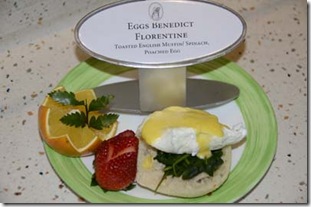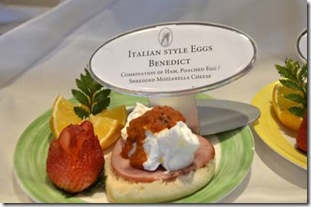 With spinach, no meat Canadian bacon, tomato sauce, cheese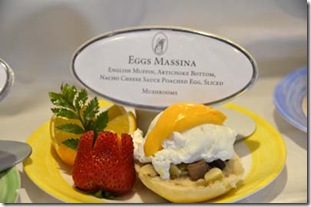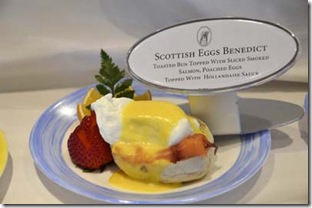 Artichoke bottom, nacho cheese sauce, mushrooms With sliced smoked salmon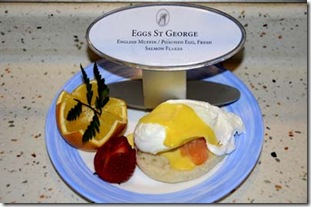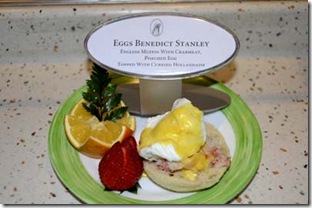 With fresh salmon flakes With crabmeat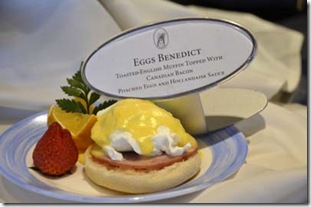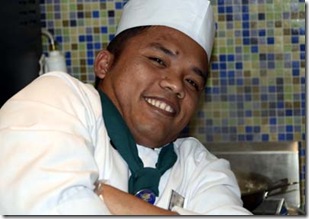 The original with Canadian bacon The man who makes US smile!