by Linda and Tim O'Keefe
Sopot and Gdansk- A Hurried Day
Due to the Oceania Marina's schedule, we have limited time in Poland. The ship docks at the port of Gdynia at 8 a.m. and will depart at 4 p.m.  That's pushing it since we want to see Gdansk, a thousand years old and the largest city in northern Poland.  But it's about a 45-minute drive from the port to Gdansk's colorful Old City.
Among the first to leave the Oceania Marina, we search for a taxi.   As in Klaipeda, we're bypassing guided tours to wander around on our own.  We like setting our own pace, spending time in a place that interests us and leaving quickly from those that don't.  And we like the ability to return to a spot when the photo light is right.
Six taxis wait near the Marina. The drivers have a  set price of US$200 to take us to Gdansk, wait while we explore the town and then return us to the ship by 3:30, our all-aboard time.  We assure one driver we're definitely interested but wait a few minutes to see if we can find two others to share the cost.  Before long, we find a couple agreeable to sharing the cab. The four of us strike a deal with the taxi driver and we're off.
Unexpected Visit to Sopot
Our driver seems a nice fellow but he wants us to follow an itinerary he thinks is more rewarding than going straight to Gdansk.  Uh-oh, what have we gotten into?  The other couple doesn't object so we say nothing.  We're skeptical that our first stop, the seaside resort of Sopot, although our driver assures us Sopot is very popular with tourists. Tim and I look at each other: the Baltic Sea temperature today is 60 degrees, not exactly ideal beach conditions.  Hopefully this won't be a waste of time.
The driver gives us 25 minutes for a quick look around Sopot. The natural thing for a Floridian to do is check out  the "popular" Polish beach.  We're astonished to discover Sopot Beach is spectacular, one of the best beaches we've ever seen anywhere.  Its soft fine-grained silky sands put it near the top on our list. 

By comparison, the beautiful sands of Florida's panhandle seem rough and drab.  No wonder almost two million people visit Sopot annually, whose sheltered waters are supposed to be warmer than those of other Baltic beaches.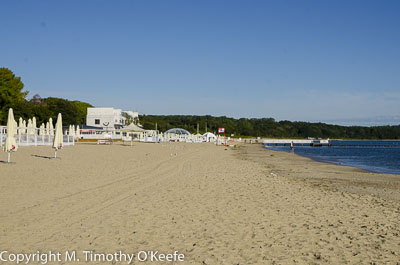 Sopot Beach is a lot more impressive when you stand on it. 
                                              Europe's longest wooden pier

Understandably, Sopot has been a favorite destination of Europe's rich and famous for decades.  Walking along the beach, we come across the palatial-looking Sofitel Grand Hotel, perhaps the area's most famous place to stay.  Built in 1927, the hotel has accommodated guests ranging from Adolf Hitler and Charles de Gaulle to Fidel Castro.  American leaders apparently have yet to discover Sopot.
From the Grand Hotel we walk quickly to Sopot's pier, the longest wooden pier (1,676 feet or 511 meters) in Europe.  It is used not only by fisherman but as a ferry dock and a vantage point for watching windsurfing and sailing championships.
We're running out of time so  we return to the taxi via Sopot's main street, Bohaterow Monte Cassino Street, which is packed with pubs, coffee cafes, restaurants and galleries.  Unlike those at most beach towns, this street is well shaded but not by trees.  The tall buildings bordering it provide the shade as they also  hide any view of the beautiful beach.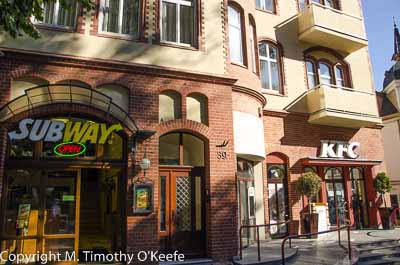 A taste of home on Sopot's main promenade  
Side Tour to Oliwa Cathedral
Our driver's next destination is Oliwa Cathedral, a mix of architectural styles including Romanesque, Gothic and Rococo dating from the 13th century.  Oliwa Cathedral also is Poland's longest church.  This is another good choice by our driver, who quickly takes us inside the cathedral by a side door and urges us to sit in the last row.  It turns out we're just in time for a  20-minute organ concert.
The organ, made up of more than 7,000 wooden pipes, has such a wide range of pitch and sounds it can mimic everything from animal noises  to human voices.  The elaborately crafted organ is also celebrated for its moving wooden cherubs and trumpet-playing angels.
Sitting in the last row is  perfect for viewing the moving figures.  The concert of hymns is stirring.  The last selection, The Hallelujah Chorus from Handel's Messiah, gives Linda goose bumps.  Enjoy the impressive sound of the Oliwa organ concert here.
Gdansk Old Town, Finally! 
By the time we reach Gdansk it's almost 11 a.m., much later than anticipated.  Fortunately our driver has a special parking place near Old Town's main street.  The spot happens to be conveniently located across from the public facilities.  Linda is ready for a break and determined not to repeat the long toilet hunt at St. Petersburg's Peterhof Park.
As at every other Baltic port city, we must pay to use the facilities.  An attendant is always ready to make change but the process still is a nuisance when you need different currency day after day.  The Euro is accepted in many places, although in St. Petersburg only Russian rubles were taken.  Dollars have no value in some places.  Polish banks in Gdansk won't even convert them into Euros.
We need to be back at the cab by 2 p.m. in case heavy traffic delays our return to the Marina. Gdansk will have to be one of our fastest city tours ever.  We start our walk on the wide pedestrian street called the Long Market.  The architecture here looks like a time capsule from the medieval ages.
What appears old is new
Yet  almost everything that appears old is actually new.  World War II started on the outskirts of Gdansk after a German battleship fired on a Polish artillery unit.  By the end of the war, Gdansk was devastated from both German attacks and allied air strikes and Poland belonged to the  Russians.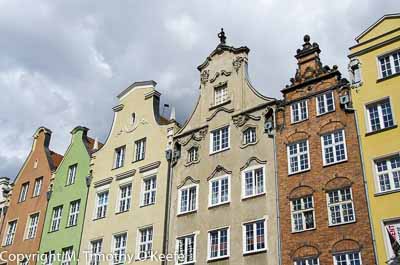 A restored section of Gdansk that reminds me of Aruba
Knowing how much the city suffered in the war makes its striking appearance today all the more amazing.   Walking toward the city's High Gate, we notice how Old Town's historic buildings and houses all shine with vivid colors ranging from dark green to dull red, from burnt orange to gleaming white and gold.  Reconstruction that  took decades didn't leave an imperfection anywhere, making Gdansk more attractive  than most cities with an equally long history.  The Old Town literally is picture perfect, one reason it's become a popular cruise destination.
We walk to the High Gate (or Upland Gate), a massive structure that's the  only remaining part of the city's medieval walls.  The gate served as the entrance to the Old City,  the beginning of the Royal Route where local officials greeted visiting royalty and escorted them into the city.  Linda wonders what it was like as a royal during the 16th century.  Tim suggests it might be better to consider the life of a peasant. (Why is it that every girl wants to be a princess?) Besides, he points out, we have more riches than they ever did; including deodorant.
Next: Exploring Gdansk Old City