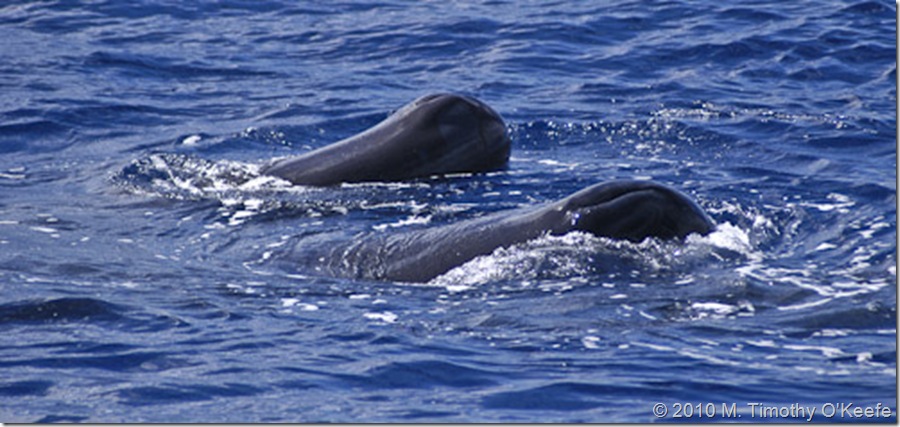 Dominica is the Caribbean's whale watching capital
The captain of our whale and dolphin excursion boat slips a hydrophone into the water only two miles off Dominica's shoreline and almost directly in line with downtown Roseau.
He fine-tunes the underwater listening device, hoping to pick up the clicks, pings, whistles or any other sound made by the pod of female sperm whales that reside in Dominica's deep coastal waters year-round.
So far Moby Dick's sisters have proven elusive, without a single sighting. However, sperm whales make distinctive clicking noises and we'll soon know if any animals are within the sensor's two-mile range.
"Babies sound like an old time watch, going click-click-click," the captains tells us as we listen to the hydrophone. "Female clicks are stronger and faster, like horses galloping. The males sound like metal hitting a bottle but with the speed of a pile driver."
We listen intently but hear only what sounds vaguely like the whine of a boat propeller. "A dolphin," the captains says as he pulls in the cable. He returns to the flying bridge and restarts the engines, resuming our search before dropping the hydrophone again.
I glance at my watch. Almost half of our three-hour trip is over, still lots of time left to find our first whale…right? Maybe not.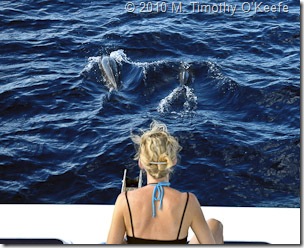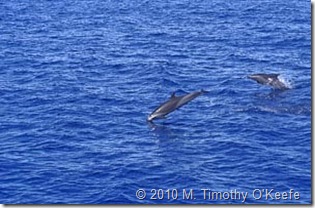 Spinner dolphin just off the bow Spinner dolphins showing off
Almost all the other passengers aboard our 60-foot catamaran from the Anchorage Dive Center are making a repeat trip because they didn't see a single dolphin dorsal or whale fluke yesterday. That's unusual because these trips usually boast a 90 percent success rate.
With 22 different kinds of cetaceans roaming through its waters, Dominica has rapidly become the Caribbean's whale watching capital. Pilot, pygmy sperm, false killer, dwarf sperm, melon-headed whales, even giant humpbacks during winter, all pass through here.
In addition, spinner and spotted dolphin are plentiful throughout the year. As we learned just minutes after leaving the dock when a huge pod of spinner dolphin started playing around our boat. They were fun but whales are what we all yearn to see.
Even though I have yet to meet my first sperm whale, I feel I've known them forever. Largest of the toothed whales, they are the usual models for whale toys and drawings, and of course a giant sperm whale was Herman Melville's choice for Moby Dick. Yet they don't grow to a "monstrous size" as Melville implies.
The females grow only to 38 feet, the males up to 70. If an enraged male sperm whale was racing "toward us, open-mouthed, raising the waves" like Moby Dick, I'd probably regard their size differently.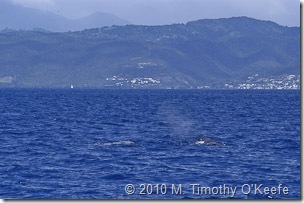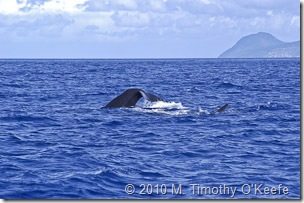 Thar she blows! Thar she goes!

Everyone on our boat becomes charged as several people point to a short plume of spray a half-mile from us; our boat was already heading for it. My telephoto lens picks up three long black sausages with blowholes floating on the surface. The blowholes seem strangely out of alignment, positioned on the left side of the head and toward the front. An arrangement that obviously works just fine as one female expels a miniature geyser about 15 feet high.
Because of their relatively small size, I expect to see a dorsal fin, which sperm whales lack. Instead, they have a hump and a series of bumps along the ridge of their back
The whales are logging, resting on the surface. They've undoubtedly seen our boat countless times and at first pay little attention as we approach to within 30 yards. One of the whales becomes curious and "spy-hops," raising her head up in the air to have a good look at us.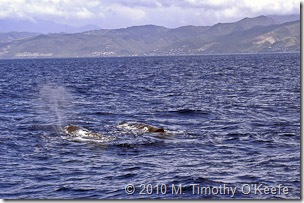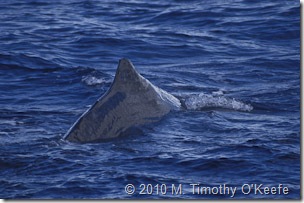 Pod of sperm whales Sperm whales have a hump, not a dorsal fin
Which offers a much better view of her, especially her distinctive blunt head that contains spermaceti, a white waxy substance once highly prized for making cosmetics, ointments and candles. An estimated one million sperm whales were killed before their hunting was banned. Today, somewhere between 20,000 to 100,000 remain, spread throughout almost every ocean of the world.
The whales usually stay on the surface for short stretches, about 15 minutes, then vanish for up to 45 minutes as they dive thousands of feet in search of squid, their primary food. Until then we can view and photograph them leisurely.
Our whales appear restless, a sign they're about to dive. The captain warns us, giving us time to ready our cameras for the shot every whale watcher wants: the notched, triangular tail as it lifts slowly from the water, pauses for an instant and then slips majestically beneath the waves.
Amazingly, we quickly locate two more small groups of whales before returning to the Anchorage Hotel, sighting a total of nine whales that morning. Dominica's whale drought definitely is over.
The Anchorage Hotel & Dive Center is Dominica's oldest and most experienced whale watching operator. Toll free from the U.S. (1-888-790-5264) or http://www.anchoragehotel.dm/main/whalewatching.php. Their boat holds up to 30 whale watchers.