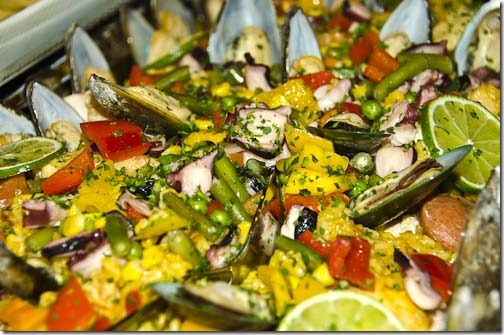 Classic Spanish paella with shellfish but no shrimp
Sustainability guides Endeavour's dining selections
Lindblad Expeditions takes its dedication to conservation seriously, extending it even to the Endeavour's dining room. Although seafood is a staple on the ship's menus, you'll never find a shrimp cocktail, fried shrimp or shrimp of any sort on the ship. Lindblad banned shrimp from its kitchens more than a decade ago, in the summer of 2001, as part of its sustainable dining program to help preserve fish stocks world-wide.
Lindblad says it could not find any shrimp supplier that could prove their harvesting methods did not damage the marine environment. One of the serious problem shrimp trawlers create is the "bycatch" of unwanted fish species that end up being killed and disposed of. In addition, in some areas the trawlers may sweep the same section of sea bottom several times a year, which leaves no time for re-growth or recovery of the marine habitat.
Shrimp farming also has serious negative impact because shrimp growers have made their pond water poisonous due to the large amounts of artificial feed, pesticides, chemical additives and antibiotics used for the highest possible production rate. Typically, the ponds are located in coastal areas to provide easy access to new fresh water sources to refill them. Unfortunately, instead of reducing pressure on overharvesting, shrimp aquaculture's toxic effluent is blamed for reducing local shrimp and fish populations in some regions
When it comes to the fish served on board the Endeavour and other Lindblad ships, they are species considered not to be over-fished or caught by environmentally destructive practices. Lindblad Expeditions is not being extremist in its sustainability approach. According to Ocean Wise, a Canadian non-profit education and conservation association, an estimated 90-percent of all large, predatory fish have disappeared from the world's oceans and it states that one recent scientific study predicts a world-wide fisheries collapse by the year 2048. Obviously, this is a topic that impacts all of us and one we all should be concerned about.
Placing the serious aspects of the Lindblad Endeavour's menu aside, as you'll see from the accompanying photos and the week's menus on accompanying pages, no one starves and there is a serious emphasis flavorful food, although the preparations are not always ones we have every day or perhaps ever have had before. But trying new foods always has been an essential part of travel. The menu emphasizes Ecuadorian cuisine, as you would expect.
Here are some sample signs that are posted to explain unfamiliar dishes:
Here's how seriously Lindblad Expeditions takes its commitment to cater to the diverse tastes of its passengers. The photo at the top of this post shows paella served once a week at lunch that definitely would not suit vegetarians. So, a vegetarian paella is served at the same time.
This kind of catering is routine on large cruise ships. But the Endeavour carries fewer than100 passengers. Here is a photo of the vegetarian paella served at the same lunch.

Vegetarian paella, a rice dish from Valencia, Spain
See for yourself what the dining on the Lindblad National Geographic Endeavor is like. You won't be disappointed, I promise you. If I didn't like it, I would tell you. But I do wish there was just one time during the week for a plain old hamburgers on a bun and all the trimmings. But that may be just me.
Lindblad Endeavour Galapagos Cruise Links
The Galapagos Experience                              Endeavour Dining
Galapagos Adventure Upcoming                                  Sustainable Dining Policy
How Darwin Saved The Galapagos                               Saturday Dining Menus
Galapagos Photo Tips                                                        Sunday Dining Menus
What To Pack For Cruise                                                  Monday Dining Menus
Getting to Guayaquil                                                          Tuesday Dining Menus
Las Bachas Shore Landing                                               Wednesday Dining Menus
North Seymour Shore Landing                                      Thursday Dining Menus
Fernandina & Isabela Islands                                        Friday Finale Menus
Urbina Bay Shore Landing                                               Endeavour Recipes
Life Aboard The Endeavour
More About Life On Board
Puerto Egas Shore Landing
Endeavour's Floating SPA
Meeting One of World's Rarest Animals
Puerto Ayoro Walking Tour
Santa Cruz Highlands Tour
Hunting Tortoises in the Santa Cruz Highlands
San Cristobal, Endeavour's final stop