Best tree ornaments I've ever seen are at Barbados cruise port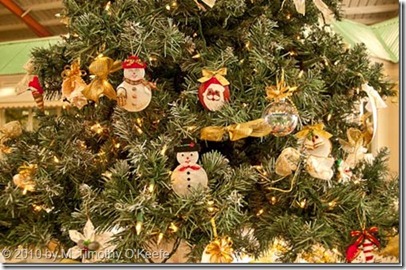 All these Christmas decorations are made from sea shells
Christmas ornaments are good souvenir from anywhere since they remind you over the years where you've traveled. But good Christmas tree ornaments are hard to find in the Caribbean.
Except in Barbados. If you ever visit Barbados between October and April, take the time to seek out Daphne's Sea Shell Studio located in the cruise terminal shopping area. Don't look for a store but probably a lone vendor seated under a sizable Christmas tree placed on a table.
The table is covered with small baskets of the most amazing Christmas ornament, perhaps as many as 20 distinctive items, made almost entirely from sea shells. You will find all the popular Christmas themes, including toy soldiers, snowmen, angels and lots of Santa Claus himself. The care in making them and then hand-painting faces on most of the items individually is amazing.
There is real ingenuity and artistry from the original designs in the how the shells are glued together. And which colors of shells are chosen for a particular subject. Some large white shell decorations, such as the split nautilus with a gold ribbon, really don't carry an obvious Christmas theme but they are perfectly appropriate for the holidays.
I wish Daphne was present at the display so I can talk to her. All I can learn about Daphne from the saleswoman is that Daphne is about 65 years old, has been making these ornaments for years, and now several of her daughters are helping her. They make the decorations over a period of five months, from May to the beginning of October. Late fall through early spring is the prime selling season at the Barbados' port.
The following photos describe more about the originality of these decorations than I can possibly say. Sorry, no sales are made on the Internet. You need to be in Barbados to purchase these decorations, which makes them all the more special.