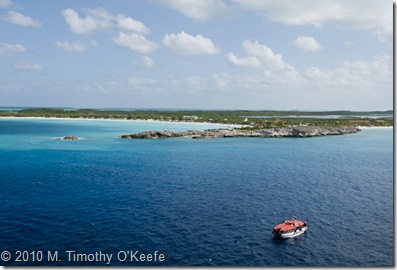 Thanks to HAL's Digital Workshop, I can show it to you now
I also provide much more detail about where and what HAL's Half Moon Cay is. The real name of the 2,400-acre is Little San Salvador, which Holland America purchased in 1997 and shares with some Carnival Cruises.
This was an uninhabited island, 17 from the nearest landfall. With nine miles of beach, the island is little developed except in a 45-acre section bordering the mile-long crescent-shaped bay near the tender dock,. There is no cruise dock here.
The Half Moon Cay name is based not only on the crescent shape of the beach here but Holland America's logo, which depicts explorer Henry Hudson's ship, the Half Moon. From my point of view, they could just as well name it Paradise Beach or any combination of descriptive terms and they would be accurate.
I've seen most of the Caribbean's major beaches and many out-of-the-way ones, so I feel qualified to say this one is truly spectacular, no hype.
Since we visit Half Moon Cay almost back to back, there to Ft. Lauderdale and then back again, I'll wait to describe the facilities in that post. Let shut up and let these images show you the island.
None of these images do justice to the beach. Will try to do better today.