In clouds and drizzle, of course               
The Maasdam's Barbados Photo Adventure shore excursion with a local photo pro to take us off the beaten path really appeals to both Linda and me, but on docking in Barbados we discover we're not there on one of the island's famed 360 days of sunshine. Instead, the ssame gloomy weather of Martinique is in the famously blue skies overhead. I'm astonished. In my many previous trips, I've never seen such depressing skies.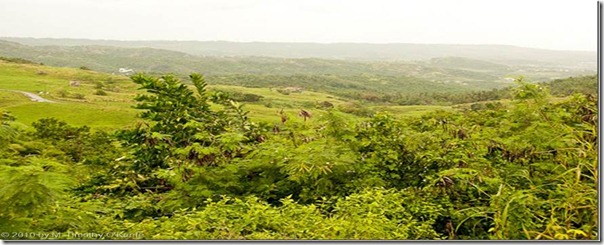 The Scotland district of Barbados on a cloudy day.

How can a decent photo safari take place in this weather? The 18 of us on a small mini-bus are about to find out. Even our tour leader, Barbadian photographer and producer/director Ronnie Carrington, cheerfully admits it will be a challenge but is optimistic.
As we drive into the countryside toward the east side and the always windy Atlantic coast, Ronnie explains that the Barbados landscape is built on a series of terraces, created as the land rose out of the ocean, in different stages, over millions of years. It's why even the poorest landowners always have a "terrace view."

Why Students Should Always Ask Questions
We stop at the entrance of a great estate with a long driveway lined by tall stately palms. Ronnie asks us to take a photo of the driveway which, in this sunlight, is not going to look like a black and white shot. Most wander off to their own thing, ignoring Ronnie, trying to take as many different subjects as possible. Yet he has a reason for making this our first photo stop.
Linda and I and a few others hang back to confer with Ronnie. I hand him my camera. "I'd like to see what you're seeing. Do you mind?" I ask him. He quickly agrees and takes a photo from his point of view. Looking at various points of view is the object of this lesson. His emphasis is on the tall trunks and palm fronds as seen from below, not the driveway. It's mostly a silhouette with a hint of blue sky behind. Nice. The lesson is to take whatever stands out in the conditions you're presented.

Barbados Traditional Chattel House
As the bus proceeds, Ronnie tells us how slaves were given land to build on but sometimes their plantation owner would give them short notice to move. So islanders began constructing small wooden "chattel" houses that easily could be taken apart, relocated and rebuilt. Once Barbadians were able to purchase their own land, they could expand their homes by adding one room at a time in the back, one clearly defined segment at a time.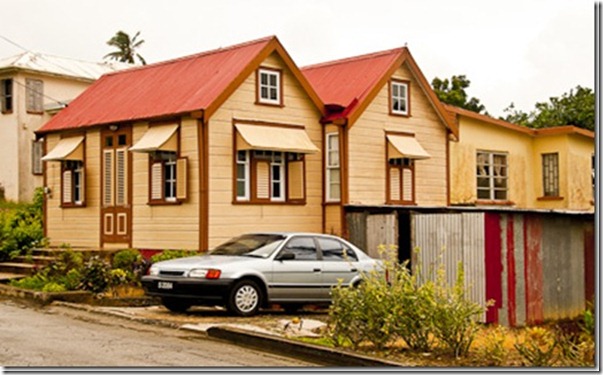 Old chattel house with three additions  and a new car.
These traditional wooden homes gradually are being replaced, but a few fine examples remain. Ronnie takes us to a tiny village with a chattel house that has a unique style, a blend of old and new. The two front sections are of wood, the next two of concrete. Unfortunately, under the overcast skies, none of the newly painted color stands out. Ronnie explains why many homes are not painted as well: paint costs $58 a gallon.

Blue Snails In A Dumpster

Returning to the bus, someone notices some unusually large snails clinging to the inside of a 55-gallon blue metal drum. Ronnie informs us they are African snails, which cause considerable agricultural damage.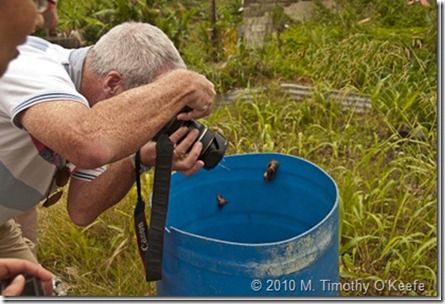 Can you tell the weather make us desperate for subjects!?
With colorful subjects so scare without sunlight, a group of us gather around the blue drum to photograph the snails. Well, they do have a colorful background and they are related to Barbados, in a round-about-way. Can you tell we are desperate for something to shoot?

We start roaming again, passing several fields with the distinctive brown and black Barbados sheep out to pasture in amazingly green fields. The cloudy skies actually make the scene more photogenic than it would appear under the glare of the usual mid-morning sun.

Bathsheba
I realize Ronnie is saving the best for last, the high-point of any visit to the Atlantic coast or Barbados: the Bathsheba area with its iconic shoreline of random boulders, perhaps more impressive than the Baths on Virgin Gorda because each huge piece of limestone can be seen as an individual object, not part of a huge, overwhelming clump.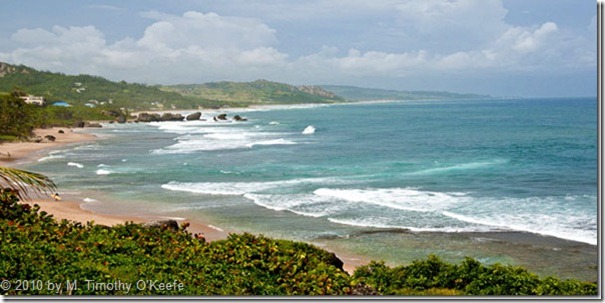 The sun, surprisingly, decides to appear. Bathsheba's long sandy beach with its famous hit-and-miss rockline begins to show its true colors. Since this Atlantic shore is one of Barbados' most recognized symbols, we camera buffs couldn't be happier.
The Rum Punch Recipe
Just before arriving at the beach, Ronnie suddenly reveals a secret. "Want to know the recipe for the best rum punch?
"Repeat after me: 1 of sour
1 of sweet
3 of strong
4 of weak"

Using these measures as ounces, sour is lime juice, sweet is syrup, 3 is dark rum (from Barbados of course!) and 4 is your favorite fruit juice, though Ronnie suggests keeping the recipe simple with orange juice.
"The longer it mixes, the better it tastes. If I make a gallon, I put it the refrigerator and let it sit for a month," Ronnie says.
Now, that's a long time to wait for a good rum bunch. And Ronnie knows he has us hooked to taste a good one. Stopping at a rum shop in Bathsheba is another part the tour but the spot of rum is optional. Ronnie promises we will like it. I believe him.
After three decades in the Caribbean, I consider myself a connoisseur of rum punches. Not a difficult role since most rum punches are dreadful swill. It's why I rarely drink them. But as Ronnie promised, this rum punch comes as close to divine as a rum punch possibly can.
The last half-hour of the tour has the sunlight we craved for the entire morning. Even if the sun hadn't shown up, the photo safari would be a success.  I'm touching on only a few of the tour's highpoints, but it illustrates how Ronnie smartly merged Barbados' history and culture into our photo stops.