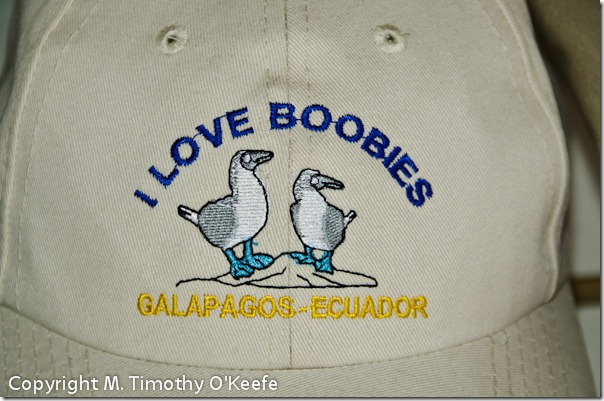 By Linda O'Keefe
Numerous options for flying to Guayaquil

Many Since we didn't get to sleep until around 1 a.m., the sound of the alarm two and half hours later was met by loud groans of protest from both Tim and me. Knowing we were finally on the way to the Galapagos made the early rising a bit easier to handle.
We were enjoying such early morning misery because we'd opted not to take Lindblad Expeditions recommended American Airlines non-stop flight from Miami to Guayaquil that wouldn't land in Ecuador until after 10 p.m. That was too last minute for out taste since the Endeavour would start its weekly expedition the following morning. Tim still remembers how his luggage did not arrive in Guayaquil last time and that it barely made it on his Galapagos flight. And that was back when there were a lot more flights from Miami to Guayaquil.
We chose instead an 8 a.m. flight on Copa Airlines to Panama City (the real one, not in Florida) and then on to Guayaquil where we'd arrive around 2 p.m. We'd informed Lindblad of our air arrangements soon after booking. Since we aren't part of the group, we're to take the shuttle to the Hilton Colon just a short distance from the airport; Lindblad advised against taking street taxis in Guayaquil.
After clearing customs, Tim and I begin to look for the shuttle bus station. After only a few steps, we see a man dressed in a suit and wearing a Hilton Colon badge holding a placard with our name on it. This is a pleasant surprise; we figured we were on our own in getting to the hotel. Our driver quickly relieves us of our luggage and we follow him to the Hilton shuttle bus for the quick ride to the hotel. It turns out to be a private shuttle bus. We are the only passengers on it.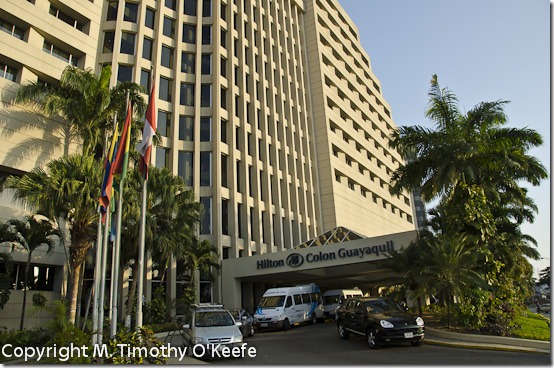 At the hotel, we're met by Rodney Bravo, a Lindblad Expeditions representative, who greets us warmly. He has an envelope with printed instructions and all the information we need for the next morning's flight to Baltra in the Galapagos, luggage tags, breakfast vouchers and welcome drinks in the hotel bar. Tim gives the check-in clerk a credit card number for any incidentals; the hotel stay is included in the tour. It takes only a few more minutes before we're settling in our room, which is larger than normal with a king bed, large work desk and a side table with two arm chairs. Very nice for a one night stay.
We decide to take advantage of the free afternoon and soon are sound asleep. After our nap, the two free drink tickets are calling to be used so the bar in the lobby seems the logical next stop. A large wide-screen TV at one end out the lounge displays a soccer match between Ecuador and Venezuela. Ecuador is two goals ahead. This audience certainly is intent on the game but stays amazingly reserved and fairly quiet, not at all boisterous like typical soccer or NFL fans. It is actually possible to carry on a conversation and not shout to be heard. A few times muted cheers erupt from the crowd, yet it's all strangely . . . civilized.
We have an early dinner in the hotel café where we each sample a Brahma, a local beer that's quite good. The food is, too. Tim manages to consume a huge plate of nasi goreng, an Indonesian dish of fried rice with shrimp, chicken and an assortment of peppers and onions. I select chicken stuffed with prosciutto and mozzarella. It's delicious, but the portion is far more than I can eat.
Then it's off to bed for some more needed sleep. Wake-up will be early: 5:45, with suitcases outside the door by 6, check at 6:30 that our bags are in the lobby and have any luggage to be left behind properly tagged. Also turn in our return flight information, have breakfast and leave the hotel by 7:20 for our 8:30 departure to Baltra. Lindblad obviously does not believe in wasting any time.
Those who flew in on American are all very sleepy; most didn't get to bed until around midnight. Guess it was worth getting only a few hours sleep two nights ago since we're more rested than most.
AeroGal is the name of our Galapagos carrier. It sounds like a new version of the defunct Hooters Air (yes, the Hooters of chicken wing fame did have an airline from 2003-2006) but the iguanas and birds on the colorful fuselage indicate there's no kinship. AeroGal is the shorthand version of Aerogal Aerolinea Galapagos, which has been shuttling people to the Galapagos since 1985.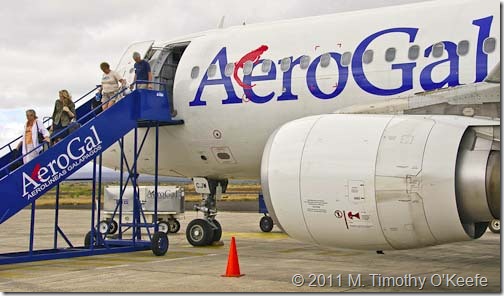 The plane for our 637-mile, 90-minute flight was a new Airbus A320 (or Airbus 319, didn't write it down) with all the frills including plenty of overhead storage for our camera bags and laptops, wide seats and individual entertainment consoles. They even fed us breakfast again, though we didn't have much of an appetite after the Hilton Colon's huge buffet.
The weather is bright and sunny as we leave Guayaquil. That changes dramatically. The clouds are so thick we can't see anything of the Galapagos until the plane is on its final landing approach to the Baltra airport, located on a small flat island near the center of the Galapagos.
Tim and I look at each other. "Well, the garua looks grim today," he says. "Going to be lots of close-ups and animal portraits."
I wonder, "Assuming we can get close to the animals." Despite everything I've read and heard, I really doubt the wildlife is as accommodating as it's supposed to be. According to one source, there are supposed to be something like 87 ships visiting 97 landing sites. How can the animals not have adapted and become more wary of us? And not want to move away from us when they notice our presence? It has to have changed since Tim was here 25 years ago.
(Tim here. At this point, Linda hasn't waded far enough through The Voyage of the Beagle to read how resilient marine iguanas are when it comes to human presence; the other animals are much the same. And Darwin was iguana tossing almost 150 years before my last (and only) visit.
Darwin had little regard for marine iguanas, calling it "a hideous creature of a dirty black colour, stupid, and sluggish in movements." He recounts this experiment, trying to understand why when frightened the iguanas will go to the edge of the sea but rather allow a human to grab its tail than jump in the water: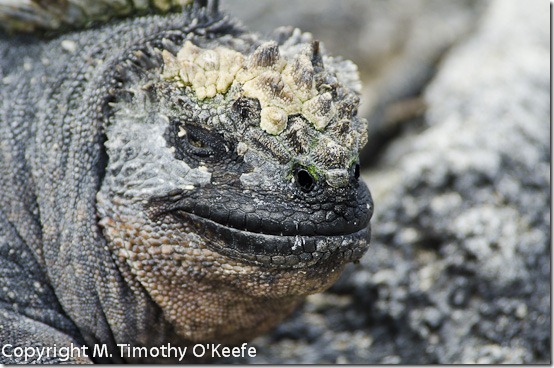 Darwin said I'm hideous? Dude, I'm just partying!
"I threw one several times as far as I could, into a deep pool left by the returning tide; but it invariably returned in a direct line to the spot where I stood . . . Perhaps this singular piece of apparent stupidity may be accounted for by the circumstance that this reptile has no enemy whatever on shore, whereas at sea it must often fall a prey to the numerous sharks. Hence, probably urged by a fixed and hereditary instinct that the shore is the place of safety, whatever the emergency might be, it there takes refuge."
Darwin also recounts how a seaman tried to kill an iguana by attaching a heavy weight to it and sinking it: "…but when an hour afterwards, he drew up the line, it was quite active."
Instead of having iguanas running away from her, I can almost guarantee Linda's biggest concern will be not stepping on them. Their "dirty black colour" makes them blend into with the lava rock so well it's a problem everyone has. But you do have to experience this phenomenon to believe it.)
Lindblad Endeavour Galapagos Cruise Links
The Galapagos Experience Endeavour Dining
Galapagos Adventure Upcoming Sustainable Dining Policy
How Darwin Saved The Galapagos Saturday Dining Menus
Galapagos Photo Tips Sunday Dining Menus
What To Pack For Cruise Monday Dining Menus
Getting to Guayaquil Tuesday Dining Menus
Las Bachas Shore Landing Wednesday Dining Menus
North Seymour Shore Landing Thursday Dining Menus
Fernandina & Isabela Islands Friday Finale Menus
Urbina Bay Shore Landing Endeavour Recipes
Life Aboard The Endeavour
More About Life On Board
Puerto Egas Shore Landing
Endeavour's Floating SPA
Meeting One of World's Rarest Animals
Puerto Ayoro Walking Tour
Santa Cruz Highlands Tour
Hunting Tortoises in the Santa Cruz Highlands
San Cristobal, Endeavour's final stop