Galapagos cruise food
There is no Lindblad National Geographic Endeavour lunch menu for the day spent on Santa Cruz Island. This is Galapagos tortoise day, with the morning exploring the Charles Darwin Research Foundation and the afternoon in the highlands watching tortoises roam in the wild.
Lunch is at the Ranch Altair restaurant/hotel in the highlands where we had BBQ chicken hot off the grill that was prepared in a huge traditional oven. The atmosphere, and ready availability of the local beer from the bar, relaxes me at lunch and I turn lazy, not thinking ahead of how I should record everything in notes and photos for this blog. I went in vacation mode. Obviously, Altair is a very satisfying stop.
So is dinner, a buffet BBQ. It's the perfect way to end such an outstanding day after all our interactions with the Galapagos tortoises. For tonight's entrees, the amberjack is my favorite. Steak is always easy to find. And plentiful at the buffet. And good.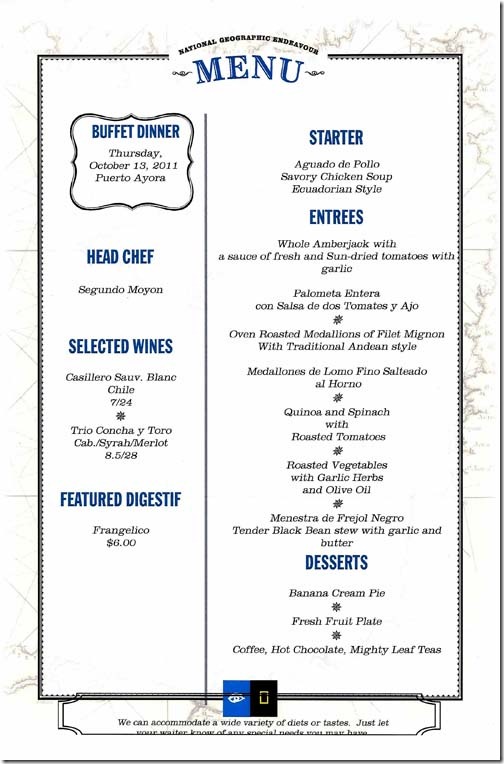 Lindblad Endeavour Galapagos Cruise Links
The Galapagos Experience Endeavour Dining
Galapagos Adventure Upcoming Sustainable Dining Policy
How Darwin Saved The Galapagos Saturday Dining Menus
Galapagos Photo Tips Sunday Dining Menus
What To Pack For Cruise Monday Dining Menus
Getting to Guayaquil Tuesday Dining Menus
Las Bachas Shore Landing Wednesday Dining Menus
North Seymour Shore Landing Thursday Dining Menus
Fernandina & Isabela Islands Friday Finale Menus
Urbina Bay Shore Landing Endeavour Recipes
Life Aboard The Endeavour
More About Life On Board
Puerto Egas Shore Landing
Endeavour's Floating SPA
Meeting One of World's Rarest Animals
Puerto Ayoro Walking Tour
Santa Cruz Highlands Tour
Hunting Tortoises in the Santa Cruz Highlands
San Cristobal, Endeavour's final stop