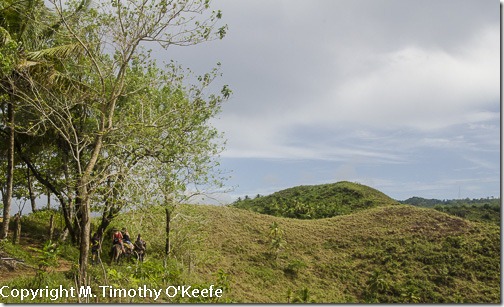 Riders on the El Limon waterfall trail in the Sierra Samana mountain range.
Dominican Republic Arrival Has Memorable Start
When a plane lands at an airport and fire trucks quickly begin spraying water over the fuselage, that's normally a sign of big, big trouble. But that isn't the case when my JetBlue flight touches down at El Catey International Airport at Samana, in the Dominican Republic.
Instead, as we were advised before landing, streams of water are a traditional way to welcome an airline's inaugural flight. I notice they also have a practical purpose: washing off the plane's windows for its return flight.
This arrival celebration marked the beginning of JetBlue's direct New York-JFK service to Samana, placing this remote section of the Dominican Republic in much easier reach for visitors from the U.S Northeast and Canada. Our arrival also made JetBlue the leading U.S. carrier to the Dominican Republic, with regularly scheduled JetBlue flights arriving at every major destination including Santo Domingo, Punta Cana, Puerto Plata and La Romana in addition to Samana.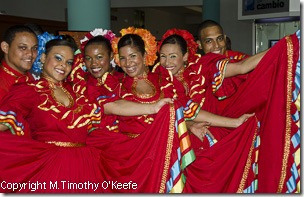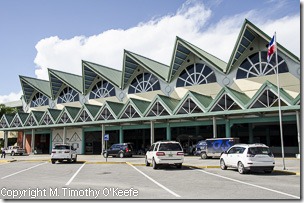 Our inaugural flight had a special greeting. El Catey International Airport, Samana

The inaugural shower at the Samana airport is a fitting start to a trip that will include visits to some of Samana's most popular attractions, including the 130-foot high Falls of El Limon (also known as Salto El Limón and Cascada el Limon).
While it's possible to reach the falls on foot, it probably would be a lonely, rough and likely a muddy trek. Most people prefer to go by horse, which is an unexpected adventure in itself. In the Samana countryside near the falls are various paradas (literally means "stops") where small ranchers organize excursions to the falls.
Our chosen ranch is Parada Basilio & Ramona's, located in the tiny community of Sendero el Café. We gather in their open air dining room and learn we must pick through an assortment of bike helmets and knee-high rubber boots, considered essential equipment for our ride. The bike helmets are to protect us in case we fall off a horse, an understandable precaution, especially considering the steep inclines and descents we expect to encounter.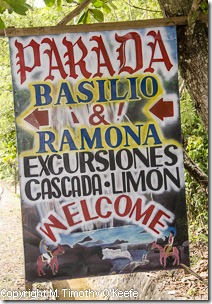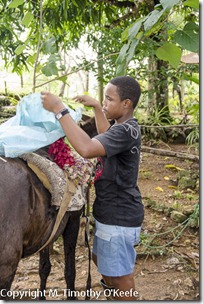 Ranchers advertise with small signs. Guide protects saddle from rain.

The boots are a surprise. Turns out our horses will be crossing several swift streams where the water could indeed come close to our knees. It's been raining on and off so the rivers are swollen. Good news in one sense since it ensures El Limon waterfall will be at full flow. We're also given an option of taking a raincoat; I stuff one in my backpack for just is case.
A line of horses waits for us, each one held by a villager who not only will serve as our guide but accompany us for the entire trip. As each of us mounts up, a guide is ready to jog beside the horse and stay glued to his rider for the rest of the trip. This helps ensure there will be no horseplay here with people competing to the top. A good approach considering many of the winding trails are narrow and tight without space for two horses to pass.
And river crossings? There are two in each direction. Considering that since the age of 12 every horse I ever have ridden wanted to take a roll in the water when I am in the saddle.
But not on this extensive river crossing trip. Having a guide leading with the reins makes these a tranquil crossing. My horse also seems to understand the occasional urgings and encouragement. I'm also encouraged enough to risk a camera to record the crossings.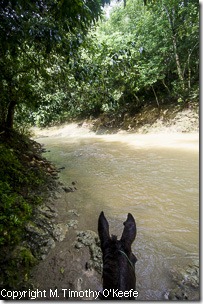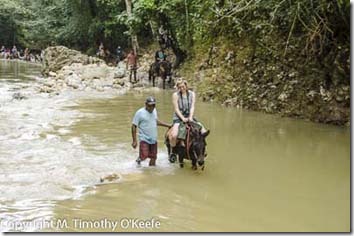 My view of my horse's crossings. Guides make sure it's a safe crossing.

The bumpy ride to the falls takes about 45 minutes. At trail's end, we reach a large open-air bar and restaurant with almost a dozen picnic tables. The shelter is crowded with riders from other paradas, some like us ready to make the descent to the pool beneath the falls, others preparing to depart.
With new people constantly coming and going, there is no secure place to leave anything and since your guide will be at your side, don't expect to find anyone to guard whatever you want to leave behind for your trek to the base of the falls. What you ride off with stays with you for the entire time. Travel light.
Salto El Limón are located at the top of the Sierra Samana mountain range, about a thousand feet above sea level. The waterfalls are opposite us, on the other side of the Limon River. Unfortunately, this day is overcast and a light mist (clouds?) blur their impressive display. On a clear day, just the front yard of the bar would be a great view.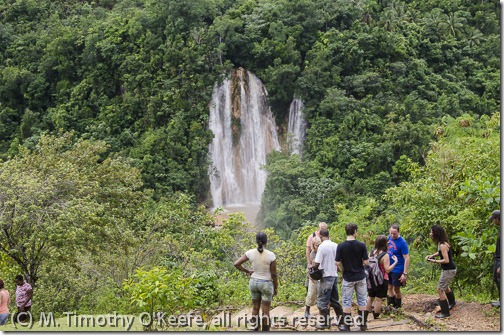 View of El Limon waterfall in front of the bar/restaurant where rides end.

It's a walk of several hundred feet down to the pool at the base of the falls. The way down is on a long series of slippery wooden steps with a guard rail for support. Considering the width at the top, the base of the waterfall is surprisingly narrow so thick plumes of water plunge down into the Limon River from the channel called Arroyo Chico. The rain has turned the river into an uninviting muddy brown, not at all appealing for swimming.
Most of our group continues on, wading the swift waters with a guide at their elbow to reach the opposite bank and make the climb to a second pool better for swimming. Others stay behind to watch two guys dancing atop big rocks being pummeled with water at the base of Arroyo Chico.
When it's time to make the return climb from the falls, the thousand-foot altitude seems to work against flatlanders who live in low country. There's a surprising amount of huffing and puffing, especially my own, with occasional rest stops to suck in air. Maybe it's the steep incline but it feels like we're higher than a mere 1,000 feet.
Back at the top we meet a large group of Europeans from the Norwegian cruise line Hurtigruten. Their ship is docked in Samana Bay near the provincial capital of Santa Barbara de Samana, the Caribbean's prime place for viewing humpback whales from mid-January to the end of March.
I finally got to know my guide a little while at the falls. He's a 14-year old student who is out of school today thanks to a holiday. Instead of taking the day off, he's here hoping to earn a tip, the only pay he'll receive for his work. It's the same situation for all the guides, though none of us knew this in advance. If we had, some of us would be better prepared because these people have worked hard. There will be a lot of furtive borrowing and lending at the end as soon as we dismount.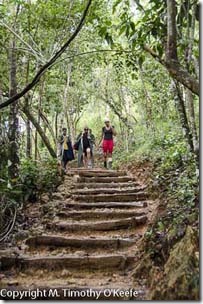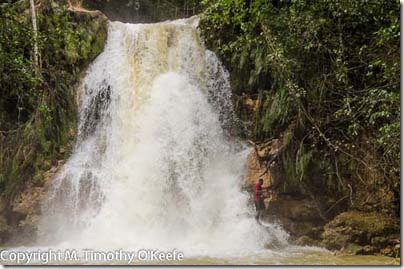 Steep stairway to the falls. Base of El Limon waterfall.

Fortunately, the rains hold off until we make the shelter of the bar. Then we experience an intense but short-lived frog strangler in which the distant falls are almost blotted out. Soon it's time to mount up and head back. The horses are motivated to return to their pasture; the trip down is 15 minutes shorter than our ascent. And the sun actually comes out briefly to show what a beautiful countryside we are riding through.
Some paradas, unlike Basilio & Ramona's, use mules instead of horses. Considering the frequent web complaints about mules repeatedly trying to leave the trail and how much harder mules are to handle than a horse, a parada with horses seems definitely preferable.
So is one that serves food. After completing our trip of about 2.5 hours, we're treated to a truly varied lunch: grilled chicken, spaghetti and tomato sauce, refried beans, rice and a mixed salad of lettuce, tomatoes, onions and fruit. Especially appreciated is that king of beers, Dominican-brewed Presidente.
This has been fun. Now, if that stream of water that started at the airport will just disappear for the rest of my time on the Samana Peninsula. (It does, as the my next three Samana posts show.)
For more information about things to do in Samana, click here. For Samana cruise port information, click here.
l
If You Go To El Limon
Many tourists tend to wait until the afternoon, so mornings are less crowded and avoid the hottest part of the day. Wait too late and you could be riding back in the dark, not a happy prospect.
Bring a backpack with water, a snack and sunscreen. If you plan to swim, wear your suit. For the ride, wear jeans, not shorts. Bring an extra pair of socks because the ones you wear while riding could get wet. A wide brimmed hat works well against the hot sun—and also rain.