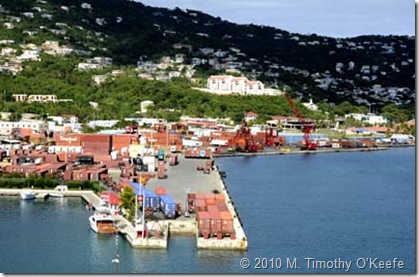 Balcony view from starboard side—inside cabin walls look better

Maasdam exiled from Charlotte Amalie, which is nowhere in sight
What does the Virgin Islands Port Authority (VIPA), which owns and operates all public seaports in the Virgin Islands, have against Holland America? Or the West Indian Company Dock, which owns the cruise dock at Havensight, St. Thomas's best cruise port?
Here in St. Thomas, we are marooned at a new cruise dock far from Charlotte Amalie and all its attractions. Some might call it Hell but its real name is the Crown Bay cruise dock, which has the forlorn feeling of a quarantine facility. Few people man the port and many of the stores either are not open or are vacant, seemingly abandoned.
Consider the huge, empty Jumbie Bay and Visitor Bar large enough to function as the main cruise terminal facility. Like much of this place, it is deserted. The numerous restaurants and shops that Crown Bay advertises on its web site simply don't exist; neither do the links to them on http://www.viport.com/cbc/index.html. This may well be the worst cruise facility in all the Caribbean.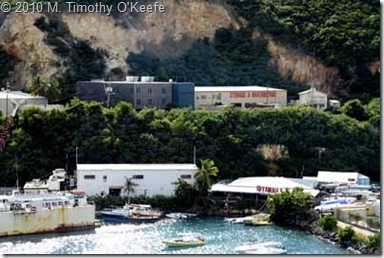 Balcony view from port side—and you paid extra to see this?

With only two other cruise ships docked in St. Thomas at Havensight on this day, it makes no sense why we also are not docked there. Mooring space obviously is available. Or, at the very least, why isn't the Maasdam anchored just offshore of Charlotte Amalie where we can be tendered in and set ashore almost in the middle of the city, as on my last HAL cruise to St. Thomas not so long ago.
At our isolated leper colony of Crown Bay, the island scenery consists mainly of commercial facilities, such as the 20-acre Crown Bay Cargo Port filled with scores of red containers that are a lousy substitute for the red rooftops of Charlotte Amalie.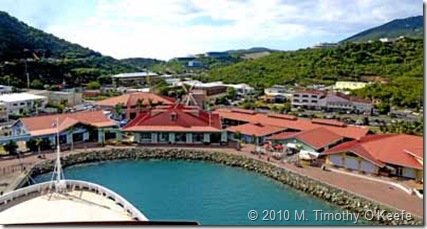 This is all of Crown Bay; note lack of people
Curious about why we're outcasts, I check with two sources. The woman at the Maasdam's Front Desk seems apologetic; the tourist board rep stationed in a small shed on the dock obviously is tired of hearing such questions and complaints. Both explain we are isolated here because the Virgin Islands Port Authority says this is where HAL must dock now and forever more.
Seems to me HAL's mid-size ships are being discriminated against while the gigantitus vessels of other cruise lines enjoy priority. Whatever the reason, HAL is stumbling badly on its promise of "A Signature of Excellence."

Ever seen a cruise port parking lot with so few cars before?

As for our own day the Crown of Thorns Point, we arose at 6 a.m., looking forward to exploring St. Thomas on foot. However, heavy cloud obscures the sky and rain appears imminent. We have no incentive to go into Charlotte Amalie and pay $8-$10 for a taxi (one way) to update our photo files.
In the afternoon, the sun finally emerges but I've lost all incentive to visit Charlotte Amalie. Crown Port has one saving grace, a small convenience store called Love and Joy that offers unlimited internet for $4 if you have your own laptop. This is how I'm able to make multiple blog and twitter posts this afternoon. Convenient wireless service is the only positive thing I can say about being docked in St. Thomas.
As we depart Crown Bay and the Maasdam makes its short journey out into open sea, the lush green island and gleaming white sailboats and fishing boats anchored beside it are a poignant reminder of how beautiful St. Thomas can look, compared to the industrial slum where we docked for the day.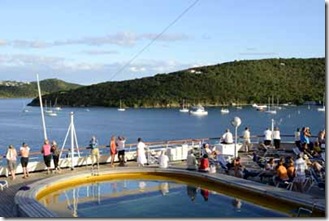 Finally! A good view as we depart.
If HAL can't negotiate a better location than Crown Point, it should boycott St. Thomas. The shopping is no better or different there than on every other island we've visited. As for Magens Bay, continually promoted as one of the world's top 10 beaches, that rating is misleading because it is decades-old. Many far better beaches have been discovered since then.
St. John is a far superior choice for superb beaches, particularly Trunk and Maho Bays. St. Croix has more interesting historical architecture because its two main cities, Frederiksted and Christiansted, haven't been demolished to build strips malls for more jewelry stores.
When it comes to outstanding beaches, it's hard to top the clean, gorgeous white sand of Half Moon Cay. And passengers can enjoy their day without the same risk of crime that might befall them at a public beach on St. Thomas. Not only is the island's crime rate almost 13 times greater than the U. S. national average, a teenage girl on a cruise was shot and killed this past July while riding in a tour bus near Coki Beach. Authorities at the time said they believe she was an unintended target, caught in the cross fire of two rival gangs. On Half Moon Cay, something like this would never happen.
We didn't visit St. Thomas on the first segment on our 35-day cruise and we never heard anyone complain about missing it. Instead, we heard several wishing they could stay on the ship for our third and final segment when the Maasdam visits St. Croix.
HAL tries to put the best face on the Crown Bay situation but what it says is kind of sad in the Explorer, our daily bulletin: "… there is also a shopping complex in Crown Bay, which has a variety of shops similar to Havensight." Hardly. Havensight has more than 60 shops and many more nearby. Crown Bay is a failed mini-mall that echoes like a deserted building.
More importantly, the Explorer makes it sound like shopping is the main reason for cruising the Caribbean. Maybe it once was but not anymore. You can find better bargains on the Internet.
How about this as the ultimate St. Thomas insult to HAL. I've been told the Maasdam will be the only one visiting St. Thomas on New Year's. Guess where the Maasdam will be docked? The same old Crown Bay ghost town, better suited to Halloween.
How is that for another slap in the face to "A Signature of Excellence?"

Note:
Those who have docked at Crown Bay, please send comments:
1) Whether you disagree or agree that the Crown Bay cruise facility ranks among the Caribbean's worst cruise port based on location and facilities.
In terms of Caribbean ports regardless of where you are docked
2) How important is a St. Thomas stop to you?

I want to publish these responses. Please indicate if I can directly quote you in my posts.
Thank you!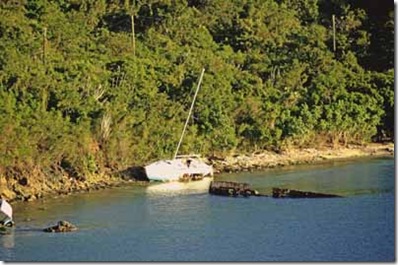 What it felt like to be abandoned at Crown Bay