Grenada Spice and Produce Market
The island of Grenada and the city of St. George's is today's destination. Tim and I take an early morning walk through St. George's to see the spice and produce market.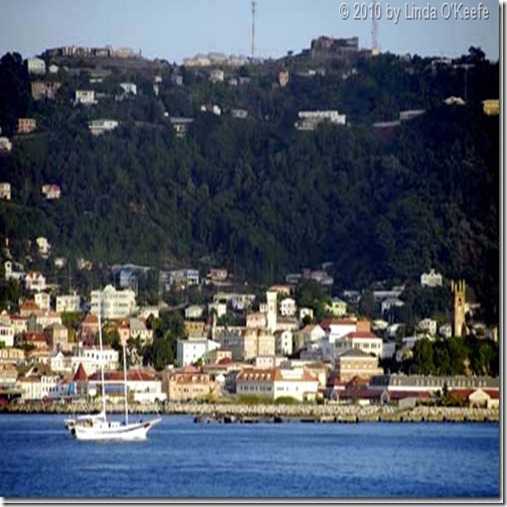 St. George's is one of the Caribbean's most picturesque harbors

The cruise terminal with its adjoining mall makes picking up souvenirs easy. But I want to find the famous St. George's market selling spices and produce and watch the locals barter for such items as lettuce, cucumbers, potatoes, breadfruit, coconuts and almost every spice you can image.
Grenada is so famous for its spices it's known as the Isle of Spice. In fact, there are supposed to be more spices here per square mile than anywhere else on earth. I intend to take some of them home for when I start cooking again. I want to try and recreate some the innovative recipes we're tasted on our cruise. One in particular is a curry chicken soup where the curry flavor is distinct but not overpowering or hot.
After a quick lunch, I start out to find one of the women selling spices. Turns out I don't have to go far. Just outside the mall terminal is a courtyard filled with Grenadians selling spices, small steel drums, soap, candles, shells, jewelry and, of course, T-shirts.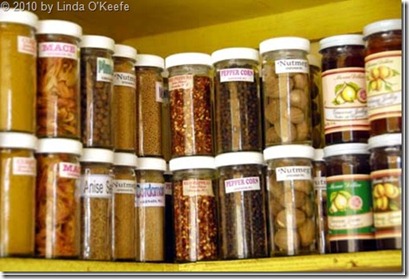 Just a sample of the fresh spices Grenada grows

Yvonne, in Booth 9, convinces me her curry is the best on the island; that goes into the bag. Next is cinnamon and a cinnamon/vanilla blend that I think will be great in tea or on toast. Of course, being in Grenada, I have to buy nutmeg because that's the country's biggest export. Grenada, in fact, it provides one-third of the world's nutmeg supply. So now I have both whole nutmeg nuts with a grater and ground nutmeg.
My bag also contains cloves, saffron, ginger, turmeric, cocoa and mace. For about $30– you could never buy spices at these prices in the states–I have enough spices to last at least a year. All of them are all well sealed in glass bottles, so no problems with them spilling all over the luggage.
By the way, Yvonne says to tell all my friends to stop by and see her in Booth 9.  Donna, in Booth 10 next to Yvonne, is where I buy gifts for family back home. Donna also urges me to send all my friends to St. George's to purchase her spices. Even if it is a bit out of the way.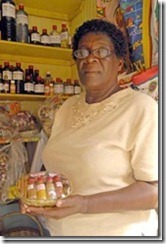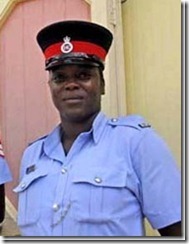 This is Yvonne…             This is Donna…               This is another spicy lady

As I wander around the courtyard taking pictures and videoing, I see the steel drums. The largest was 15 wide and the smallest around 6. The prices ranged from $50 to $10. No one is in the booth but the "spice" lady next door gives me the prices and information. I ask her if I can video and take pictures and she not only agrees but begins modeling by holding them up and laughing while I shoot video.  She is having so much fun playing around, she starts banging on a steel drum, laughing out loud at herself. Unfortunately, at the moment she is only on video and I forget the ask her name.
I've read that Grenadians are some of the friendliest islanders you'll ever meet and that certainly is true in my case. Even the police are happy to pose for pictures. So I say put some spice in your life when you cruise: don't be to afraid talk with the locals. You may put some spice in their life, too!

by Linda O'Keefe