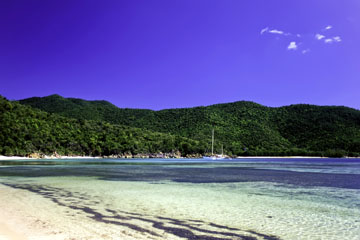 Sailboat on the South Shore of St. John, USVI
 After writing scores of articles and authoring several books on the Caribbean, I have decided someone should mount a futile effort to have the word Caribbean pronounced correctly. After all, when you visit someone's home, shouldn't you be able to say their name the correct way?
Most islanders say "ker-i-BEE-uhn," and this is also the preferred pronunciation in most dictionaries.  Like all dictionaries, the Merriam-Webster  phonetically divides Caribbean into "ker-ə-bē-ən" and notes that the first recorded use was in 1772.
A second option is " kəˈrɪb·i·ən" which many attribute to the British (who turned Kenya into "keen-ya") but the Brits I've talked to deny they're at fault.  This alternate pronunciation was added to Webster's somewhere around 1934.  Some speakers now add a second "r" to the pronunciation so Caribbean sounds like
" ka(r)-RIB-e-uhn."
Since most Caribbean islanders  say "ker-i-BEE-uhn"—unless they have been corrupted by outsiders—common sense would dictate there is only one correct pronunciation.
The Caribbean region received its name from the Carib ("ker-ib") Indians, where a sizable population of them still survives in Dominica. Their name, like the Caribbean's regional beer, is "ker-ib." Both would be pronounced "ker-RIB-eh" if "ker-RIB-ee-an" was the correct pronunciation for the islands.
Now, for the ultimate authority.  In Walt Disney's Pirates of the Caribbean movies, the word Caribbean always is pronounced "ker-i-BEE-uhn." If you can't trust Walt Disney . . .?
All together:  ker-i-BEE-uhn!

(Update: Received a note from a Trinidadian whose home island   brews and bottles Carib Larger: "We say Karib-ean. But the stress is on the 'Kar' not the 'rib' of the first part of the word, KARib-ean. And we speak only one of the 'b's."