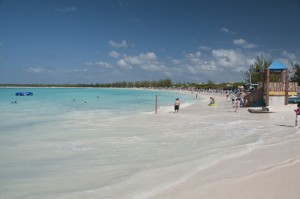 OK, I now understand its appeal
     Virtually every Holland America Caribbean cruise out of Ft. Lauderdale includes a stop at Half Moon Cay, the cruise line's private island in the Bahamas.  Which is why I've avoided short Caribbean cruises on HAL. I'd rather be spending time on one of the islands instead of what essentially is a water sports playground for adults and kids.
     So it's ironic that 3 days on this 35-day cruise will be at Half Moon Cay. Which, after actually seeing it instead of making a biased assumption about it, I won't mind going back to Half Moon Cay. No way you can see it all in one day and the activities are a capsule of the best Caribbean attractions: horseback riding on a beach, feeding stingrays, mangrove kayaking and fast jet-ski excursions.
     Most of all, there is the truly spectacular one-mile long white crescent beach bordered by bird's egg blue waters.  It is a remarkable blue color, which I remember seeing in only one other place, in the Dominican Republic.  But that beach was bare of trees where Half Moon Cay's has a thick shade canopy thanks to the casuarina (Australian pine) trees flanking it.
     If you know Caribbean beaches, think a combination of Seven-Mile Beach on Grand Cayman and Grace Bay Beach in the Turks and Caicos.  Only Half Moon Cay is better—no high-rise condos or development anywhere except for 15 brightly colored wooden shade canopies clustered in a small section of the beach.  They look like mini Bahamian homes, so they fit right in.
     HAL is known for appealing to an older age group but construction at Half Moon Cay disputes that. The playground with mini-galleons Linda mentions in her post look new. They are being joined by a huge wooden Spanish galleon under construction well back from the beach. It is large enough to handle scores of kids or adults.  Put a big pirate flag on this impressive vessel and it is a definite winner.
    There's another new exhibit on the way, which I'll tell you about on my next Half Moon Cay visit.  You won't hear much about my third visit there. I intend to spend all my time in one of the shaded beach hammocks.   
    Seeing made me a believer in Half Moon Cay. Besides all the activities, I know we won't see a better beach for the rest of the entire trip. Something everyone else will realize at the end of their cruise, whether they're aboard for a mere 14 days or the full 35.