Three of St. Petersburg's Most Famous Churches
Following lunch on the Oceania Marina, we're off to visit three of St. Petersburg's most prominent cathedrals.  Russia is a land of paradoxes and nowhere is that more apparent than the country's attitude toward religion in the last century . After the Russian Revolution of 1917 and atheism became the country's official  doctrine, churches were stripped of their valuable objects and closed.
Churches were converted into whatever the government needed them to be: storehouses for vegetables or warehouses for equipment, an ice skating rink or a  swimming pool.  When religious freedom returned in 1991, the majority of Russians went back to their Russian Orthodox faith. However, many churches badly needed repair and restoration due to wartime damage and decades of Soviet neglect.
St. Isaac's Cathedral
Our first stop is the enormous St. Isaac's Cathedral, Russia's largest church and the fourth tallest cathedral in the world.  Its gleaming gold-plated iron dome is a landmark visible from many parts of the city. St. Isaac's reportedly cost six times more than the Winter Palace and took 40 years to build. One of the greatest engineering problems was to make a stable foundation for the church in St. Petersburg's mushy, marshy soil.  To accomplish this, entire forests were cut and turned into  pine logs. The timbers then were coated in tar, driven into the ground and covered with compacted stone.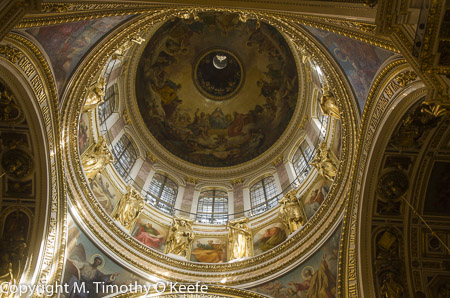 Eye in the sky, St. Isaac's cupola interior
Inside the church, I find the soaring interior dome especially impressive. It's decorated with a magnificent fresco of the Virgin Mary surrounded by saints and angels, all looking down on us from a lofty 260 feet. (If you have the time and energy, you can climb the  300 steps up to the dome base and view St. Petersburg from the observation walk there.)
At ground level, the cathedral has lavishly colored mosaics, tall columns and fine statuary.  There is so much here it's impossible to describe this colossus adequately.  For more information, click here and here; for more photos, here.  The Soviets converted St. Isaac's into a Museum of Atheism so it doesn't suffer as much as some others. The cathedral continues to function largely as a museum, holding regular religious services in one small chapel, not the main building.
You won't find anywhere to sit inside St. Isaac's.  There aren't any seats or pews because most Orthodox churches don't have them.  Worshippers are expected to stand before God during services. Also missing from St. Isaac's is a church organ. It wasn't carted off by the Soviets because there wasn't one. The only musical instrument used in Russian Orthodox churches is the human voice.  What a difference from the rest of Europe where a  massive organ is a famous feature of many churches.
Lady of Kazan Cathedral
From St. Isaac's it's a short drive to Our Lady of Kazan Cathedral, notable for its semi-circular 96-column outdoor colonnade that encircles a fountain and garden area in front of the church. This elaborate decoration is something you'd expect outside a palace, not a church.  Kazan Cathedral is special, built in the early 1800s to be the home of a famous icon of the Virgin Mary found almost a half century earlier near in the city of Kazan. The icon, known as The Lady of Kazan, was famous for its miraculous powers associated with various Russian victories in battle and with the country's destiny.  It was so popular that exact replicas of it were made in several places in Russia. All were said to perform miracles like the original.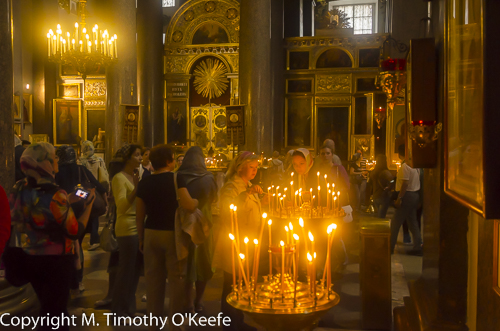 Interior of Kazan Cathedral
The icon went missing early in the 1900s–or did it? A popular  belief states someone stole it from the church around 1903 or 1904 for its jewel-encrusted frame.  Others claim the icon never was lost but in the possession of various Orthodox clergy in the following decades.  There were even reports that Leningraders marched it around the city in World War II.  What does not seem to be in dispute is the icon's present location: the state of New York, in the possession of the Russian Orthodox Church Abroad where the icon is venerated as the Kazan Mother of God. But is it genuine?  At the same time, Pope John Paul II had a Kazan icon, too, which may have been made too recently to be genuine. Regardless, the Pope returned it to Russia.
The interior of St. Petersburg's Kazan Cathedral contains an impressive array of columns   equal to any found in many palace halls.  The statues here are noteworthy—fashioned only by Russian sculptors, not a common practice at the time when Westerners normally made the city's religious statues. The overall décor of the  Kazan Cathedral is simple yet elegant, certainly more relaxing and less overpowering than St. Isaac's. And there is  a greater religious feeling, too, as people pray and light candles in an intimate atmosphere.
Church of the Savior on the Spilled Blood
Our final stop is one of St. Petersburg's most popular churches. Its name is a mouthful to say: the Church of the Savior on the Spilled Blood, or Cathedral of the Resurrection of Christ. Locals refer to it as the Spilled Blood church, so named because it sits on the site where Tsar Alexander II was assassinated in 1881. The cathedral, built by Tsar Alexander III to honor his father's memory, is dramatically different from St. Isaac's, Kazan Cathedral and most other city churches built in the European Baroque or Neoclassic style.  Spilled Blood is designed in the traditional Russian style with multi-colored onion domes and other eye-catching decorations. The ornate façade exhibits not just a riot of colors but scores of smaller embellishment, many appearing as icons.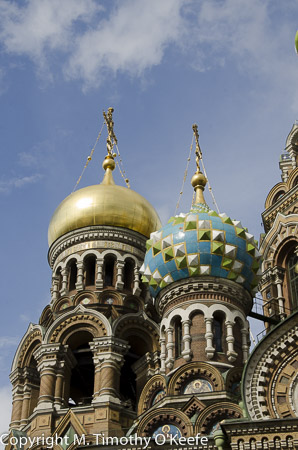 Church on Spilled Blood onion domes
As a religious memorial to Alexander II, the extravagantly decorated church was never officially consecrated and never conducted religious services. Following the Bolshevik Revolution in 1917, the church was looted and the interior turned into a garbage dump.  After World War II, Spilled Blood became a storage house for vegetables, prompting locals to call it the Savior on Potatoes.  For many years it was commonly believed the building would be torn down due to extensive damage, yet it remained standing.
Spilled Blood's salvation came in 1970 when St. Isaac's Cathedral brought it under its management and its museum fees paid for the 25-year restoration of  Spilled Blood. Fully restored , the Church of the Savior on the Spilled Blood reopened its doors in 1997 containing walls and ceilings decorated with more brightly colored mosaics than perhaps any other church anywhere.  Never consecrated, the cathedral is both a museum of mosaics and a memorial to Tsar Alexander II.  The dominant theme of the murals is said to link Alexander II's killing with Christ's crucifixion.
Spilled Blood is a reminder how often history is full of strange contradictions and inconsistencies.  On our first Baltic cruise stop in Helsinki, we see the popular landmark statue of Alexander II erected in Senate Square by the Finnish people to honor the "good tsar" who granted them greater political freedom than the Russian leaders following him. Here in Russia, Alexander II  is best known for freeing the serfs from their masters and instituting other radical reforms. Now we stand at the very place a bomb killed the tsar considered to be the greatest reformer since Peter the Great. What a weird world we live in.