Galapagos cruise food
These are the welcome aboard menus for passengers  on their first day of their Galapagos cruise on Lindblad's National Geographic Endeavour.
When it comes to cruise ship food, a critic's likes and dislikes can unfairly bias a dining review. My own admitted prejudices: I don't like turnips. Though I recently had a turnip puree with something else that is slowly winning me over. 
To me, the fairest way to avoid unfair bias is to provide the menus for the entire cruise and let each person make their own decisions about the selections. Breakfast and lunch normally are buffets; dinner may be a buffet or a sit-down meal, depending on the afternoon activities.
Cheesecake is my great weakness but the chocolate cheesecake at dinner is fine, perfect for following the sea bass, my favorite of the dinner entrees.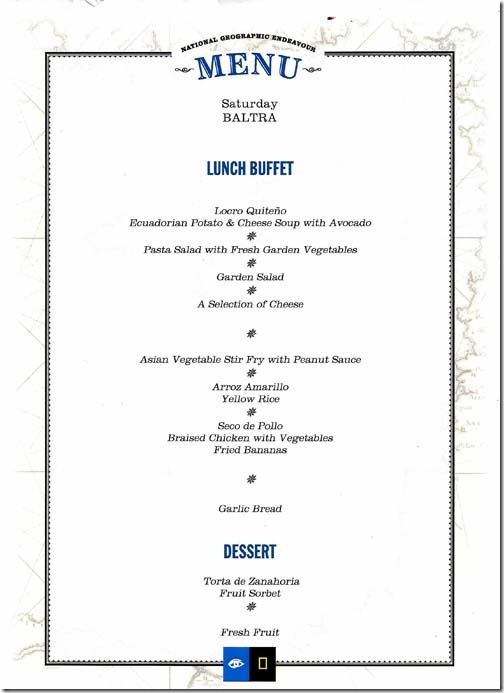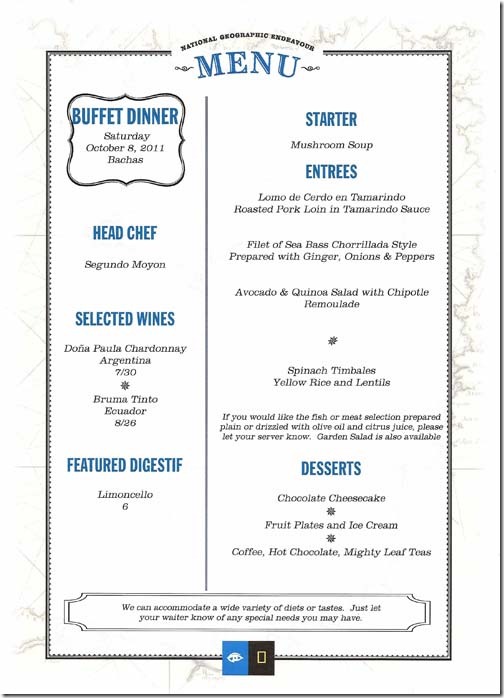 Lindblad Endeavour Galapagos Cruise Links

The Galapagos Experience                            Endeavour Dining
Galapagos Adventure Upcoming                                Sustainable Dining Policy
How Darwin Saved The Galapagos                             Saturday Dining Menus
Galapagos Photo Tips                                                      Sunday Dining Menus
What To Pack For Cruise                                                Monday Dining Menus
Getting to Guayaquil                                                        Tuesday Dining Menus
Las Bachas Shore Landing                                             Wednesday Dining Menus
North Seymour Shore Landing                                    Thursday Dining Menus
Fernandina & Isabela Islands                                      Friday Finale Menus
Urbina Bay Shore Landing                                             Endeavour Recipes
Life Aboard The Endeavour
More About Life On Board
Puerto Egas Shore Landing
Endeavour's Floating SPA
Meeting One of World's Rarest Animals
Puerto Ayoro Walking Tour
Santa Cruz Highlands Tour
Hunting Tortoises in the Santa Cruz Highlands
San Cristobal, Endeavour's final stop