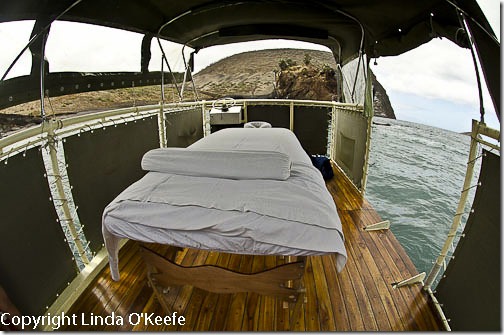 by Linda O'Keefe
A motional massage on the waves
One thing I didn't expect to find onboard Lindblad's National Geographic Endeavour is a wellness specialist and a mini spa. Alexandra Cueva, the wellness specialist for our voyage, puts in a long day, beginning around 6:30 a.m. with a yoga, stretching or water aerobics class just before breakfast. The rest of the day she is on call for paid spa services.
One item on the spa menu catches my eye: a "floating massage." Technically, all massages given aboard the Endeavour are floating but this offering is something special. One of the Endeavour's old glass bottomed boats has been redesigned to provide a viewing porthole of the sea bottom directly under the massage table's head cradle.
Watch fish while being relaxed
The idea is to have a massage while watching sea life swim underneath the boat.  Instead of a massage on the beach, it's a great rub on an ocean tub.
Scheduling any kind of spa treatment on the Endeavour is difficult because it usually means having to give up something: a shore landing, snorkeling or kayaking. Also, the opportunities for a floating massage are limited to certain locations where sea conditions are calm enough that Alexandra can stay on her feet and the massagee doesn't slide off the table.
While kayaking, Tim and I had seen the floating spa bouncing around in Tagus Cove where a Zodiac tried to keep it from crashing on shore. The waves and current were much too strong for any sort of stability. The Zodiac with its rubber hull acted like a seaborne bumper car.
The Zodiac could keep the spa boat away from land but there was no way the Zodiac could do it gently. In fact, we heard lots of crashing aboard the spa boat as we paddled past but no shouts of alarm. Can't imagine how Alexandra managed to stay on her feet that day.
                                                    Boat ride in the nude
Remembering that spectacle, I wonder how real this floating massage is and how much of it is a gimmick. So the night before my scheduled tub rub when I pick up a robe and slippers from Alexandra, I ask her what I should wear the next day with the robe.  Her response is quick and firm, "Nothing. This is a professional massage."
The next morning, clad only in my spa robe and slippers, I wait at the reception area for Alexandra to fetch me.  I know in the back of my mind the glass bottom boat is away from the ship but for some reason it hadn't occurred to me I'll need to ride in a Zodiac to reach it.
Normally just getting into a Zodiac when the waves bob it up and down is not the easiest maneuver even in normal attire. With a robe and nothing underneath, it's really tricky. Fortunately, I make it on and off without any wardrobe malfunctions.
I take the Zodiac about half a mile from the ship to find the spa boat anchored in an isolated cove near shore. In the cloudy "garua" weather, the cliffs and a small island rock formation close by is both mystical and relaxing. After disembarking the Zodiac trip, I climb onboard the "floating massage" table.
Poor visibility, relaxing wave sounds
As I lay face down and Alexandra works wonders on my back, the view through the three-foot wide glass circle is disappointing.  There isn't a great view due to the reflections of the boat and sky. I spot only a few fish that wander by.
Despite the lack of underwater activity, I love this experience. The sound of the waves drumming the boat is more soothing than any new age music . Inhaling the salty sea air is natural aromatherapy. Occasionally the relaxation is broken as the wind sweeps the sheet off my body and there's a quick scramble to grab it back.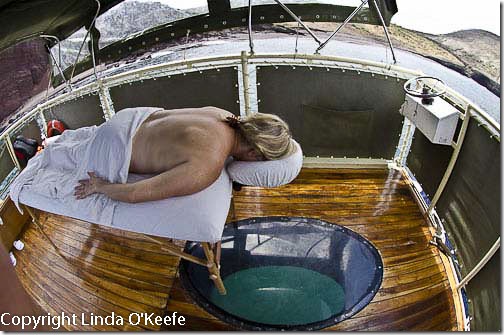 After my massage and I wait for the Zodiac to return, Alexandra points out a large sea turtle swimming on the surface with several other turtles surrounding it. As the turtles approach our boat, I realize something seems rather odd about what I thought was a single large turtle.
I ask Alexandra , "Are those two turtles–not just one?"
"Yes," she replies with a sly grin on her face.
I wonder aloud, "Are they doing what I think they're doing?"
Mating sea turtles are our boat bumpers
Her smiling face answers my question before she answers "Yes" and bursts into laughter. She confesses she has been watching them for a while. And we continue to watch the turtles float obliviously toward the boat.
My already R-rated adventure pushes the limit as the two mating turtles drift closer and closer to the boat. Eventually they bump into us, separate, swim away. At this point, Alexandra and I are close to hysteria laughing. (Though they probably don't understand our idea of humor.)
Alexandra and I are still laughing when the Zodiac arrives to carry us both back to the Endeavour. All in all, this is an experience I won't soon forget.
Lindblad Endeavour Galapagos Cruise Links

The Galapagos Experience                               Endeavour Dining Galapagos Adventure Upcoming                                    Sustainable Dining Policy
How Darwin Saved The Galapagos                                 Saturday Dining Menus
Galapagos Photo Tips                                                          Sunday Dining Menus
What To Pack For Cruise                                                    Monday Dining Menus
Getting to Guayaquil                                                            Tuesday Dining Menus
Las Bachas Shore Landing                                                 Wednesday Dining Menus
North Seymour Shore Landing                                         Thursday Dining Menus
Fernandina & Isabela Islands                                           Friday Finale Menus
Urbina Bay Shore Landing                                                  Endeavour Recipes
Life Aboard The Endeavour
More About Life On Board
Puerto Egas Shore Landing
Endeavour's Floating SPA
Meeting One of World's Rarest Animals
Puerto Ayoro Walking Tour
Santa Cruz Highlands Tour
Hunting Tortoises in the Santa Cruz Highlands
San Cristobal, Endeavour's final stop