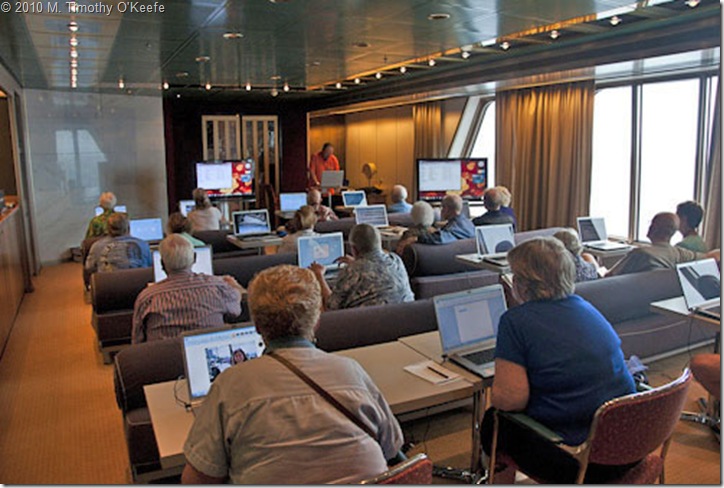 Thank them for the increased use of photos in most recent blogs
 While many cruise lines offer computer classes, Holland America operates at a higher level. By partnering with Microsoft Windows, HAL is the first to offer a free digital program at sea. Other cruise lines usually charge $20 a session, and their classrooms and instructors are of varying quality.
The workshops are available on all HAL ships. On the Maasdam, which is a typical setup, our PC lab is connected to a wireless network and outfitted with 16 new 17-inch Sony laptops with the latest Windows software . Frank Barcelona, the "techspert" during my 35-day cruise, has been well-trained by Microsoft.
Frank not only knows the programs inside out, he is current on the latest developments throughout much of the digital world. A patient and methodical teacher, Frank has turned my days-at-sea into an unexpectedly enriching and productive time.He focuses on the practical applications of Microsoft Live for tweaking, storing and sharing photos of our trip, which keeps his 20-seat classroom packed and sometimes has standing
passengers lining the sides of the room
.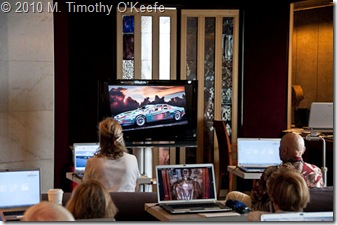 Thanks to Frank, I discover the wonders of Microsoft Live Writer, a program intended specifically for blog posts. Now my layout as well as writing are done offline, to be uploaded into my normal blog post templates whenever I go online. This has made the process easier and faster. Having to paste photos into the template using the ship's sometimes slow Internet speed is incredibly frustrating and sometimes doesn't work. With Live Writer, the page is complete before I ever sign on.  Microsoft Live is available for free download at microsoft.com.
This class also is going to make life easier when we return home. I've hesitated to upgrade to Windows 7 after fighting with the maddening quirks of Vista. After a few days, I realize I'm using Windows 7, which seems as user friendly as XP.  Moreover, Frank says that with some versions of Windows 7 you can even go into XP mode to work with particular programs.
The Microsoft Windows classes are another way HAL distinguishes itself, providing useful activities on either days-at-sea or in port, since different classes are offered four to six times a day, with an hour set aside for Frank's help on our projects. The schedule makes Frank one of the busiest people on the Maasdam.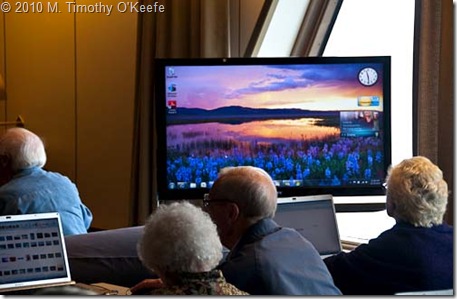 Large flat screen monitors make it easy to follow course instructions

What the classes cover:
Offered from morning until early evening. the classes last for an hour followed by a 60-minute break.
Edit your cruise photos
Turn your cruise photos and videos into a slide show
Getting your photos out of the camera and into the computer
Advanced editing of your cruise photos
Sharing your cruise photos via email and the Internet
PC safety and maintenance
Learn fun ways of staying connected with instant messaging and webcams
Learn the basics of staying connected through social networking
Understanding the basics of your digital camera
Learn what PC is right for your lifestyle and how to find the best offers
See how Windows 7 can simplify your PC and your life
HAL's Digital Classroom program sure beats the belly flop contests offered on some other cruise lines.