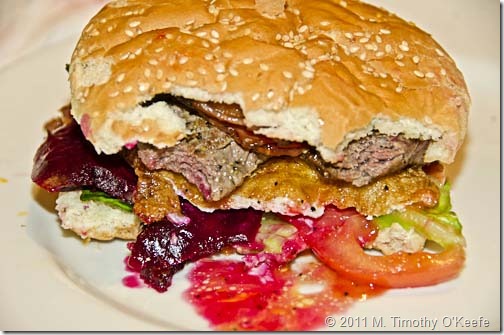 This is a hamburger, partially eaten, to show its unusual ingredients
New Zealand (NZ) has some wonderful cuisine, but don't feel embarrassed to ask for clarification about what you're ordering. Kiwi food terms may refer to very different items than someone from North American would expect. For instance, what American ordering in a 4 + star hotel would expect their hamburger to be made up of small chunks of tender steak, ham slices, beets, lettuce and tomato slices and a fried egg? Yet still lacking the essential and customary mustard, onion, ketchup or a pickle?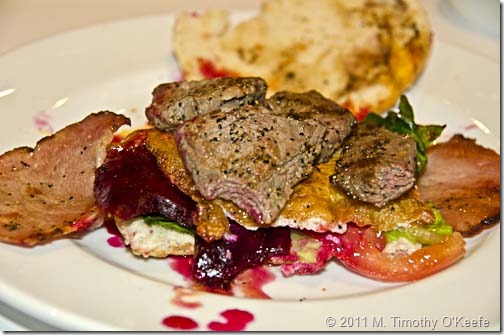 This is the same burger, fully revealed, showing its distinctive and surprising contents
I admit making this mistake, not verifying that something as simple as a hamburger could be so different, so unexpected –especially when there is a 24-hour McDonald's (yes, the one with the famed golden arches) just a few blocks away from the hotel. Although this NZ burger is quite good, it is not what I anticipate, or the taste I really want.
To help other visitors from making the same type of mistake, I'm starting with Kiwi food terms every visitor should know as the first topic in my series of NZ food blogs.
Kiwi Food Terms You Need to Know
Surprise! Cheerios are not just a breakfast cereal.
Afghan – chocolate flavored biscuit, typically made from cornflakes and covered in chocolate icing
Banger – sausage, as in bangers and mash
Bickies – biscuits
Biscuits – cookies
Brekkie – breakfast
Bring a plate – bring a dish of food to be shared
Buttie – Sandwich made from buttered bread
BYO (Bring Your Own) – A BYO restaurant is a one that allows you to bring your own wine to drink with your meal.
Candy floss – cotton candy
Cervena – farmed deer meat; venison is from a hunted deer
Cheerios – cocktail sausages
Chip – small box of berries
Chips – crisps
Chips – deep fried slices of potato but much thicker than a french fry
Chippie – potatoes chip

Chocolate fish – chocolate coated marshmallow candy fish
Chook – chicken
Cordial – syrup that is diluted to make a fruit flavored drink
Courgette – zucchini
Eye fillet – beef tenderloin
Fat Chips – fried in fat, such as duck fat
Cuppa – cup of tea, as in cuppa tea. Not coffee.
Dunny – toilet
Entree – appetizer, hors d'oeurve
Feed – A meal
Fizzy drink – soda pop
Greasies – fish and chips, popular takeaway meal
Handle – pint of beer
Hen fruit – eggs
Hotdog – corndog in local fast food shops
Iceblock – popsicle, Ice Stick
Jafa – popular sort of small orange flavored candy with a chocolate center
Jar – glass of beer
Kai – food (Maori origin)
Kai moana – sea food (Maori origin)
Knuckle sandwhich – a fist in the teeth, punch in the mouth
Lamington – sponge cake cube, coated in icing, covered in dried coconut
Lolly – candy
Main – primary dish of a meal
Mince – Ground meat
Maori roast – fish and chips
Narna – banana
Paua – abalone
Pav or pavola – dessert usually topped with kiwifruit and cream
Pikelet – small pancake usually had with jam and whipped cream
Pinky bar – popular chocolate covered pink marshmallow candy bar

Pipi – edible shell
Plonk – cheap liquor, cheap wine
Pudding – dessert
Rock melon – cantaloupe
Sammie – sandwich
Scrogin – trail mix of nuts and raisins
Scull – consume, drink quickly
Serviette – paper napkin
Shandy – drink made with lemonade and beer
Shark and taties – fish and chips
Shout To – treat your friends to something such as a drink or a meal
Shout – to treat, to buy something for someone, as in "lunch is my shout"
Smoko – Coffee or tea break
Snarler – sausage
Steinie – bottle of Steinlager, brand lager
Stubby – small glass bottle of beer
Tea – evening meal, dinner
Tomato sauce – Ketchup
Tucker – Food
Vegemite – popular spread, made from yeast extract, imported from Australia
Veges – vegetables
Zed – How Kiwis pronounce the letter "Z"
Next time: witness how many of these terms can wonderfully combine
Dining at SKYCITY, Auckland, New Zealand