Who's In Charge
Every Lindblad Endeavour Galapagos cruise has three supervisors:
The Captain, who hopefully you won't see except at social functions. You don't want to see him in a public area with a megaphone in hand or hear his voice over your cabin speaker during the distress signal while someone is pounding on your door.
The Expedition Leader, the most visible person of the three since this person usually oversees all departures and returns and emcees the nightly recaps in the lounge.

The Hotel Manager, someone who only occasionally is recognized at the lounge meetings but is usually present in the dining room at every meal. Other than the captain, this is the most important person on the ship. The hotel manger is in charge of the cabins, the dining room, pretty much everything on the ship that doesn't include the bridge or any of the mechanical/technical operations.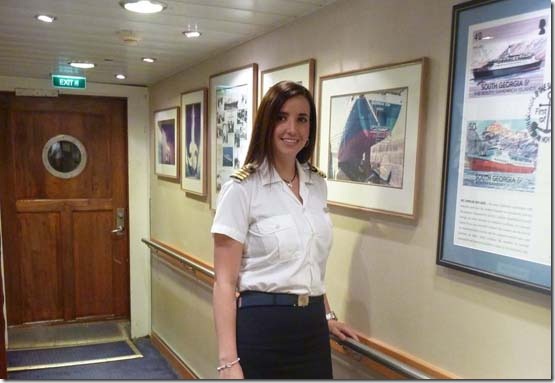 Montserrat Rodriquez, the Endeavour's hotel manger
Finding Your Way Around The Ship
Although the Lindblad National Geographic Endeavour is one of the largest ships stationed year-round in the Galapagos, it carries a maximum of 96 passengers. At the beginning of the cruise, you may find yourself going to the wrong decks because they have an unusual numbering system. Cabins with a 300 number are at the ship's lowest level, while those with a 100 number are located two decks above, just the opposite of most cruise ships..
The Stateroom
Either the Endeavour has more spacious cabins than any other cruise line or Linda did a really good packing job. For a change, we don't have camera equipment and other gear scattered around our stateroom. Square-foot wise, our cabin isn't all that large but it has really good storage space.
Our stateroom room is basic: two twin beds against opposite walls with a nightstand in between. Together, the three items probably don't cover much more space than a single king-size bed. However, under the beds we can hide the suitcases, shoes, dry bags and other gear. A flat area between the bed headboards and the cabin's window makes a convenient shelf for our Kindles, books borrowed from the ship's library, the daily activity sheets and our sunglasses. We each have a lamp over our beds with the added feature of a built-in reading light, one of the cabin's best features.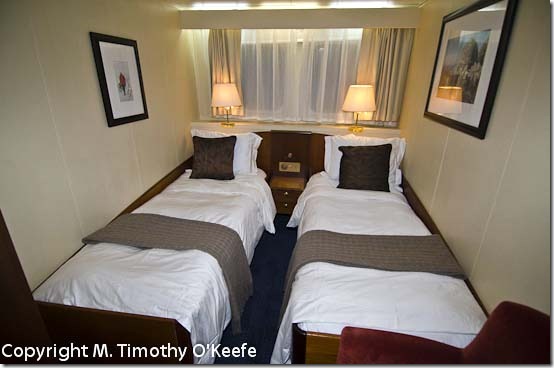 Some cabins on the Endeavour have a large single bed

At the foot of one bed is an easy chair and a small work desk with chair and mirror. Amazingly, there are three electrical outlets above the desk instead of a single one on most cruise ships. Two of the outlets are 110, the other 220 for a European-style plug. We always pack a power strip to have enough outlets for our computers and for recharging camera batteries. Before Tim sets up his computer on the desk, most of the desk space was occupied by a large container for water and two drinking glasses. He transferred them to the top of a wooden coat rack, which acts like an additional shelf. They fit perfectly.
Behind the desk are two roomy closets with several large drawers for folded clothing plus plenty of space for hanging them. Everything fits perfect even with all of our computer and photography equipment. One item absent from the cabin is a TV, which we're too busy to miss.
The cabin stewards are surprisingly attentive. In addition to their usual morning clean-up and towel change, they return during the day while we're out to straighten up the room.
The Day Begins
Our mornings always start early, sometimes at 6:15 a.m. but never later than 6:45 with a wakeup call on "Radio Carlos," the name for our room speaker. Carlos Romero, our expedition leader, always greets us with a cheery, "Good morning, breakfast will be served in 15 minutes." This speaker system has its pros and cons. It's a real convenience since you don't have to worry about setting an alarm clock or being late for any activity because the departures are always announced well in advance. And one of the two channels also broadcasts the nightly recaps and any afternoon talks by the naturalists held in the ship's lounge. That makes it possible for us to stay in our cabin to download images from our cameras and not miss anything important.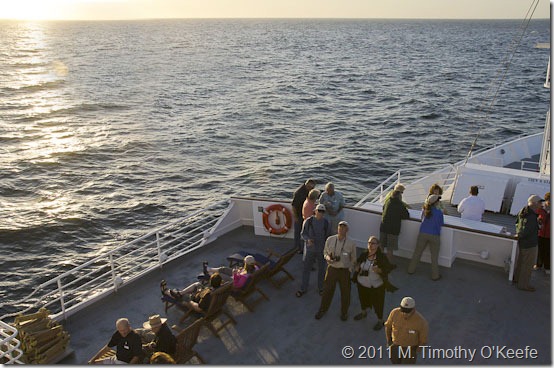 Relaxing on deck for sunset watching.
The one bad part of the speaker system is that if you decide to sleep late and miss an excursion, you can't turn down the volume. On the one morning Linda decides to take a break, she is regularly bombarded by Carlos' announcements as he continually reports the departure times for kayaking and glass bottom boats throughout the morning. Normally you can turn down the volume or turn off the speaker. Not when "Radio Carlos" broadcasts. No way to avoid it.
The Shore Landings
Morning shore excursions usually depart at 8 a.m. and arrive back between 10:30 and 11:30 for lunch, which is at 12:30. Typically, the ship moves to a new location during lunch for a second shore landing. Our blogs occasionally cover both landings but most often concentrate on only one. Why? Because the walks may be so similar that describing one is enough. A more pressing reason: as we write these posts, we're preparing to leave for New Zealand.
Snorkeling
At the beginning of the week, the naturalists help everyone select a properly-sized shortie wetsuit, a pair of fins and a correctly-fitted mask with snorkel. If you've never snorkeled much before, take advantage of the offered training before tackling the deep water snorkel outings. For deep water snorkeling, getting back in the boat is easy. The Zodiacs mount a removable set of stairs on their bows, a trouble-free way for getting in and out of the water. If you prefer, you can always leave the boat using a traditional backflip.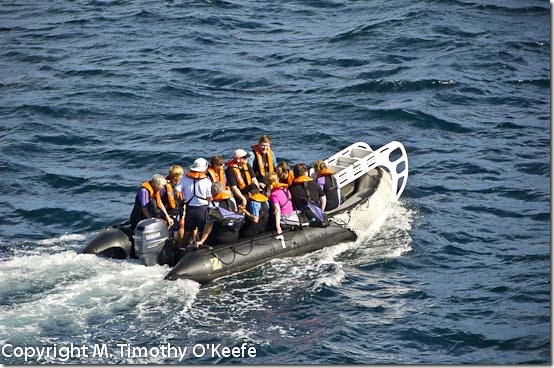 Snorkelers in a Zodiac outfitted with stairs to make getting in and out easy.
Galapagos water temperatures are chilly much of the year, sometimes plunging as low as the mid-50's. The coldest water temperatures on our trip range from a low of 68 F to a high of 72 F. The water temperatures of each location usually are announced ahead of time so snorkelers can back out before getting wet. Even 72 F is a bit brisk for some of us with only a shortie. Back home, Florida's fresh water springs average 72 F year-round, temps that require a full wet suit for scuba divers.
Those nippy water temperatures can be a relief when air temperatures reach 90 F and above, something you're not apt to experiences in the Galapagos. On the other hand, those who were raised in colder climates consider the water temps to be "just like back home." It's a matter of personal fortitude; or an individual's background and how close to the Arctic Circle they were raised.
Perhaps the comments at dinner by one woman snorkeler summed it up well for those accustomed to warmer conditions: "I turned on the shower as hot as it would go and I still couldn't stop shaking." That's someone who hung in there too long, possibly risking hypothermia.
The combination of cold water with rough water can become unpleasant after a time. Not to worry. Zodiacs with their special stairs are available to pick up anyone who's had more fun than they can stand.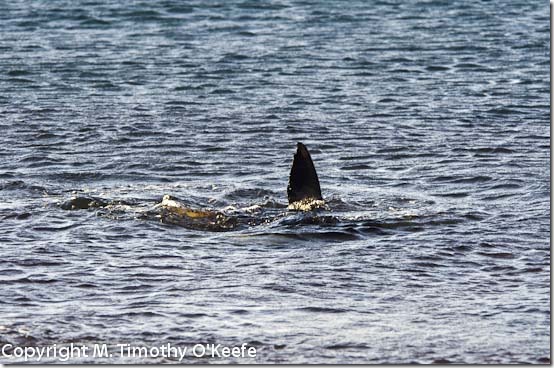 Here's a sight to catch snorkelers' attention: a shark fin!!?
No, a swimming sea lion just having fun.
Lindblad Endeavour Galapagos Cruise Links

The Galapagos Experience Endeavour Dining
Galapagos Adventure Upcoming Sustainable Dining Policy
How Darwin Saved The Galapagos Saturday Dining Menus
Galapagos Photo Tips Sunday Dining Menus
What To Pack For Cruise Monday Dining Menus
Getting to Guayaquil Tuesday Dining Menus
Las Bachas Shore Landing Wednesday Dining Menus
North Seymour Shore Landing Thursday Dining Menus
Fernandina & Isabela Islands Friday Finale Menus
Urbina Bay Shore Landing Endeavour Recipes
Life Aboard The Endeavour
More About Life On Board
Puerto Egas Shore Landing
Endeavour's Floating SPA
Meeting One of World's Rarest Animals
Puerto Ayoro Walking Tour
Santa Cruz Highlands Tour
Hunting Tortoises in the Santa Cruz Highlands
San Cristobal, Endeavour's final stop